New for June 2011

Life with Mr. Dangerous
by Paul Hornschemeier
When it comes to artfully integrating book design into the form of a graphic novel in such a way as to enhance the expression of its content, Mr. Hornschemeier has few peers. To our mind, only Clowes, Ware and Seth have been as successful in this department*, and it bears remarking that there seems to be a bit of trend in effect among these design-oriented comics craftsmen as the latest work by each of these three creators shares with Hornschemier's a strong biographical focus on the protagonist. Wilson, Lint and

George Sprott

each present their eponymous protagonist's life story**, and
Life with Mr. Dangerous
is solidly centered on its female protagonist, Amy Breis
. While,

Mr. D

shares many formal qualities with these works, it should not be seen as being derived from them as it has been under construction in MOME since 2005. It is clearly an original work rather than a pastiche, and is unique in several respects. First of all, Hornschemeier has clearly striven to create and maintain a woman's perspective throughout the diegesis of

Life with Mr. D

. Secondly, in keeping with his relative youthfulness, his protagonist is squarely in her mid-twenties, and stays there for the duration.
Most of all, as we intimated at the outset,
Life with Mr. Dangerous
is a gift to biblio-æsthetes everywhere, as each line, letter and color on every surface from front to back of this
hardcover edition
has been thoughtfully designed, elegantly composed and carefully executed. Not everyone will agree with every design decision he has made, but there is no arguing the the high level of craft on display here at each turn of the page, solidly bolstering this tale of a woman in her mid-twenties struggling to come into her own, accompanied by her mother, a cat, and the ongoing television adventures of "Mr. Dangerous."
*(although, as always, we have to credit Crumb for introducing this level of craft consciousness to the medium) **
(It is additionally worth noting that
Clowes's immediately previous work is the
ironically titled,

Mr. Wonderful

, initially serialized in the NY Times.)
re
tail price - $22.00
copacetic price - $20.00


Lewis & Clark
by Nick Bertozzi
While his name is not one bandied about much in comics crit circles, Mr. Bertozzi has been quietly amassing a solid body of work.

The Salon

was a favorite here at Copacetic and his work on the young adult biography of Harry Houdini amply demonstrated those strengths at accurately rendering period details which are called upon in to an even greater degree here in

Lewis & Clark

. A tale both of man against man (and woman) and man against nature that is filled with scenes of European eyes' discovery of uncharted wilderness, confrontations with wild animals, intercultural challenges and much more,

Lewis & Clark

is both a history lesson and a graphic adventure. Publisher First Second
(:01)
has wisely granted a larger canvas for this work and we are treated to 136 full size 8 1/2" x 11" pages filled with fabulous
Bertozzi brushwork.

re
tail price - $16.99
copacetic price - $15.25



Farm 54


by Galit and Gilad Seliktar
Here's an graphic

roman á clef

of growing up on a farm in Israel. Told in three tales, one each from childhood, adolescence and early adulthood, and all of which center on a feminine protagonist,

Farm 54

is the product of a sister-brother team whose talents merge seamlessly. Written by the older, poet, sister, and drawn by the younger, illustrator, brother, the book has been beautifully produced by Fanfare • Ponent Mon. An evocative look at Israeli life skillfully told in words and pictures.

re
tail price - $
25.00
copacetic price - $22.75


Huntington, West Virginia "On the Fly"


by Harvey Pekar and Summer McClinton
The first full length work completed since Pekar's death last summer, "On the Fly" is a compendium of "characters" that Pekar came across during his travels on the lecture circuit during his "in demand' status that followed the release of the

American Splendor

film. Reading this book harkens back to the early days of the American Splendor comics in that it is a collection of disparate works relating Harvey's interactions with the world around him. The difference here is that he focuses more on the lives of others than his own. The tales in this book are divided between two tales of entrepreneurs from his hometown of Cleveland, Ohio and two tales from the neighboring states of Pennsylvania and
West Virginia. H
e provides a lengthy look at the lives of a State College couple along with a meandering anecdote filled recounting of numerous encounters in the titular town of Huntington, including those with another couple who own a comic book shop and are making a movie for which they ask Harvey to make a cameo appearance. This collection amply testifies to the fact that Harvey never lost his ability to transform quotidian encounters into revealing studies of human being. On the visual front, the entire book is illustrated by Summer McClinton, an artist with whom we were not previously familiar. Her work here is uneven and amateurish at times, but it has its moments – especially in her chapter headings, where she shows particular strength in creating visually appealing combinations of logo-style lettering and images. All in all she does a more than serviceable job of visually translating the tales that make up this engaging look at the life and times of Harvey Pekar in the 21st century.

re
tail price - $19.95
copacetic price - $17.77

Congress of the Animals
by Jim Woodring
An all-new wordless graphic novel featuring Frank. This 104 page hardcover is in the same format as 2009's

Weathercraft

, which was, in 2010, the first ever wordless novel to receive The Stranger Genius Award for literature.

Congress of the Animals

takes long time readers (and everyone else, for that matter) into uncharted territory when Frank departs the realm of The Unifactor, "the closed system of moral algebra into which he was born" and which controlled his existence... until now! This new work
propels
Frank into a new world where he meets Quacky and sails on through a series of enigmatic scenarios that we feel comfortable labeling "Woodringian." All lushly penned in ink employing Woodring's inimitable cartoon language, this book is a work that will reward repeated readings. Bonus Fact:
Congress of Animals

has a great full wraparound image printed directly on the hardcover itself that is a real treat (

and

that far surpasses the dustjacket image printed at left).
re
tail price - $19.99
copacetic price - $17.77

Isle of 100,000 Graves
by Jason & Vehlman
A new work by Norway's greatest comics creator is always a cause for celebration.

Isle of 100,000 Graves

marks a departure of sorts for Jason in that it marks his first original collaboration with a writer. Fabien Vehlman has crafted a "tortuously funny yarn" that Jason has made his own with his highly addictive comics stylings. Full color by Jason's longtime colorist, Hubert. Anyone worried that this might not be the Jason they've come to know and love can check out this six page PDF excerpt.

re
tail price - $14.99
copacetic price - $12.75

Approximate Continuum Comics
by Lewis Trondheim
Trondheim's autobiographical masterpiece is at last collected! This 160 page French-flapped softcover collects the entirety of the six issue series originally published between 1993 and 1996 along with seven pages of "rebuttals" from individuals – mostly French comics creators – who were subjectified in Trondheim's tale of comics in comics, including such L'Association luminaries as David B., Killoffer, Charles Berberian and Philippe Dupuy. Get an intimate inside look at the world of French comics – or should we say,
bande desinee
– while simultaneously receiving an inside look at the mind that is perceiving that world; it's a comics feedback loop!

re
tail price - $18.99
copacetic price - $17.00
Anya's Ghost


by Vera Brosgol
Here's a great new graphic novel in the vein of Hope Larson that will be especially appreciated by girls in the first half of their teen years (11 - 15). Brosgol is a native of Russia who moved to the US as a child and has spent most of her life here; and from the quality of the work on display in

Anya's Ghost

, we'd say that she has devoted quite a bit of her life to drawing. She holds a degree in Classical Animation (who knew there even was such a degree?) and is a professional storyboarder. While she has previously contributed to the annual

Flight

anthology, this is her first book length work, and it's well work checking out. Weighing in at 221 pages printed in black and white and shades of mauve(?), this book will make for some fun summer reading for the young adult set formerly known as teens.

re
tail price - $15.99
copacetic price - $14.75
Bound & Gagged
curated by Tom Neely
This compendium of 71 single-panel gag cartoons from the world of independent comics is a genuine
goldmine of
unique comics work. Who's in this comical compendium? Well, hold on to your hats for this partial list: Andrice Arp, Marc Bell, Chris Cilla, Michael DeForge, Kim Deitch, Theo Ellsworth, Robert Goodin, Juliacks, Kaz, Anders Nilsen, Jason Overby, John Porcellino (whose lead-off contribution had us wondering if perhaps he hadn't missed his calling as a New Yorker cartoonist), Jesse Reklaw, Zak Sally, Josh Simmons, Matthew Thurber, Noah Van Sciver, Dylan Williams, Chris Wright and more!!! In full color and black & white. Anyone who misses out on this will be kicking themselves for years to come. Don't let yourself be one of them!

re
tail price - $1
0.00
copacetic price - $10.00





SF


by Ryan Cecil Smith
This is the latest and largest self-published work by Closed Caption Comics alumnus, Ryan Cecil Smith. It's an energetically rendered, fun-filled, tongue in cheek science fiction romp that we unreservedly recommend to die-hard comics fans everywhere. Printed in Japan, where Smith is currently residing. The image to the left shows the front and back covers as well the two colors of paper stock in which the cover was printed (although, to be clear, each individual cover – both front and back – is printed on one or the other color).

re
tail price - $
5.00
copacetic price - $5.00

N.Y.D.I. #1
by Jesse Reklaw
This 16-page mini-comic by small press comics man-of-many-hats – writer, artist, editor, publisher and distributor – is part memoir of Reklaw's own personal experience in D.I.Y comics creating and part instructional guide / pocket-size mentoring program. Anyone involved in, or even interested in, any form of self-publishing – especially comics – should not hesitate to plunk down the two bucks for this pint-sized package of entertainment and edification.

re
tail price - $2.00
copacetic price - $2.00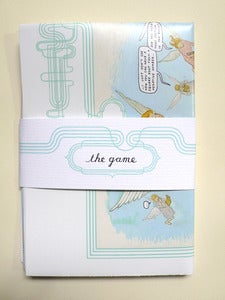 The Game


by Anders Nilsen
Here's a little handmade gift-edition of Mr. Nilsen's contribution to the now out of print

Kramers Ergot #7 – plus one extra page!

It comes packaged in a 5" x 7", resealable glassine envelope, but once removed folds out to its full (and full color) 14" x 20" glory. Includes bonus trading card!

re
tail price - $
9.00
copacetic price - $8.25


The Monologuist Paper Blog Update Supplemental Postcard Set Sticker Pack
by Anders Nilsen
And here's a unique little something-or-other from the author of

Big Questions

. It's fairly limited and we only have a few left.

copacetic price - sold out

Walt Disney's Mickey Mouse: "Race to Death Valley"
by Floyd Gottfredson
The Age of Classic Comics Collections continues with this premiere volume in the promised complete collection of Floyd Gottfredson's epic 25 year run on Mickey Mouse. OK, now, we know that some of you will be thinking to yourselves, "Mickey Mouse? Who cares!" Well, while we won't argue that there's quite a bit of mindless pap out there involving this particular mouse and that, as the icon of the Disney empire, this character has a lot to answer for, Gottfredson's work featuring this same mouse is simply straight up comics from the classic age of newspaper strips.
This series marks the first time this epic run has ever been collected in English (this work has a bit more respect over in Europe, where it has been the subject of at least one complete collection).
This volume starts right at the beginning – April Fool's Day, 1930 – and takes us through a series of adventures ending in early 1932. This well turned out 288 page volume contains heaps upon heaps of archival and supplemental material – much of it in color – that will make for a treasure trove for any and all collectors and aficionados of the mouse.

re
tail price - $29.99
copacetic price - $25.00
Frida Kahlo: Song of Herself
by Salomon Grimberg


There are plenty of Kahlo books out there that give a good visual overview of her paintings, but this one is unique in its insights and

it contains a good number of sketches and drawings which we have never come across before, many of which are amazing!

Not only that, but we made a special purchase on a number of copies and so are able to offer it at a price that makes it a great value!

Here's what the publisher has to say about it: "Frida Kahlo's extraordinary life has been well documented, but until now little has been known about the artist's thoughts on her internal and external reality. In Song of Herself, Kahlo expert and child psychiatrist Salomon Grimberg introduces and contextualizes an intimate, deeply introspective interview that Kahlo gave towards the end of her life to her friend the psychologist Olga Campos for an unpublished book on the creative process. Kahlo comments directly and starkly as never before on her life, her loves and her art, and expresses her attitudes towards sexuality, her body, friendship, politics and death, among other personal concerns. The most revealing autobiographical text known on this singular woman, this startling interview is accompanied here by Campos's reflections on her relationship with Kahlo and a psychological assessment of Kahlo by Dr James Bridger Harris. The book is illustrated with selected photographs and works by Kahlo, including previously unseen and rarely seen drawings." Special bonus: it's a deal!


re

tail price - $22.99

copacetic

special

price - $8.88




Pittsburgh Noir


edited by Kathleen George
The Akashic Books series of all original noir fiction anthologies set in cities around America, which began in 2004 with Brooklyn, has at last touched down here in Pittsburgh. This 237 page softcover volume contains brand-new stories by Lila Shaara, Terrance Hayes, Stewart O'Nan, Nanvy Martin, Paul Lee, K.C. Constantine, Kathleen George, Rebecca Drake, Carlos Antonio Delgado, Hilary Masters, Kathryn Miller Haines, Aubrey Hirsch, Rom Lipiinski, and Reginald McKnight, each of whom pen a dark tale of crime set in a venerable Pittsburgh area neighborhood.

re
tail price - $15.95
copacetic price - $14.44



The Harrow & the Harvest


by Gillian Welch
Gillian Welch and her long time musical cohort, David Rawlings are back at last with their first new record since 2003's

Soul Journey

. We've only had the chance to give this one listen so far, but we look forward to a long summer of replays and feel safe in saying it's going to fit quite comfortably along with the rest of their catalogue of works and that we'll be enjoying it for years to come. In other words: it's been worth the wait. Catch up with Gillian and Dave as they talk about the creation of this record and more in this piece from American Songwriter.

re
tail price - $15.98
copacetic price - $13.88
Items from our June 2011 listings may now be purchased online at our new site, HERE.


New for May 2011


Paying for It
by Chester Brown
Chester Brown is one of the greats of cartooning. His bravery in baring all in pen and ink is unmatched, in our opinion, even by the legendary R. Crumb, in whose footsteps he follows, and who, quite fittingly, has provided the introduction to this work. In

Paying for It

, a 280 page hardcover that is his first new work in eight years, he bares his soul and reveals a world in which sex is an end in and of itself, a consumer good like any other. Ironies abound as he comparison shops, debates tipping percentages and searches for value. Chester's brilliance as a cartoonist so utterly overshadows his skills as a polemicist, that the book, which is putatively a defense of decriminalizing prostitution, is transformed into something else entirely: an implicit indictment of the commodification of human sexuality by contemporary corporate capitalism.

re
tail price - $24.95
copacetic price - $22.75



Garden


by Yuichi Yokoyama
Yokoyama's newest – and longest, weighing in at 319 pages – work to be translated into English is now on our shelves. Readers of Yokoyama's previous mind altering works,

New Engineering

and

Travel

, know what to expect: monomaniacal manga
rife with lucid layouts, novel narratives,
power-packed pen & ink, revelatory riffs and
spectacular sound effects that taken together add up to a new way of seeing the world presented as only comics can.

Garden

presents a group of Yokoyama-oids as they work their way into a "garden" that has been metamorphosized and is more technology than nature. In doing so, Yokoyama holds up a transformational mirror that forces us to confront our preconceived notions of the natural world; from PictureBox, of course.

re
tail price - $24.95
copacetic price - $22.75


Unicorn Mountain 3 – The Black Forest:
A Collection of Art, Comics and Folk Tales from Western Pennsylvania and Beyond
by Rina Ayuyang, Chris Cornwell, Theo Ellsworth, JuliACKS, Frank Santoro and many, many more...
This is the long awaited third volume from Unicorn Mountain, published right here in Pittsburgh, PA. While lacking the musical component of the first two volumes (in other words: no CD this time around), the comics and illustration work, taken as a whole, is head and shoulders above the first two. Also worthy of note is the fact that this 228 page volume contains full color work – including an all-new, six-page story by Theo Ellsworth (his first in full color?). Limited to a mere 500 copies!

re
tail price - $35.00
copacetic price - $29.99






Root Rot


edited by Anne Koyama and Michael DeForge
Here's another forest themed book. This all-new anthology contains 16 two-page spreads by 16 different artists including Dan Zettwoch, Hellen Jo, T. Edward Bak, John Vermilyea and Joseph Lambert
– roughly 2/3 comics and 1/3 illustration –
along with a wraparound cover by co-editor DeForge. Beautifully printed on heavy, flat white stock. Another fine Koyama Press publication.

re
tail price - $12.00
copacetic price - $12.00






S! – Baltic Comics Magazine #7: Forest Tales


Yikes! Yet another forest-themed comics anthology! What does it mean?! Straight out of Latvia, this pint-sized powerhouse is 98 pages of full color comics from around the world – but with a

very

strong accent on the Baltic States. North Americans on hand are Pat Aulisio, Derek Ballard and Michael DeForge, whose 4-page "New Signal" is quite the eye-opener.

re
tail price - $8.50
copacetic price - $8.00





Lose #3


by Michael DeForge
OK, we'll admit it – you've been set up. Yes, we've been none-too-subtly leading you to this very listing. May is, evidently, the month of Michael DeForge.

Lose

#1 and #2 are now both out of print, so grab this daring depiction of dog days and derangement while you still can, and check out one of the more talented and challenging comics creators still willing to work in the original, serially produced, comics pamphlet form.

re
tail price - $5.00
copacetic price - $4.50
Dark Tomato #1
by Sakura Maku
Twenty pages of trippy evocations of New York City life – specifically riding on the subway and dealing with the MTA – by a long time comics maker that we're going to go out on a limb and guess that most people reading this have never heard of (although we have had a handful of her self-published works on sale here at Copacetic, as a part of one or more of our SPX hauls). Sakura brings an adventurous artistic spirit to comics in

Dark Tomato

, and we recommend it to any and all adventurous readers. The paper, production and printing (in Estonia!) impeccable, but, with the exception of the cover, is in black and white. The interior artwork appears as though it were reproduced from color originals, and while it is possible that this is not the case and the work was produced using only grey tones, because of the expressiveness of the visuals there is a feeling of, "if only this were in color" attached to the reading experience. Don't let this stop you, however; it's "colorful" even in black and white. And, finally, we can't help but note that there is no actual creator credit anywhere – that we could find – in this book. While every page is signed "SM10," it is only by reading through the back cover blurbs that the presumed creator of the work can be identified. Perhaps this is intentional on the artist's part; she does cite "the artist formerly known and now also known as Prince" among her inspirations, after all.

re
tail price - $
5.00
copacetic price - $4.50



Eye of the Majestic Creature


by Leslie Stein
Here we have the work of another long suffering self publishing comics creator, but this time she gets the chance to step out in style with the full-blown Fantagraphics treatment.

Eye of the Majestic Creature

collects the first four issues of this eminently readable series. Clean, clear, concise pen lines render equally clean, clear and concise cartoon tales. Here's what some of her peers have to say:

"Leslie Stein's comics inhabit a charming and semi-autobiographical... yet surreal insular world where her best friend and closest confidant is an acoustic guitar. What's not to relate to?"

– Peter Bagge;

"In the early 20th century, a beautiful cartoonist, Marcel Duchamp, pretended to be a marginally attractive woman and spent considerable time watching dust accumulate, Early in the 21st century, a beautiful cartoonist, Leslie Stein, pretended to be a funky dweeb and spent considerable time counting sand. Catch my drift?"

– Gary Panter

re
tail price - $18.99
copacetic price - $17.17


A Single Match
by Oji Suzuki


A Single Match

is a hardcover collection of eleven psychological tales, originating from the early days of the gekiga movement in Japan. Suzuki's work originally appeared in the consciously avant garde monthly manga anthology, Garo, which was founded in 1964. Drawn & Quarterly has, in this new volume of historically important manga, continued with its recent – and irritating – trend of providing no background information whatsoever regarding either the material's original publication or
the artist's life and career development,
other than the line on the back cover blurb implying that it was originally published in

Garo,

and the most cursory of bio paragraphs. Here at Copacetic, we believe that in order for a reader to fully appreciate a work out of its original cultural, social and/or historical context, it is crucial that s/he be provided with information that will put the work in its proper context. This includes, at the bare minimum, some background on the artist and of the publications in which the work originally appeared, as well as the dates of original publication for each work so as to be able to establish the chronology of their appearence and so be able to correctly discern the artist's development. This is especially true when dealing with an artist as obscure and offbeat as Suzuki, so we hope that D&Q will wake up to the fact that it is incumbent upon them to provide this contextualizing information. Ironically, they do provide information in exactly those books where it's less needed; in the more widely recognized classics, about which there is previously extant information in English (such as Tatsumi's; and see below). It's difficult to really give A Single Match its due here, so we

are

grateful that D&Q has at least provided this PDF preview. So check it out and see what you think. Anyone in the know about the sources of this work and the life of Oji Suzuki, is hereby invited to send that info this way!

re
tail price - $24.95
copacetic price - $22.22



Onwards Towards Our Noble Deaths


by Shigeru Mizuki
OK, here, with their publication of this noted, historically significant work, D&Q has provided an introduction and notes by the pre-eminent American manga scholar, Frederik Schodt, as well as an afterword by and Q & A with Mizuki himself, that goes a long way to answering our complaints regarding the previously listed work (and, it must be said, quite a few other recent D&Q archival manga publications). So, kudos to D&Q this time around. Originally published in 1973,
when Mizuki was 51 years old,
Onwards to Our Noble Deaths

is a fictionalized memoir of his own military service that is an artistically masterful, highly engaging and historically important work by one of Japan's most celebrated mangaka that was awarded the Heritage Essential award at the Angoulême International Comics Festival. Be sure to check out this PDF preview and see for yourself whether or not you think you're interested in further exploring this 372 page tome.
re
tail price - $24.95
copacetic price - $22.22



Empire State: A Love Story (Or Not)


by Jason Shiga
Here's the latest graphic novel by the creator of the Copacetic favorite,

Meanwhile

, that was published by Abrams last year (nearly a decade after Shiga self-published it).

Empire State

is, however, quite a different kettle of fish. It is a pop-culture savvy tale of bi-coastal romance that has the feel of a

roman á clef

and is much closer is style and content to its immediate precursor, Bookhunter, that was published in 2007 by those stalwart supporters of independent comics, Sparkplug Comic Books.

Empire State

is a 144 page, two-color hardcover that is durably constructed and considerately priced.
re
tail price - $17.95
copacetic price - $16.25




Pinocchio


by Winshluss
In this massive, deluxe, 188 page, full color hardcover, the classic tale of Pinocchio, originally penned by Carlo Collodi towards the close of the 19th century, gets a 21st century makeover; which, we hasten to add, renders it unsuitable for children. Winner of the 2009 Angoulême best book of the year prize it
is now published in English for the first time by Last Gasp in the US and Knockabout in the UK. In the wake of its success, its creator,
Winshluss (the pen name of French cartoonist, Vincent Paronnaud) has won many converts. We now refer you to Ben Towle's infectiously enthusiastic write up that does its best to add you to their ranks. Replete with illustrations and links, Towle does his best to convince you of this book's merits, which are many and various.

re
tail price - $29.95
copacetic price - $26.95



Genius, Isolated: The Life and Art of Alex Toth


by Bruce Canwell and Dean Mullaney

Genius, Isolated: The Life and Art of Alex Toth

is the first of a three-book set (!!!) that is quite likely to be the definitive statement on one of the most talented and influential artists in the history of comics. Produced by the Eisner Award-winning team of Dean Mullaney and Bruce Canwell—who produced the amazing

Scorchy Smith and the Art of Noel Sickles

—

Genius, Isolated

is a massive tome packed with both classics and rarities that will have true believers poring over every page. The scrupulously well-reproduced work is interwoven with what promises to be the first in-depth biography of this unparalleled comics master. Of critical importance is the fact that this book has been written as well as compiled with complete access to the family archives, and with the full cooperation of Toth's children. Prepare to be wowed!

retail
price - $49.95
copacetic price - $44.44



Love from the Shadows


by Gilbert Hernandez
Here we have the third volume in Gilbert's ongoing series, "The Fritz B-Movie Collection" (the first two being

Chance in Hell

and

The Troublemakers

). As with the first two volumes, this is a 120 page black and white hardcover with a painted dustjacket by a guest artist (this time it's by newcomer, Steve Martinez). Gilbert is extending his own set of generic conventions in this series, and they are all on display once again: sex, and plenty of it; violence (less this time around, but still not for the squeamish); barren western landscapes strewn with rock formations and pocked with caves; mysterious organizations with ill-defined aims; and crazy plot twists and turns that will leave your head spinning.

retail
price - $19.99
copacetic price - $17.77
Gasland - DVD
a film by Josh Fox
Marcellus Shale is here and there's no turning back, but an informed populace is the best defense against rapacity and greed, and that's where Josh Fox's

Gasland

comes in. It's more the first word than the last word on the subject, but this is a subject that is worthy of plenty of attention and this is a good place to start. Here's the official description: "The largest domestic natural gas drilling boom in history has swept across the United States. The Halliburton-developed drilling technology of "fracking" or hydraulic fracturing (Copacetic Note: hydraulic fracturing was actually developed by George Mitchell of Mitchell Energy; not sure why the makers of this film think it was Halliburton...) has unlocked a "Saudia Arabia of natural gas" just beneath us. But is fracking safe? When filmmaker Josh Fox is asked to lease his land for drilling, he embarks on a cross-country odyssey uncovering a trail of secrets, lies and contamination. A recently drilled nearby Pennsylvania town reports that residents are able to light their drinking water on fire. This is just one of the many absurd and astonishing revelations of a new country called GASLAND. Part verite travelogue, part expose, part mystery, part bluegrass banjo meltdown, part showdown." And here's the trailer.

retail
price - $29.9
8
copacetic price - $18.88
Something Wild - DVD

directed by Jonathan Demme, w/ Melanie Griffith, Jeff Daniels and Ray Liotta
Demme's masterpiece, and one of the undisputed classics of '80s American cinema,

Something Wild

is also the film that put Ray Liotta on the map and remains his most affecting performance. Beautifully shot by the one and only Tak Fujimoto, and featuring The Feelies as a high school cover band performing Bowie's "Fame" at a reunion dance, this one of a kind work, which is perhaps the only film to successfully combine screwball comedy and violent thriller, is now available in a Criterion edition offering a new, restored digital transfer supervised by Tak Fujimoto and that features new interviews with Demme and screenwriter E Max Frye and a booklet that includes an essay by David Thompson.

retail
price - $29.9
8
copacetic price - $27.50


Pale Flower - DVD
directed by Masahiro Shinoda
This DVD that brings back into print (and that is a vast improvement over the previous edition) the late-noir classic that was the breakthrough film for the director of

Double Suicide

is also among this month's new releases from Criterion. Originally released in 1964,

Pale Flower

is a gangster romance noir that is shot in black and white (natch!) and features a soundtrack by the world renowned composer Toru Takemitsu. It tells the tale of a yakuza just out of prision who falls hard for a femme fatale; what looks good gets bad (and so, as film noir, gets better). Features include: new high-definition digital transfer; new and improved subtitle translation; new video interview with Shinoda; booklet with essay by Chuck Stephens.

retail
price - $29.9
8
copacetic price - $27.50
Items from our May 2011 listings may now be purchased online at our new site, HERE.
New for April 2011

Mister Wonderful
by Daniel Clowes
It's been so long since this was serialized in the New York Times, that we'll bet some of you had forgotten about it – but that's all part of the master plan. This laminated, horizontally formatted hardcover just released by the industry leading Graphic Novel division of the eminent Pantheon imprint of the storied Knopf Doubleday publishing group of that pillar of publication, Random House, Inc., a wholly owned subsidiary of Bertelsmann AG, is simply the next step in the inevitable domination of the globe by Daniel Gillespie Clowes. By insinuating himself at the lowliest point in the media food chain, Clowes has, with this aptly named work, been able to surreptitiously release a virus of comics irony that will slowly but surely work its way up to the top, wherein it will catalyze a linguistically encoded polymerase chain reaction that will initiate a resequencing of heretofore normative power relations the end result of which will be a catapulting of comics to its rightful place at the center of the palace of wisdom, with Clowes himself firmly ensconced on the throne. So, if you want to find a place for yourself in this coming
new world order
, you are hereby advised to purchase and study this essential tome.

re
tail price - $19.95
copacetic price - $18.88



I Will Bite You


by Joseph Lambert
This Vermont resident (native?) has been quietly building an impressive body of hard-to-get-a-hold-of self-published works that are now, at last, herein collected in a single volume published by the fine folks at Secret Acres. A Center for Cartoon Studies alum, Lambert has developed a strong, recognizable style. He is not, however, content to play the same song over and over. Rather, he has put his chops in the service of a restless intelligence and has produced so far a nice batch of formal and thematic explorations that will reward engaged comics readers everywhere. Take a gander at his online comics work,

here

. 128 pages • 2-color throughout, except for 1 full-color signature. Recommended.

re
tail price - $14.95
copacetic price - $12.75

"21": The Story of Roberto Clemente
by Wilfred Santiago
The legendary Pittsburgh Pirate herein receives a respectful, full-length comics biography from the pen of fellow Puerto Rican, Wilfred Santiago. Clemente was one of the all time baseball greats – perhaps the greatest Pirate after Honus Wagner – and was the first Latino to be inducted into the Baseball Hall of Fame, but, as this work amply demonstrates, Clemente was more than just a baseball player. He was a man with a big heart, who understood well Spider-Man's dictum that responsibility is a necessary accompaniment to power, fame and wealth, and thus his life story is an instructive tonic for our times, so pervaded as they are by selfishness and greed. Santiago's work here rises to the occasion and, perhaps motivated by Clemente's example, reaches a clear career high. Get an idea of what we're talking about with this PDF preview.

re
tail price - $22.99
copacetic price - $20.00
The Finder Library, Volume 1


by Carla Speed McNeil
OK:

any

reader who enjoys both world-building science fiction

and

comics who has yet to experience the wonder that is Carla Speed McNeil's

Finder

should simply stop reading this now and go out and buy this 664 page mega-collection that collects the first 22 issues of this long running series. These works were originally collected in four volumes –

Sin-Eater 1 & 2, King of the Cats

and

Talisman

– with a combined price of $69.80 and

that

was a great value, so, basically, this new volume is practically giving it away! Do yourself a favor and head on over to this page, where you can learn more

and

read a 28-page excerpt from the early pages of this book that reveals a clear Dave Sim influence. McNeil's work has constantly evolved over the years since the inception of

Finder

in 1996. McNeil has developed her own clear comics voice; she has absorbed a wide array of techniques and styles
that will be familiar to readers of
Joe Sacco, Gilbert Hernandez, and Alison Bechdel. And then there are the characters! The series is anchored by a female-friendly (he'd better be, considering he was created by a woman) bad boy. As it develops, he is brought into contact with a a wide array of fully formed characters that successfully combine realism and fantasy in delivering to the reader an intriguing host of aliens, humans, half-breeds and mutants.
re
tail price - $24.95
copacetic price - $22.75
Night Animals
by Brecht Evens


Night Animals

contains two lushly rendered sequences of
pantomimic
pen and ink drawings employing monochromatic color schemes, each relating a revealing insight into humanity's animal nature. Equally informed by Maurice Sendack and David B., this 2007 work by the Belgian creator of the highly lauded 2010 release (and official 2011 Angoulême International Comics Festival selection),

The Wrong Place

, finally gets a chance to wow North American comics readers, courtesy of Top Shelf Publications. A mere 24 years old, Evens is clearly a comics prodigy from whom we have every reason to believe much more is to come. A brief word of caution is in order for potential readers of this particular work: while the image that graces this volume has a whimsical air about it, the work it previews is at its core an unsettling cautionary tale tinged with darkness.

re
tail price - $7.95
copacetic price - $7.50




Hate Annual 9


by Pete Bagge
Join Buddy, Lisa and the gang for their first (and best) full length feature in quite awhile. At last, Lisa's teen years are revealed, as the Bradley clan takes a trip back to Seattle (and back in time) to her ancestral home on a visit to her aged parents – the first time for Buddy. Secrets galore are revealed in this naked portrait of family dysfunction delivered as only P. Bagge can.

re
tail price - $4.95
copacetic price - $4.75



Andromeda 12


edited by Andy Scott
FULL COLOR! Yes, you read that right. 48 pages of cover to cover full color from the Andromeda gang right here in Pittsburgh, PA. Witness the inner turmoil of Pittsburgh youth in revolt, fully nuanced as never before. The centerpiece is editor Scott's own 11-page piece of pantone penwork. It is surrounded by contributions by fellow Andromedites, Nate McDonough, Lizzee Solomon, Dan McCloskey, Artnoose and more!

re
tail price - $5.00
copacetic price - $5.00




Papercutter 15


edited by Greg Means
Yes, it's time for another issue of our favorite regularly published comic book anthology! Jonas Madden-Conner leads off this issue with a seventeen page excursion into mathematics, history and fable with the curiosity-inducing (and grammatically challenging) title, "The Most Gripping Mind-Exploding Triumphantly Electric of Our Time." This is followed by "My Two Front Teeth," a six page childhood reminiscence by Melinda Boyce. The issue concludes with "My Boyfriend... or My Kitty?" in which a common dilemma is given
a neo-classic
romance comics treatment. Written by MK Reed, this story features Drew Weing's finest art to date. It looks like he's hit his stride here. Don't miss it!

re
tail price - $4.00
copacetic price - $3.50


MOME 21
edited by Eric Reynolds
We are sad to announce that this is the penultimate issue of MOME. Highlights this time around must start off with a new Tom Kaczynski tale, "The Cozy Apocalypse." Also notable are a full-color two-pager by Lilli Carré, a nifty-in-a-very-dark-way three-pager by Jon Adams, the highly Hankiewicz-esque cover story by Sara Edward-Corbett, along with new work by Steve Weissman, Kurt Wolfgang, Josh Simmons (2!), T. Edward Bak, Nicolas Mahler, Dash Shaw, Sergio Ponchione, Nate Neal, Nick Thorburn and Michael Jada & Derek Van Gieson. Savor these tales.

re
tail price - $14.95
copacetic price - $13.75








Diamond 6
edited by Jason Leivian
This full color newspaper jammed with comics is from the fine folks at Floating World Comics in Portland, OR. This time around we start off with a wraparound cover by none other than Mr. Paul Pope, who also contributes a page along with, among others, Farel Dalrymple, Sam Hiti, Jonny Negron, Lane Milburn, Dash Shaw, Zack Soto and Pittsburgh's own Jim Rugg! Sadly, this issue is,
according to the idicia, the last. Don't let that stop you from enjoying it; just take your time...

re
tail price - $4.00
copacetic price - $3.75


Bête Noire


edited by Chris Polkki
Don't let the fact that some of your favorite comics anthologies are concluding their runs get you down: there's a world of comics out there waiting to be discovered. Take this swell 100-page anthology from 2005, for example. We thought it was long gone, but we stumbled on a source and so are eager to let late-comers in on this swell package of comics from around the world, with a special emphasis on the Japanese avant garde.

Bête Noire

features what we believe was the first North American publication of Yuichi Yokoyama, as well as works by fellow Japanese manga masters Junko Mizuno, Ichiba Daisuke, Takeshi Nemoto and Suzy Amakane. Also on hand are Helge Reumann of Switzerland, Anke Feuchtenberger of Germany, Ludovic Debeurme, Lucie Durbiano and Caroline Sury of France, as well as artists from Italy, Spain, Finland, along with Kevin Scalzo, Renée French and cover artist David Heatley from the USA. Recommended for readers of

Kramers Ergot, MOME

and

Blood Orange

(which Mr. Polkki also edited).

re
tail price - $9.95
copacetic price - $9.95



POOD 3


edited by Geoff Grogan, Kevin Mutch & Alex Rader
And then there's this! sixteen mammoth 16" x 22" newsprint pages in alternating full color and black & white. Each gigantic page offers up a complete work by an individual creator or creative team – 15 in all, along with one page of editorial content. There's some really worthwhile work here. First off, two of the top teams in indy comics are on hand here: Jim Rugg & Brian Maruca deliver another cartoon deconstruction of US foreign policy in their latest US APE tale, "Chernobyl," while Adam McGovern & Paola Leandri splice 60's Kirbyisms onto Orphic lyrics to create a poetic comics evocation of the primal muse in "Spirit Media." Hans Rickheit brings us once again into his finely rendered dream world with "Cochlea and Eustachia." And, there's plenty more before the book closes out with two pages of full color splendor with "Zizmo and the Escapists" by Tobias Tak and "World Excursion" by Bishakh Som.

re
tail price - $4.50
copacetic price - $4.50

Items from our April 2011 listings may now be purchased online at our new site, HERE.