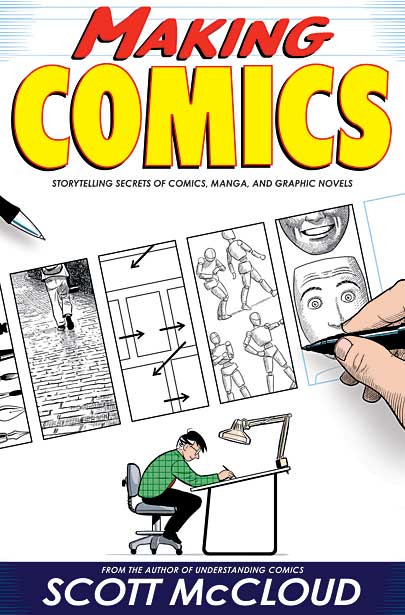 now in stock!
MAKING COMICS
storytelling secrets of comics, manga, and graphic novels
by Scott McCloud
Here's what Mr. McCloud has to say about his forthcoming work:


"If you've ever felt there must be something more to making comics than just copying drawing styles then this is the book for you.
In Making Comics, I'll do my best to cover the storytelling secrets I don't see any other books talking about, including:
Choosing the right moments to make into panels; what to include, what to leave out.
Framing actions and guiding the reader's eyes.
Choosing words and images that communicate together.
Creating varied and compelling characters with inner lives and unforgettable appearances.
Understanding body language and facial expressions.
Creating rich, believable worlds for your readers to explore.
Picking the tools that are right for you, and understanding how those tools evolved.
Navigating the vast world of comics styles and genres.
Whether you want to draw graphic novels, superheroes, neo-manga, comic strips or webcomics, you're going to be putting one picture after another to tell a story. This is the book where I'll do my best to show you how."

Here's a page that features more by McCloud on Making Comics, and that includes a few preview pages (click on the images to full-size them).

retail price - $22.95
copacetic price - $19.50

prices and availability current as of 28 October 2006