Author: admin, 28.07.2015
As a final step before posting your comment, enter the letters and numbers you see in the image below. Evoking hope too easily can feel kind of glib or damp; saying there is none, though the opposite, can feel sentimental in a similar way. For the illustration itself, I contemplated various approaches but settled on attempting to illustrate the entire poem, as Laurence Houseman would. As I mentioned, I envisioned a pastel illustration, but I quickly figured that it would not work for this poem, and certainly not for the size of the page I was intending to use. I knew immediately that it would be difficult to illustrate but I wanted to take on the challenge of illustrating the work of one of my favourite 19th century poets. In part, this was due to the fact that I had decided to do a pastel-based illustration at the outset (I later changed my mind). I believe that the woodcut is the archetypal Victorian illustration for poetry and I wanted to recreate that without, of course, using an actual woodcut, but by mixing mediums.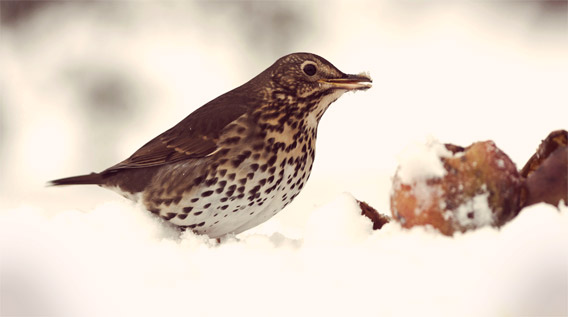 I did not choose to show man and bird interacting because they do not in the poem – it's a subjective work of poetry. I wanted to create a direct interplay between text and image, but where the image was privileged and swallows up the text; in fact, the text is superimposed on the image, almost as an afterthought. I did experiment with charcoals, but then I really wanted to create something that would be closely linked to the course.
I also wanted to create a raven-like status for the thrush where its location is paramount and seen at all times – the eye wanders to it constantly, and hopefully it haunts the page. The text of the poem occupies a space I like to call the "thought space" of the illustration. The male figure is obviously contemplating what he sees (as should we) – he is pessimistically lamenting the turn of the century.
I also thought the woodcut concept would be great for this poem because it would emphasize contrast.
We see him thinking this but we are also in a place of privilege because we see his thoughts as well as the entire scene, as though we were creeping up behind.
My project is all about contrast literally and figuratively; the illustration only highlights the contrast.
The anticipated impression upon the reader is the drawing in to contemplate, just as Hardy's subject does, the conflict between the dying century (effectively the end of the Victorian era) and the dawning new modern age, the disparity between despair and hope.
This is a space between the gates physically, but also figures as the space between man and thrush, man and nature, industry and the pastoral, modern and ancient.