30.11.2013
admin
Width of the base was determined by figuring out the largest piece I can turn on this lathe - since it is a gap bed lathe I get a little extra. Weight - meant an area that could be loaded with sand easily, that was clean and wouldn't make a mess. To make speed changes easier, I chose to hang the motor from a hinge - using the weight of the motor to keep the tension of the belt.
Once all of this was done, and I was happy with the location of the stand I then filled the bottom with sand for weight.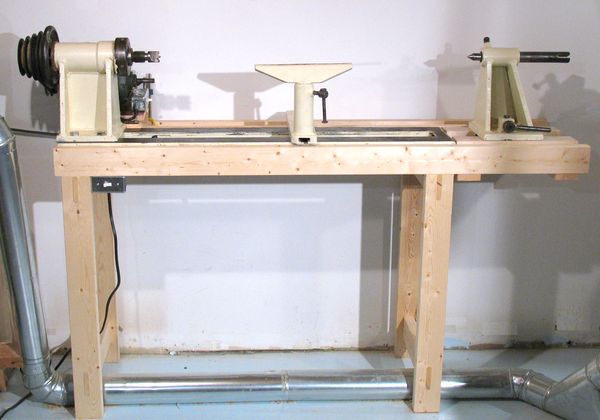 My feeling is that you want nothing projecting beyond the front or back of the lathe itself, but a shelf beneath the top of the bench where you can lay tools and such. Also have the headstock end of the lathe bed as close to the left edge of the bench as you can get it and have it secure. Tools currently in use should rack where you can reach them with the appropriate hand without reaching over the top of lathe or taking more than one step in any direction; the closer the better. This is all opnion, and I wish I'd paid more attention to it when I built the bench for my metal lathe.
Oh, and height is another important aspect: the centerline of the lathe spindle should be at a comfortable working height for *you*, generally the height of your hands while standing, with your upper arms at your sides and your forearms parallel to the floor. I built my own tool holders and hung them on adjacent wall 2x4 studs using cleats next to the lathe.