I am very pleased with these results, especially since I was in a plateau for more than half of the 30 days.
I can definitely tell a difference in my hips (read: lovehandles) and my clothes are all fitting better. I bought the 30 Day Shred this weekend, so I guess that's a step in the right direction. That's fanfreaking-TASTIC woman!!I know you like the Shred, but do you ever do Beachbody programs? I stay on each level until I feel I am ready to progress (ie, until I can easily get through each level with no breaks- usually about 10 days).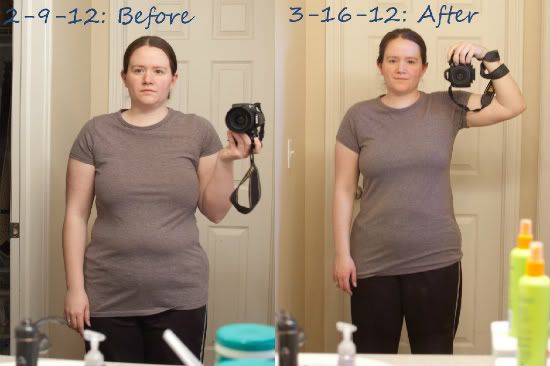 Like many other commenters, I have the 30 day shred (well, somewhere, my 3 year old is obsessed with playing hide and seek with my DVD's lately. You look much more fit in the second photos - and I'd rather lose two pants sizes than two pounds. We started with similar measurements and weight after our second babies and now (a year later, though only about 12 weeks of hitting the gym for zumba and heavvy weights+healthy eating) I'm getting happy with my results.
And seriously, training for a half AND doing the shred, quit putting everyone else's workout efforts to shame!! I've lost 40 pounds in the past 7 months, and I'm now on my 6th day of the shred!You look great!
I am doing a half marathon on Sunday, and then I'm planning on stepping up my strength training.
I actually liked it better than 30DS although I haven't finished it all the way through yet.
I do Bootcamp 3 days a week, so the Shred is like a mini-version of that and then I run the other 3 days--one of those a long run as I contemplate doing a half in May!
Comments »