Home built (DIY) small electric buggies and go kart plans - plans for DIY 1500W electric kart.
The idea and initial design of this cart was originally published in a DIY Collection of Magazines called "Profile", many years ago (approx 20 years). This cart should be easy to build, take approximately a weekend to make, and be fun for children to drive.
Primer paint for external wood, should be used firstly and then a gloss metallic coloured final coat of paint. Also people might like a more user friendly, safer wooden cart for younger kids to play with (the other wooden go-kart used spoked wheels, had foot steering and was designed for an older child).
The four wheels are plastic and can be obtained from an old lawnmower or bought off the shelf.
The steering wheel in this cart comes as a welcome addition, although it requires a bit of extra work in setting up. As mentioned previously on Drawing 3 explanation above, the steering wheel will take a little work to get correct and smooth.
The brake lever is a simple piece of timber rounded and shaped at the top, which pivots against the rear wheel. The above Drawings hope to make it easier understanding and building this cart while adding upon a few areas (brakes and steering) and making the dimensions more complete. The brake is an extra addition also, and was not included in the original set of cart plans. NOTE: the steering arm must be fitted in place before securing the three bonnet pieces (Bonnet-Rear, Bonnet-Front, Bonnet-Center from Drawing 2).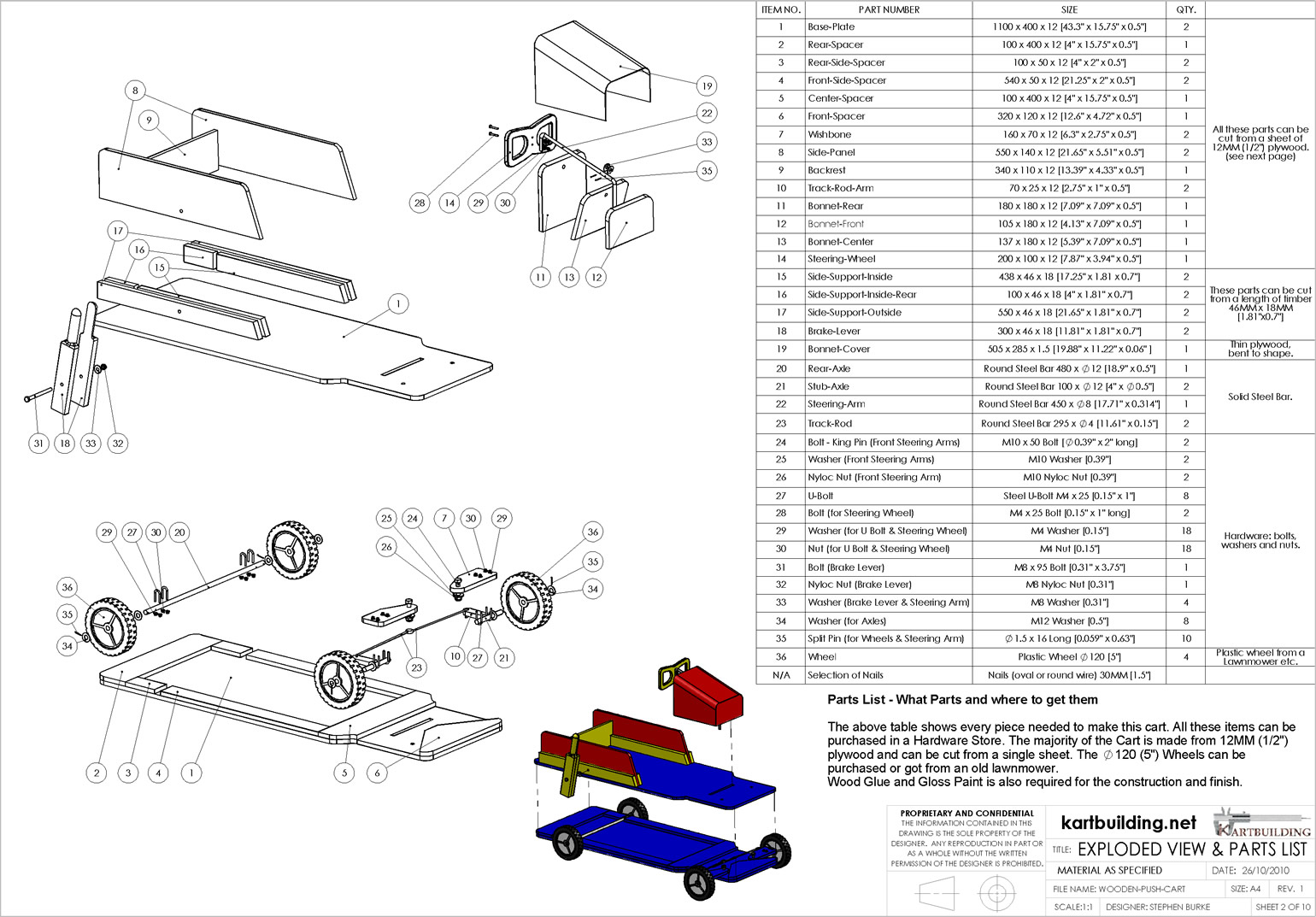 Make sure the steering wheel turns freely when lined up with the square slot (see dotted rectangle in bottom left plan view in Drawing 10).
Note: this brake lever is not designed to provide an immediate stop, but to help slow the cart down gradually.
The wooden go-cart can be rotated in 3D - allowing you to look underneath, or from the back etc.
Another option is to make the brake lever longer, and to have the end rub off the ground as opposed to the rear wheel.