If you review all the plans, ideas and photos in this DIY miter saw stand collection you will undoubtedly agree that these three deserve honorable mention above all others.
It seems that miter saw tables invite more modifications and variations than other plan collections I've made in the past. For the most part I found the build galleries in forums, along with links to the paid plans… For those in the planning stage, reading through these threads may provide little sparks of insight and ideas.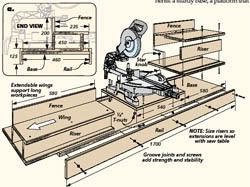 It just seemed that many, many woodworkers started from paid plans for their miter saw tables. I'll be making up my own design but this really helps as a starting off place for my miter saw station. These include more design tweaks than the plans above, however they require a higher level of design-it-yourself ability.