Central to the ProEdge is an abrasive belt which is a quick and efficient method of putting a keen edge on each and every tool. The ProEdge is ideal for those who need to sharpen carving tools, bench chisels, framing chisels, turning tools, plane irons, router bits, garden tools and much more. Designed for sharpening mini or midi size tools, the Robert Sorby® Pro Edge™ Short Tool Rest is only 1" long preventing interference while sharpening. The jig consists of all parts required to convert a ProEdge, a new back plate, raised wear plate, universal arm and knife holder.
Designed to help you create long grinds on bowl and spindle gouges, the Robert Sorby® Pro Edge™ Long Grind Jig helps you achieve fast consistent results every time. The Pro Edge Pigtail Mandrel is used to mount the Pro Edge Buffing Wheel (Mop) to belt drive pulley at the lower right of the sharpening system. The Robert Sorby Pro Edge Ultra-Fine Buffing Compound is used with buffing wheels or mops to produce a highly polished finish on sharpened tools.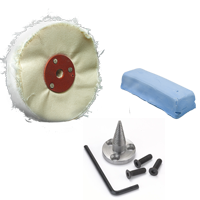 With our years of experience and passion in both woodturning and woodworking we are committed to providing a friendly and professional service and with the adage of offering great value too.
In fact, the concept is far from new as the ProEdge largely replicates the tool sharpening system which has evolved in the Robert Sorby factory over many, many years. The kit includes instructions on fitting and should only take a few minutes to fit onto the ProEdge.
The ProEdge comes complete with aluminum oxide and zirconium belts with a selection of sizes in those materials and ceramic also available. We supply leading brands like Robert Sorby, Creusen, Tormek, Chestnut and Titebond, and a comprehensive range of items for the modern woodturner.