My goal is to build EUBs (electric upright bass) and the design I'm interested in building has an arched top -- I also believe that I will be able to fabricate the fingerboad and neck using this machine from a master form. The ability to develop instruments with an arched top or other raised and or contoured profiles is facilitated by having a machine to duplicate a master pattern.
CNC machines are becomming really popular and I'm sure the wave of the future but probably more costly to build and a bit of a learning curve to learn to operate.
A duplicator could also preform functions that an overhead router, or a router using a template would preform ie: routing pickup cavities or an electronics cavity.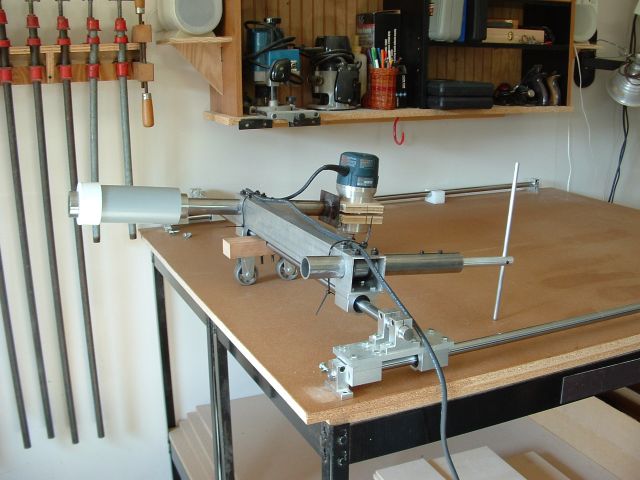 The CNC machines share a common function with a wood duplicator in the ability to move on an x,y,z axis and as such I borrowed some design inspiration from them as well. My design is similar to the ones I found on the net with the exception that several of the home built machines viewed on the web used wood in place of metal which I think is probably OK-- it was just my preference to use metal as I thought it may have a slight advantage in stability and accuracy. VXB is an online supplier of linear bearings, shafts, shaft supports and is probably the best and cheapest source for building the needed linear motion components of a duplicator. The router mounts to the steel plate using a home made bracket assembly and at the other end of the 24 inch shaft is a counter weight made using schedule 80 pvc pipe (see pictures).