As a military brat who went to fourteen different schools before starting high school, scouting provided one of the few consistencies for my own life.
Knowing I enjoyed woodworking and was always willing to help with scouting projects, after a little needed grumbling, my long time scout master friend in Davis California drafted me to rebuild the old pinewood derby track that my little brother used as a Cub Scout. In the middle seventies, I got a strange call out of the blue from a new scout master who told me I was going to build him a new pinewood derby track for his newly forming Pony Express District in Fair Oaks, roughly twenty five miles away from my home in Davis California. As with most of my projects it seems I spend as much time figuring out how to make them better as actually building, then continue thinking of improvements for years after each project. Another few years went by and I never heard another word about pinewood derby tracks, then in the early eighties suddenly got letters from a few scoutmasters spread across the country. So if you want to build a track from scratch, please go Boy Scouts of America direct and get the latest version of the track and timer specifications, or buy a completed track from them or a recommended vendor.
His second year he did the same thing using mahogany with inlaid racing stripes of hard rock maple and cocobolo, plus on the top of the car he made (after about 30 tries on my scroll saw) a cocobolo scout emblem. There are lots and lots of myths and "experts", most of who sound pretty knowledgeable when it comes to making either a nice or very fast pinewood derby car for Cub Scouts..
One of the more fun projects that I did with the Cub Scouts was help them to all build stilts.
Unlike today where thanks to so many moving with the military, my Boy Scout experience was a confused mess where each new scout leader, assistant leader, and merit badge counselor required me to repeat all time and time again. My brother helped continue a long standing family tradition of working closely together to teach woodworking skills and built something that not only worked, but worked really well consistently winning awards for design and speed.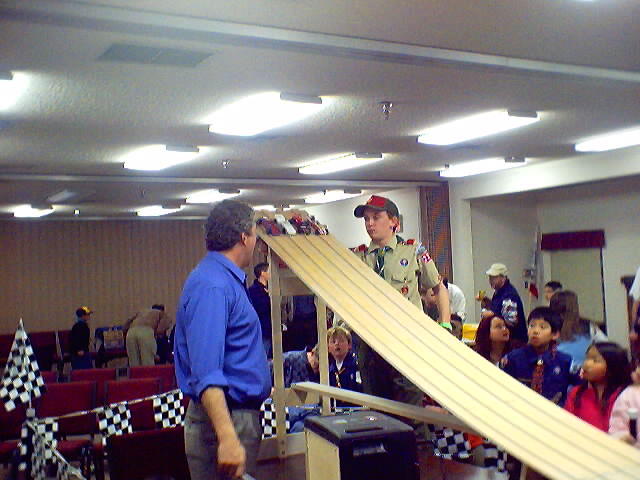 The original track used in our district had two lanes and was made long before there were any official scout standards except setting the track height, overall length, and width of the lane center steering boards. Without my ever learning otherwise, apparently both my design and timer got forwarded on and became the Scouting standard. I discovered Scouting is a small world and in spite of thinking I was well hidden, another request came my way to help the district.
For boys whose cars were too light we had some adhesive backed lead tape and would give them just enough to be right at the desired weight.
He apprenticed under a stern woodworker to earn journey then master certificates in fine woodworking. Regardless, I still managed to survive Cub Scouts, Boy Scouts, and Explorer Scouting helping to pioneer one of the first Explorer Air Scouting units in the country.
I admit liking to help scouting, but invariably found that all the promised help, materials, and financial support inevitably ended up either never happening or often taking me more time and trouble than having no help.
This time I used some really nice Baltic birch plywood and a stash of some hard rock maple left over from another project. For those with too heavy of a car or cars greatly in need of a little help to make them roll we setup a little work area where the Boy Scouts and a few volunteer dads had their portable drills, graphite, spare wheels, spare axles, superglue, and even a little quick setting epoxy.
His woodworking mentor was "old world" school where quality, sharpness, and efficiency were everything. I have to admit getting far too excited about the flying to go back and redo the few badges just one more time to finally earn my Eagle Scouting rank.
Having grown up in woodworking and construction, before even getting out of the Boy Scouts I was drafted to help rebuild our old Scout Cabins, local church, and community centers.
Of course the head people in scouting are picked for their skills at motivating others, so I again ended up not only agreeing to build a computer based timing circuit and software, but also another new prototype track for our local district. Although slow, I do learn and managed to draft a couple of employees and a current electrical engineering professor friend, all with active Cub Scout children. Regardless, as many who know me will gladly attest, I never really grew up, just got neater toys and am still associated with scouting today. In addition to keeping all in order, these boxes protected the cars from being dropped by over eager scouts and fathers. Unfortunately, the district scoutmaster dropped it breaking off the front corner and wheel. The rules were clear this was supposed to be a combined father and son project, yet most felt that my father had done it all. I then let the boys stain their own boxes using a dark gel stain with lots of gloves, shop aprons, etc.