Beam Strength-The resistance a saw blade has to back deflection when subjected to the edge thrust of feed pressure. Feed Rate- The linear travel of the work piece into the blade, usually expressed in inches per minute. Rake Angle- The angle the tooth face makes with respect to a perpendicular line from the back edge of the blade.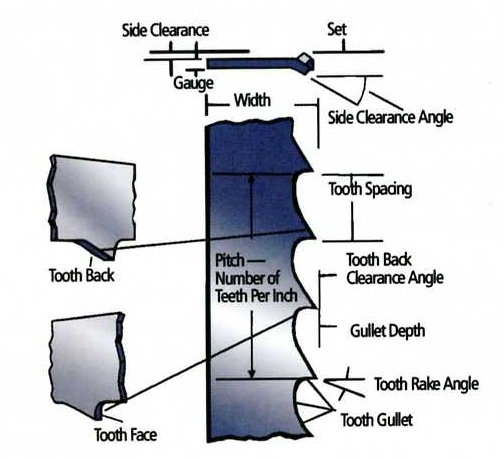 Side Clearance- The difference in dimension between the set of the teeth and the back of the blade. Wavy Set- A saw tooth pattern having one group of teeth set to the right and the next group set to the left to give the appearance of a wave viewed from the top of the blade. Use a square to make sure the blade is not being pushed out of line and place a piece of white paper between the blade guide and the blade to allow for clearance.
The setting of teeth enables a saw blade to cut straighter, to clear the chips from the kerf, and to allow the back of the band to clear the cut and not bind.