I posted a thread (pun intended) earlier about what thread profile to use for wooden threads. The next stage was to cut the male threads, I started making a screw box, but I never even got it finished, I went for a router with a chamfering bit instead, mounted on the lathe cross-slide.. Johnny has already answered this, I can add that, one advantage of cutting the thread on the lathe, is that the pitch exactly matches the tap, also a more subtle advantage, it that you can make fine adjustments to get the fit correct. The tap is pretty simple to make, none of the dimensions are critical, (except maybe the root diameter) unless you are trying to match an existing thread. From the tap, everything else follows, the tap is used to make a thread box, and although I ended up not making the screw box.
My son, cut a few threads in 2" thick Kiln Dried mountain ash today, and was struggling, until in desperation (or exhaustion) he put some of his finishing mix on it.
For those that dont know they make lathes like this and are called Thread Mills and the ones I have seen are large for big threads but they use a cutter at right angles to the router so the cutter is supported on both sides and looks like a gear with pointy teeth.. I had a lot of time in this one screw and nut for my leg vise for my bench because I had to build the tap for making the nut, the fixtures for making the large dowels and putting threads on the screw. That lower piece would be placed under the piece that you would want to tap threads in,such as the nut for my workbench vise,which would have the minor diameter hole of the threads that you want drilled in it already. Then the T handled tap would be inserted through the piece you want threads in and into the bottom lower piece.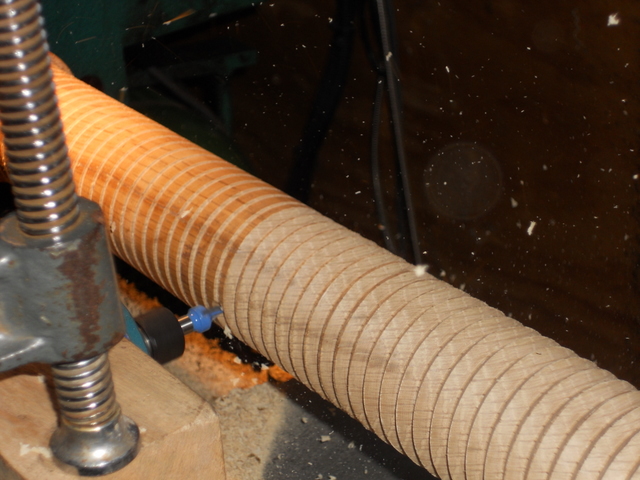 Also, the tap has a cutter that is advanced gradually until the threads are cut to the proper depth.
16.12.2014 | Author: admin