This RC boat hull building instruction goes hand-in-hand with the plans available for download (use link below).
Read a short introduction to this new series of small RC model boats to learn more, what materials you'll need etc.
With the exception of multiple parts from one template (as outlined above) parts with straight edges are best cut to finished size with the knife and straight-edge.For rounded edges there will be excess material coming off as angles. When I built the prototype I didn't have the hull alignment template, so you'll see the template is missing in the pictures on this page.
Take a straight-edge and pencil and draw lines connecting the bulkhead position marks you made from the templates to aid bulkhead placement later on.Earlier we marked both front and rear edge of the bulkheads onto the balsa.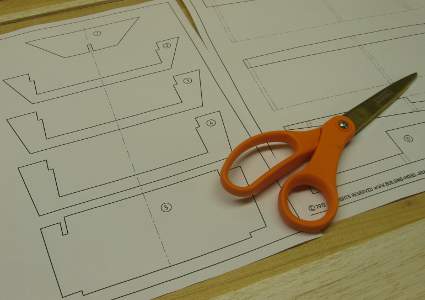 Next dry fit the stem piece (item marked "D") and bulkhead #1 and lay them in position with stem piece centered on the hull center-line and the bulkhead in it's marked position.Check and make sure they are perpendicular to the building board and each other.
Note how the paper "hollow" inside the templates is left to maintain the integrity of the shapes.
Now it's time to start cutting out the parts.Separate each part from the sheet first by using a razor blade or X-acto knife and a metal straight-edge. Instead we need to transfer relative position from the templates to some of the parts to aid the assembly for accurate position and alignment.The best tools for the job is a small square and a sharp, relatively soft, lead pencil. It is good if you can drive pins into it, lay weights or use magnets to hold the chine shelf down flat on the building board or table top.Lay down the Hull Alignment Template on your building board and lay a sheet of wax paper or plastic food film (Seran Wrap or similar) over to prevent the model to stick to the template and your table.
I've found the wax paper resist CA glue better, so that's what I use.Secure the sheets to the board with a method suitable for the type of building board you're using - it can be pins, tape, weights etc. If you have a scroll saw or band saw it can be put to good use at this step.As the pieces are separated from each other, there will be excess material surrounding the templates.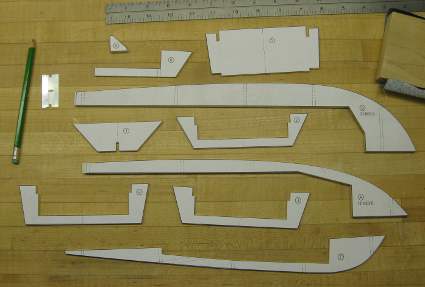 30.10.2015 | Author: admin