While the Scout Oath and Scout Law will be used in Cub Scouts beginning on June 1, 2015, the current Cub Scout motto, sign, salute and handshake won't change.
For the latest information about the changes coming to Cub Scouting in 2015, visit and bookmark the Program Updates page.
Someone told me cub scouting is being reduced to 4 years (no more 2nd year Webelos) but I can't find anything online about this. It would not surprise me if a shorthand develops that differentiates between Webelos-seeking and Arrow of Light-seeking Cub Scouts, as you suggested above, but distinction does not appear in the official literature.
For one, it gives Cub Scouts an earlier start learning and following the values they'll experience more in Boy Scouts.
My original intent was to respond to Jason's query about Akela by reminding all that we teach the Cubs that the Cub Scout sign is the "ears of the wolf" and when the wolf listens, his ears are up and his mouth is shut. As Ken, a volunteer on the committee behind the Cub Scout program changes, mentions, Akela is still a part of the new program. I would take my Cub Scouts on field trips when they were out of school on a Friday with the help of 3 other parents who didn't work or also took the day off. We started with 8 Tigers in the 1st Grade & by the time we started our Webelos I year, I had 18 Scouts. To support the mission of Cub Scouting, Cub Scouts will begin to use the Scout Oath and Scout Law currently used in Boy Scouting and Venturing.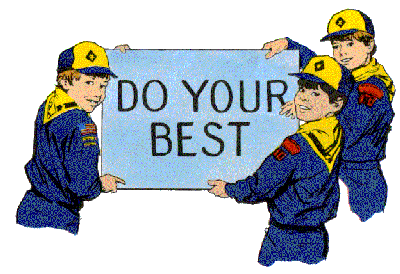 I have heard at meetings as high as Area level that the changes to Cub Scout advancements have been pushed to September 1, 2015, but I have not seen anything on the Program Updates website to confirm these comments. But that's why the change to the Scout Oath and Law in Cub Scouting is waiting until next year. Over half earned all 20 Webelos pins & the others all had 16 or more except for one Scout who missed a lot of meetings.
24.03.2015 | Author: admin