I also want to mention that I did have to move the HVAC vent forward so it came out the front of the window seat. Build a small framing wall with 2×4 lumber that fits perfectly in the front width of the bay window.
At this point in my build, I decided I wanted a shallower seat and wanted to bring the back forward a little, so I added additional horizontal supports between the front to back supports. The shims in between the two seat panels (shown below) are holding a slight gap between the seats while I measured the triangular spots. Cut the two middle seat panels down to size and route all the front bench panel edges with a router and a rounded bit. At this point in the window seat build, we ran our plank walls up the sides of the windows, and capped them off with Howe casing. The bench turned out to be awesome, but from your notes it sounds like a very advanced project.
I was looking at the 10 Dreamy window seats that you posted and noticed several, if not all, are the taller height, even taking the thickness of cushions into consideration.
First things first: Ken and I started at the drawing board with a billion different design ideas, and after a few hours, we settled on a long bench solution that would run the length of the windows, yet jut out at each corner to provide extra deep seating. I am wanting a u-shaped banquette style seating in our dining area but have had nothing to follow or teach me.
We built the bench's frame out of 2x4s (for our design, we used roughly 14 8-foot pieces).
Luckily, we enlisted a very helpful mother-in-law to sew custom cushions for each bench, complete with tedious piping. We love how the bench feels modern and seamless, but is still entirely functional for both daily use and entertaining. So many window seats are too high in comparison to the height of the table, unless you are seating small children there.
That "second lid" becomes the new seat of the bench, while the former lid becomes the back!
All those sentiments and more have been going through my head since I finished the built-in window seat in our bay window. We have a bookcase that was built over the register and the wood inside grew mold because there wasn't enough force to blow the air and moisture out the front of the bookcase.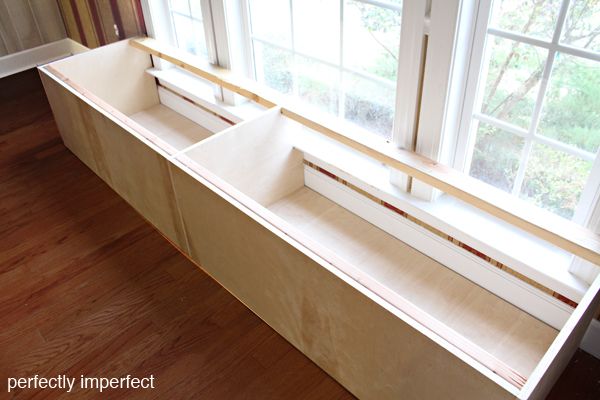 05.08.2014 | Author: admin