I got started on this project when I decided I wanted to build a gaming table in our garage. Also, with terrain etc in it whilst it is stored, i think it should be stable enough. I'm trying to find more complicated folding mechanisms, at the moment it just pivots around the stationary legs but I'm sure I could find a new design that allows better positioning of the folding halves. I think they would get in the way of playing. I was planning a folding table too but something more simple.
This now uses the 'drop-leaf' design, where the legs are tucked into the cabinet when collapsed and fold out to support the table.
You lay it across the beam on the sawhorses so the table won't fall inwards, and then I would set up my ROB board on top of that. It takes up twice the floor space of the original design, but leaves the space above the table unused - one reason I was originally opting for the tall design was so that if a club had multiples of these tables but a small storage space, they could still fit in a lot of gaming space. The other issue its that it is now pushing 2'6" wide - I can't add on anything more before it gets too wide for a standard doorway.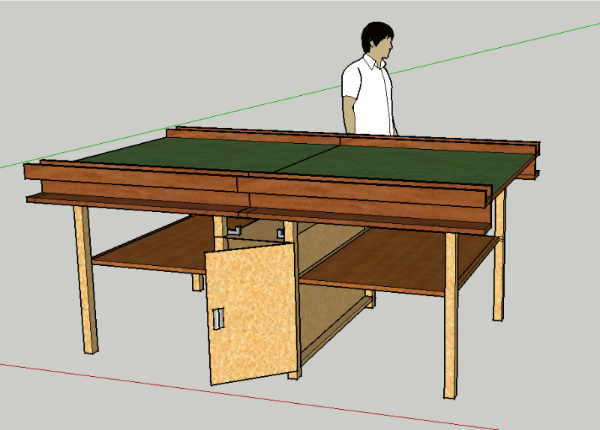 Hope that makes sense. I'm hoping to do something similar one of these days since I never got around to my basic saw horse table.
10.07.2014 | Author: admin