21.10.2015
The number first appeared in headlines earlier this year: Nearly one in four of all prisoners worldwide is incarcerated in America.
There have been numerous academic studies and policy reports and journalistic accounts analyzing our prison boom, but this phenomenon cannot be fully measured in numbers. This is not to say that nobody deserves to go to prison or that we should release everyone who is now locked up.
Yet, as sheriff, Cousins is expected to protect public safety, keep order in the jail and rehabilitate the crowd of inmates.
That may keep them busy, but if the jail is going to be more than a warehouse, Cousins says, he has to get the inmates into treatment and training and reentry programs.
For there is another round of bad news, the logical extension of the first: The more money a state spends on building and running prisons, the less there is for everything else, from roads and bridges to health care and public schools.
That much became apparent to me when, beginning in 2000, I spent nearly four years shadowing a woman who'd just been released from prison. Thirty-six straight years in solitary confinement (the fate of two men convicted in connection with the murder of a guard in Louisiana's Angola prison). In 1994, Congress eliminated Pell grants for prisoners, a move that effectively abolished virtually all of the 350 prison college programs across the country. In April, the Second Chance Act was finally signed into law; it will provide federal grants to programs that help prisoners reenter society.
Census Bureau in 1990 counted 11.45 million people in Illinois, 27,500 of whom were incarcerated in state prisons. The prison population's growth has a more varied trajectory, usually heading upward, but sometimes stalling or declining in certain years. The year between 1990 and 2014 in which the two populations had the biggest differences in their growth rates was 1993. And after the murder of a Woburn police officer by a prisoner released on parole, many state legislators are pushing for laws that would put more offenders behind bars for far longer sentences. On a recent day at the Bristol County Jail, it had 361 percent more inmates than it was designed to hold. By that rule, the inmates whose offenses have led them to be assigned here don't rate. Cousins has only eight to nine months to do that before the average inmate finishes his sentence and gets out of jail, ready or not. In terms of cost per inmate, he's running the most efficient jail in the state, his data show. At the pace our inmate population has been expanding, America's prison system is becoming, quite simply, too expensive to sustain. 74," says one of two guards who has the job of keeping all those inmates under control.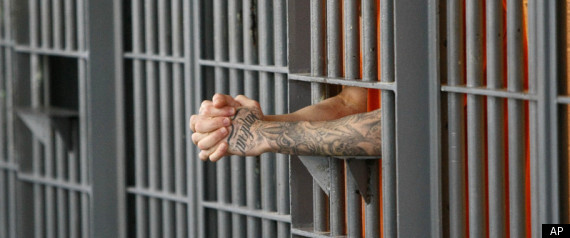 That is why Kansas, Texas, and at least 11 other states have been trying out new strategies to curb the cost—reevaluating their parole policies, for instance, so that not every parolee who runs afoul of an administrative rule is shipped straight back to prison.
This is what separates us from other industrialized countries: It's not just that we send so many people to prison, but that we keep them there for so long and send them back so often.
Rows of double bunks and plastic bins that hold the inmates' belongings swallow up most of the room.
Since the 1980s, we've sat by as the numbers inched higher and our prison system ballooned, swallowing up an ever-larger portion of the citizenry. One daughter was deeply depressed, the other was seething with rage, and her youngest son had followed her lead, diving into the neighborhood drug culture and then winding up in prison himself. There were only four years in which the population of the state grew at a faster rate than the prison population: 2001, 2002, 2007 and 2011.
The entire rest of the world has only locked up 12 kids without hope of release.) Female prisoners forced to wear shackles while giving birth.
Former California governor Jerry Brown even went so far as to rewrite the state's penal code to stress that the primary mission of that state's prisons is punishment.
Comments to Prison inmate growth