12.03.2015
admin
Clipping is a handy way to collect and organize the most important slides from a presentation.
We do our best to support as many browsers as possible, but we can't test and support them all. When I saw these cupcakes with their handmade tea sets on them I almost died.  And yes, the tea sets are all individually hand sculpted (out of gumpaste) and hand painted by Nicole.
Once I had the vision for the tower of cupcakes topped with a teapot cake, I have to admit, I coached my daughter toward that theme.  Happily, it was a theme she really liked, anyway! I spent a good chunk of one day forming the basic shapes of the tea sets out of gumpaste.  Four hours?  Five perhaps?  I tend to lose track of time when I dive into a project like this, but I know it took quite a while! Eventually, I just made gumpaste balls, flattened and flared and squished one side to make a flared teacup shape, then used a very sharp knife to score a circle where the "tea" should be. They looked good after I formed the tea sets, but they really came to life when I hand-painted them the next day.
Again, it was hours of labor.  I used the tiniest, thinnest paintbrush I could find in the craft store--and when doing detail work like this, having a quality brush makes a big difference! My "paint" was Americolor gel food coloring thinned with vodka.  The gold on the rims was gold luster dust mixed with vodka and painted on. The cupcakes were all our favorite chocolate cake recipe.  It's an old depression era recipe called Crazy Cake (also Wacky Cake and a couple other names).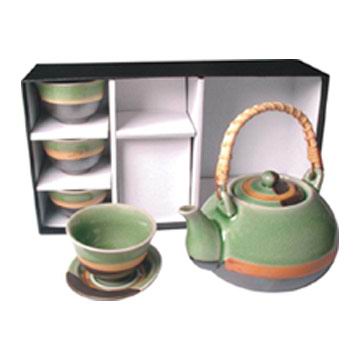 It doesn't have any eggs, butter, or milk in the recipe, but it's so moist and deliciously chocolatey, and easier than a box mix!  The teapot cake was vanilla, just in case a guest wasn't a fan of chocolate. The teapot cake was pretty simple.  I used a Wilton Sports Ball pan to make the round shape, and baked off a little of the batter in a custard dish to get the small disk of cake for the lid.
The handle and spout were the only non-edible part of the cake, and were made with a lightweight foam-like modeling clay product that Crayola makes, available in any major craft store with all the other crayola stuff.
It's lightweight enough that there's no problem with the spout slowly obeying gravity and destroying the cake; that's sometimes a problem if you make the spout and handle out of fondant or gumpaste.
Add a few fondant flowers, gumpaste pearl strings, and aerosol luster dust, and you have a teapot! Thank you, Nicole, for sharing with us how you did all this!  Every time I look at the photos I'm still so blown away.
To learn more about Nicole, check out her blog, Tradewind Tiaras.  And to see more of her gorgeous cakes and parties, check out her Strawberry Picnic 1st Birthday and her Rainbow Unicorn 5th Birthday on our site.
WoW - Those are incredible - not sure I would eat them, I would have to save them forever to look at over and over. Oh an one more thing - These should be entered into a contest somewhere - these are truly amazing I just cannot get over the detail.
March 8, 2015 By Julie J 3 Comments Here are two clip art illustrations of elegant Victorian teapots.
Enter your email address to subscribe to this blog and receive notifications of new posts by email. Julie is a vintage enthusiast and a Photoshop addict who loves to take pictures, scrapbook and cook.She collects old books and new recipes. DIYTrade accepts no responsibility whatsoever in respect of such content.To report fraudulent or illegal content, please click here. One of the latest trends in tea is to use blooming tea, which slowly expands as you watch it brew. If you can, upgrade your browser or activate Google Chrome Frame to get the best experience at Catch My Party.
I am not a doctor, so all of the information presented here should be read as my personal opinions only. The engravings are from The Art Journal Illustrated Catalogue, published for the proprietors, by George Virtue in London, 1851.
Rubric: Home Kitchen Store