28.03.2016
admin
When I first sat down to review this Calphalon cookware, I was struck by the description of this set as 'classically beautiful'.    Really?  As they say in the cooking world, 'Do you want to cook with it or look at it??  I expect that description to apply to a super model or actress….not really a stainless steel cookware set!
This Calphalon cookware set definitely has a WOW factor, with the classic design, polished stainless steel exterior and a satin finished interior.    Also, while some people prefer stainless steel lids, I think the glass domed lids add an extra level of sophistication to the look of this cookware set.
A bit of research reveals that while skillet and fry pan are often used interchangeably,  omelette pan (or omelet pan as it is also called) seems to be in a category of its own.  Typically described as a shallow fry pan with sloping  sides and an out-turned lip, making it easy to slide out an omelette when it's done. The handles are triple riveted, making these very sturdy and secure to handle.  Riveted means bolted to the pan and is considered a good feature as there is less chance of a handle falling off vs. Long Cool-V handles so air can flow through and keep the handles cool while you are cooking. Tempered glass lids help trap in heat and moisture while making it easy to check on food at a glance.
For hand cleaning, all you have to do is let the pans cool after cooking, then let soak in hot soapy water. When searing meat, don't force the food to flip.  Meat will stick to the pan but will release when ready.
These Calphalon stainless steel pots and pans are oven safe up to 500F.  So you can safely move it from the stove to the broiler or oven for the finishing touch to your favorite dishes. Yes, this Calphalon cookware was redesigned in 2010 so that they could be used on induction cooktops.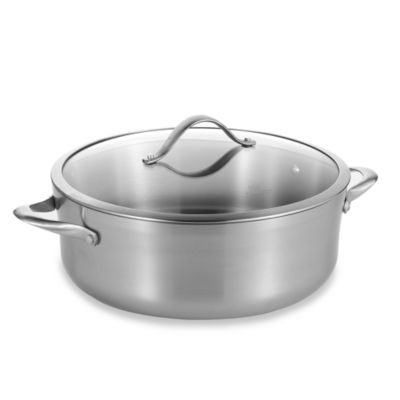 Calphalon offers a lifetime warranty on their stainless steel cookware for any defective material or workmanship when put to normal household use and cared for according to the instructions. This is impressive: Calphalon reviews on their own company website show that users have given this cookware set a 5 out of 5 rating!
One complaint is that the glass lids get pretty hot during cooking.   A problem that is easily solved with the use of a potholder.
Similarly, some users have mentioned that even the metal handles can get very hot during use despite the long Cool V arms and require the use of a potholder.
Lastly, some users feel that this Calphalon cookware set is missing a steamer insert for the 6-quart pot. The price on this set varies in a range different online retailers though I find the best price is usually on Amazon.
Buy Simply Calphalon Stainless Steel 10 piece Cookware Set - 1757697 Ship with Fast and Save Shipping. Featuring stainless steel interior and exterior surfaces and an impact-bonded aluminum base for even heating, Simply Calphalon Staineless Steel beautifully combines durability with value.
Buy Calphalon Classic Stainless Steel Cookware - Dutch Oven - 5-quart Ship with Fast and Save Shipping. The two inner layers of aluminum efficiently conduct heat, while the stainless steel outer layers create a beautiful, durable surface that is dishwasher safe.
Make sure the base is covered with a thin film of oil before adding any food.   This will also make the stainless steel non-stick. Simply Calphalon Stainless Steel 10 piece Cookware Set - 1757697 Get Discount and Affordable Deals and browse our products list.
Some content that appears on this site come from AMAZON Services LLC This content is provided 'as' and are subject to change or remove it at any time.
Calphalon Classic Stainless Steel Cookware - Dutch Oven - 5-quart Get Discount and Affordable Deals and browse our products list. The vegetable steamer insert is an ideal size for steaming vegetables and doubles as a small colander. Domed lid with inside points allows continuous self-basting for flavorful meats.Protected by Calphalon's full 10-year warranty. The pasta insert drains and cooks pasta or can steam corn, shellfish and large quantities of vegetables. Ideal for searing and braising meats, browning meats for savory stews, and preparing delicious soups.
Rubric: All Clad Stainless Cookware