Putting together your own kit is super easy, and you don't have to restock it every wedding. Hold a pre-wedding meeting with the couple, a week or so before the big day, to finalize the entire wedding day timeline.
The list will make sure you get photos with everyone who was supposed to be photographed, at the designated family formal time. Being able to just rocket down the list shot by shot let's you get through the formals mega quick, which everyone appreciates. Then, make sure to actually have the list on you when it comes time for family formals, instead of in the car.
It's pretty much a law that tiny scissors will be needed at some point at every single wedding.
Weddings often mean early breakfasts, no lunch, and late dinners for photographers, so you're going to need some serious fuel to keep busting your butt all day.
Obviously there is a LOT of stuff on the list, and you're not going to want to lug it around with you all day.
If you have to wait for someone who didn't know they needed to be there (because there wasn't a list!!!), you'll lose a lot of time. Create a shortlist that you normally shoot for every wedding, and give it to the bride and groom in advance.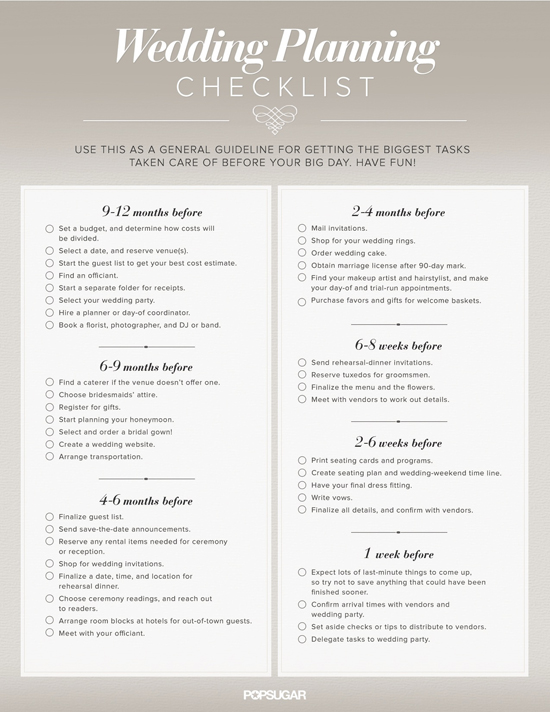 Pro Tip: Pre-program in the locations you need to visit (hotels, churches, photography location, reception location) the night before the wedding, so that on the day  you just need to select from recent locations. We've had cameras go down on multiple occasions during weddings (broken shutters, detached mirrors, and the always fun "Err 99" message!). Hydration is insanely important on a wedding day—the well known "hangover" that many photographers feel the next day is often caused by dehydration, so drink lots of water!