The book you hold in your hands has evolved from my simply giving these etchings a second life in book form, to my using them as a vehicle for honoring a friendship of three decades. A short bit of background on Jan Sobota to begin, but fear not; I'll soon be spinning anecdotes and thoughts on books as art – celebrating Jan's life of course, telling a few stories out of school, but also straying into the personal and speculative in search of the meaning to be derived from the life and death of a friend. Jan's father was a serious bibliophile and collector of fine books, who nurtured that same love of books in his son – an appreciation that steadily grew, until he was apprenticed to master bookbinder Karel Silinger in Plzen. The pivotal event in Jan's early life as a book artist was the posthumous retrospective exhibition of fellow Pilsener, Josef Vachal in 1969.
Jan supported a family, sponsored workshops, exhibited widely, did conservation work on rare historic books, ran a gallery – and on it went. What Jan did for contemporary bookbinding, was to act as a bridge between the traditionally trained masters of the past and innovators of the present.
America was a great place to be a book artist in the early 1980's precisely because it was an active zone of hybridization and hotbed of creativity. Neither Jan nor I had much interest in the book-like objects that often sneak into the museums as book arts – the carved and glued together things that sorta, kinda have a bookish aspect to them – rough-looking – perhaps chain-sawed Oaken boards or granite slabs, slathered in tar and lashed together with jute; but lacking text.
When Jan's books went beyond function, conservation or decoration, they were subtle statements about binding and the place of books, knowledge and art, as well as statements about the dignity inhering in the handcrafted - with a good dose humor.
Visiting with Jan in his workshop you quickly realized, that he did what a professional must, but ultimately, he just loved messing about with books. My vocation as artist clarified itself in Prague while learning the increasingly obsolete skills of steel engraving. My first book was indeed, modeled after Vachal, even to the extent of its diabolical subject matter.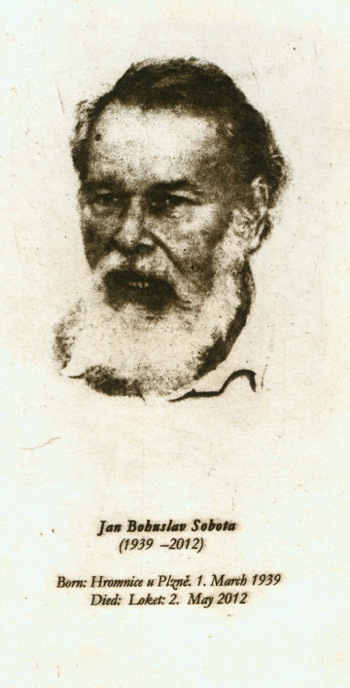 Jan showed me a great deal in the following years about the tradition of books as the meeting place of art, craft and ideas – where printmaking intergrades seamlessly with the worlds of language, typography and illustration. The book you hold was to have been a simple reprint of the Spawned Salmon – something fun for Jan to work his magic upon. Those whose language and culture are not threatened can never know the burden under which the carriers of small minority languages labor – nor how those in exile bring up their children to preserve that which is beyond their capacities to save. Jan was all about preserving traditions and the kind of ancestral knowledge that today is mostly enshrined in books. Today, the stories of our tribes are less and less passed on as oral tradition and most often read to us from the children's books we've learned to treasure – illustrated by fine artists and produced with care for the highly discriminating purchasers of children's books – for grandparents.
Jan and I were both molded from an early age by children's books and stamps designed by the likes of Max Svabinsky, Alfons Mucha, Josef Lada and Mikulas Ales.
The difficult thing to bear in acknowledging my teachers, models, heroes, suppliers and inspirations, is that these masters of the crafts and industries surrounding and supporting the book arts are mostly deceased.
The fruit we seek is not fast food, but laden with full-bodied flavors, attained by slow natural processes.
All of us come from grandfathers who once were wheelwrights, cobblers or instrument makers; men with a profound love of wood and leather, who knew the working qualities of every kind of obscure tree growing in their countryside – men who knew when to reach for elm or hickory – as well as for goat, dog or even fish-skins. Working consciously is the ultimate goal – and that is the legacy you'll find evidently contained within and upon the boards of every book bound by Jan Bohuslav Sobota. Jan Bohuslav Sobota died on May 2nd of 2012 and this is my remembrance of this fine man who was a friend and mentor to me.  He was an exceptional bookbinder, teacher and promoter of the book arts, but also an exile who successfully returned home after years abroad. He assumed I was an elderly emigre from my dated and bookish Czech, rather than his junior by many years.
Situated 90 km south-west of Prague at the confluence of four rivers, Plzen is first recorded in writings from the tenth century. He knew his work was valuable and documented it fastidiously – confident that it would be last. There was, however, nothing about his nationalism that demeaned anybody else's traditions or origins. While visiting their unassuming engraver and extending my tourist visa 30 days at a time, I was quietly becoming qualified for life as a counterfeiter – a vocation within which, one is set for life, however it may eventually turn out. There are also binders to whom everything else is merely the text block, who care little if it is an offset trade edition or a book made by hand. A book is so much more than the sum of its parts – and yet each of us tends to have our own bailiwick in which we shine and to which we look first. Few people would have cast a second glance at that glued-up mess of moldering old papers before pitching it, nor would they have recognized what they had in hand or known how to restore or sell it. They bashfully admitted their foolishness and went back to making beautiful books – and their American friends were so relieved to see them regain their sanity.