Zombonis, Jack-in-the-Box Zombies, and Giga-gargantuars are the true threats on this level.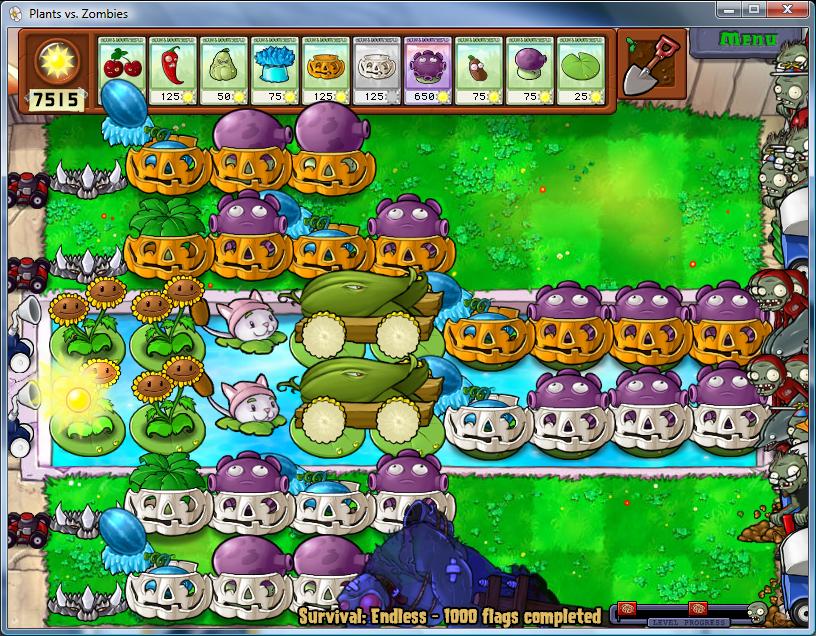 It is recommended to protect everything possible with Pumpkins as one will never know when a zombie might get past one's defenses.
The player has to hold off the zombie hordes for as long as possible, resembling the military act of laying siege to a castle.
The Zomboni can crush the player's plants and cannot be slowed, while the Giga-gargantuars take four instant kills to die.
Zombies FREE, as only lawn mowers can kill them, meaning that you have no hope into winning the round without hacking. The only ways for Survival: Endless to end are by getting the player's brains eaten or if they reset. After 214,748,366 flags, the game will go to -214,748,363 flags (due to an integer overflow), and the flag number will only show during the intermission every two flags.
Both can be stalled and killed with Spikerock, but the Spikerocks need to be replaced quickly in most levels, which is problematic due to Spikerock's slow recharge. Jack-in-the-Box Zombies rarely are a problem, though they can occasionally blow up instantly and wipe out plants in the pool.
At -107,374,181, only flag zombies will show up, until -1 flags, where Survival: Endless will be like normal. This level is mainly a challenge of surviving as many flags as the player can, and will become very difficult as the player completes more flags. Just like all Survival: Hard levels and Last Stand Endless, the player can choose new plants when two flags are completed.