Back in 2009 we reported how the District Council planned on giving Victoria Park a new water feature to replace their aging paddling pool. Local resident Chris French has dug a little deeper by reading through the District Council's corporate plan for 2011-16.
If things work in a fair cycle then St Johns Park should be seeing a number of improvements but the District Council are throwing even more money at Victoria Park. If that fails then the next step it to take a group of people to one of the full council meetings at the District Council chamber and demand some answers in the flesh.
At the last FoM meeting David told us about a park just off the A10 in Enfield that has some adult orientated exercise equipment. Galion installed a Parcourse Fit Circuit featuring 8 different stations throughout East Park for their residents. Coffman Park's latest addition now offers park-goers an alternative to a traditional gym.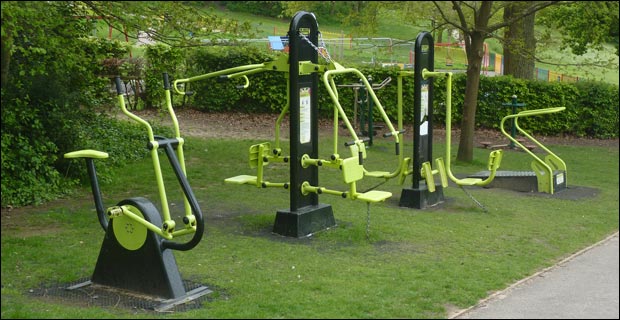 This playground for adults features a sit-up bench, lateral pull down machine, vertical arm press, chest press, leg press, combo bars and a set of elliptical machines.
This equipment was installed in response to the growing interest from the Dublin community to stay active.
This new workout option in Coffman Park is just one of the future improvements being made to the grounds.
Burgess Hill District Councillor Anne Jones said Burgess Hill families deserved a water facility in St Johns Park too.
Why did Victoria Park receive additional equipment when we here in Burgess Hill have gone without?
Outdoor exercise equipment was installed earlier this month to provide residents the option to take their workout outside. In 2015, visitors to the park can also expect to see a new skate park and basketball courts.
Nearly three years later and there's still no news on any water facility for St Johns Park. Now do we think that the Burgess Hill councillors have simply not spotted the disproportionate spending or are they being ignored due to a very BIASED cabinet? Looks like the kind of thing that would go down well with the adults who use Moneyhole as part of their regular exercise routine. Located just south of the overflow parking lot near the Dublin Community Recreation Center, this equipment is easily accessible by car or bike.