Foods to improve sex drive in males
Enter your email below to get exclusive access to our best articles and tips before everybody else.
Are you frustrated by always having to change the font size before you create a document it Word?  Here's how you can end that frustration and set your favorite default font size for once and for all! To change the default font settings, click the small box with an arrow in the lower right corner of the Font section of the Home tab in the Ribbon. Now, whenever you open Word or create a new document, your default font settings should be set exactly to what you want.  And simply repeat these steps to change your default font settings again if you want.
Sometimes it's the small things that can be the most frustrating.  Getting your default font settings the way you want is a great way to take away a frustration and make you more productive.
And here's a quick question: Do you prefer the new default 11 point Calibri, or do you prefer 12 point Times New Roman or some other combination?  Sound off in the comments, and let the world know your favorite font settings. Matthew digs up tasty bytes about Windows, Virtualization, and the cloud, and serves them up for all to enjoy! Once I open my template with Times New Roman, 12 & 75%, NEW gives me a blank page with those settings. By adding ZOOM to the Quick Access Toolbar, you can select any %, with 75% being one of the standard choices. I have been using on Microsot Word 2010 in my office for six months, and every time I need to write a letter, I have to change the font and paragraph settings.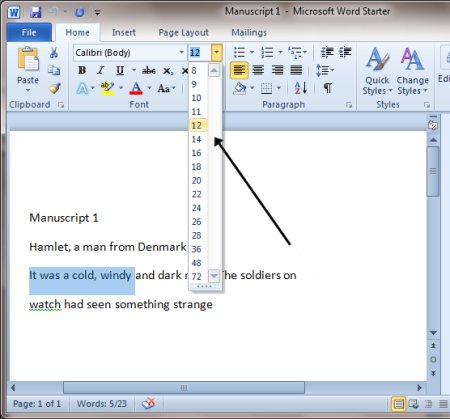 Hi, thanks so much for this, I have looked at loads of other tips pages and tried different methods but none had worked and also none had suggested changing the template file – genius, thanks so much!! Disclaimer: Most of the pages on the internet include affiliate links, including some on this site.
If you write a lot, like me, it's a real pain to change the font and font size every time you create a new document.
Step 2: Select the desired font and font size and then click on the Default button in the bottom left of the window. I spent 15min looking for the first 2 screens in 2007 before I figgured out that they were for 2010 only.
The ribbon styling is slightly different from 2007 to 2010, but otherwise for this they are very similar.
I want all three checkboxes to be unchecked always, but they change back a million times a day. However, in Microsoft Word 2007 it's really easy to change the defaults and forget about the whole manual tasks to get there.
This will trigger a dialogue box where you will be asked if you want to change the default font characteristics for all the documents. I am very familiar with how to set font and other default settings but this one I cannot figure out.
Microsoft help told me to open the dialogue box but for the life of me I couldn't see the faint corner box that you so nicely illustrated in your page.
Sometimes people's documents open as one page and sometimes it opens as two pages side by side like a book.
I have changed the font and point size at least 15 times and felt as if I were in some type of warped world!!! How do you view one page only (centered) in Word while retaining the zoom level at 100% or even 120% would be better and have it default to this every time?
This question has been asked before in other forums, but no one at Microsoft or elsewhere seems to have an answer. Some people (including me) simply don't like the two-page layout in Word, and just want one page on the screen, centered, at 100 or 120%. It takes forever to get a paper viewable and adds a lot of time to my day when I have to open hundreds of documents and correct the setting. But sometimes you need to change the default font's settings according to your requirements.
Comments to "How to change default font size in windows xp"