This entry was posted in Blog Articles and tagged 72-hour kit, Backpacker's, Emergency, first aid, Flashlight, Food, Hygiene, Pack, Portable, Preparedness, Radio, Shelter, Storage, Survival, Water by rodney butler.
ALSO, I have never been in a situation where I needed to use a 72 hour kit, so I can't say "I wish I would have had…" If you have experienced using a 72 hour kit and have other suggestions, please leave them in the comments. What a great post- We live in So Cal between two fault lines and with a new little one I am even more motivated to be ready. I put together 72 hour kits last year and have felt a great sense of relief to know that it's there.
We are updating our kits in the next couple of weeks, so I appreciated the review list of items. A 72-hour kit is a great way to have something to take with you if you needed to be evacuated from your home in a hurry (and might not be able to get back, especially if, as in Japan, there was nothing to come back to).
This 72 Hour Kit includes supplies for all 10 Areas of Survival Needs, and includes nine meals of "comfort" foods to help relieve stressful situations.
Personal Hygiene Unit: Shampoo, Liquid Soap, Lotion, Razor, Tooth Brush, Tooth Paste, Comb, Emery Board, Bar Soap, Lip Balm, Sunscreen Towelette, Bug Repellent Towelette, Sewing Kit, Handy Wipe Towel, 3 Wet Wipes, Rolled Tissue, Facial Tissue, Dust Mask, Hand Sanitizer.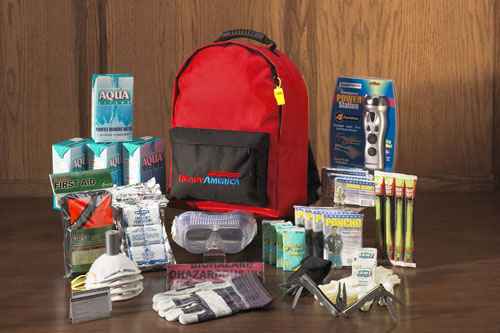 Review your kits when the time changes, or when you change the batteries in your smoke detectors.