NEC's Municipality Disaster Management Radio System makes it possible to simultaneously disseminate urgent information to the public by means of loudspeakers and other devices that are placed at every corner of the municipality and connected with the municipality's broadcasting center via regional simultaneous communication links.
Various kinds of disaster-related information are collected by various governmental authorities and private organizations, such as utility companies and public transportation companies. Tsunami, Earthquake, Hurricane, Flood - everyone's nightmare disaster can also create the biggest challenges in collaboration and employing information technology.
One article I found particularly interesting was The Human and Computer as a Team in Emergency Management Information Systems. In other articles, there were extending these systems to use community participation using open source and mashup to collect information not just from officials but the public at large.
NEC's NEXTAR Series Earth Observation Satellite makes it possible to obtain wide-range and high-resolution visual information of disaster or disaster-prone areas from space. NEC's Ocean Bottom Observation System obtains earthquake and tsunami data by means of seismometers and tsunami sensors placed at the ocean bottom, and send the real-time data to an on-shore station through the submarine cable. NEC's Public Commons System makes it possible to spontaneously share the various information collected by different organizations by converting information in different communication formats into a standard format, facilitating access to information by media, broadcasting companies, and other agencies responsible for providing information. In fact, nothing in this article seemed to be limited what is required in a disaster, but what is necessary for coping with daily business pressure and information overload.
Just as triage methods were invented in time of war and moved on to ordinary civil use, emergency systems can probably help teach us what is important in collaboration and process automation.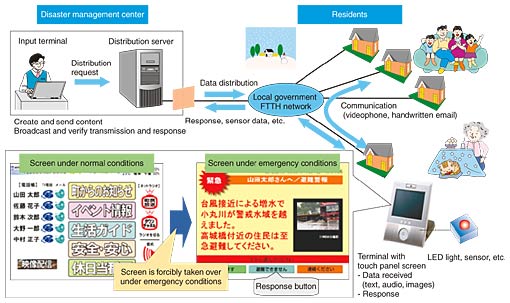 The primary process of coping with a disaster is Build the Picture, Understand the Picture, and Change the Picture in a Goal-Oriented Fashion.