While all eyes are on Sochi and the undercurrent of concern about potential terrorism in Russia, there has been a troubling upgrade of an California incident initially deemed vandalism. But this week, a former top power regulator offered a far more ominous interpretation: The attack was terrorism, he said, and if circumstances had been just a little different, it could have been disastrous. Jon Wellinghoff, who was chairman of the Federal Energy Regulatory Commission when the shooting took place, said that attack was clearly executed by well-trained individuals seeking to do significant damage to the area, and he fears it was a test run for an even larger assault. So while our government spent its time spying on our video game habits, it looks like a group of terrorists nearly knocked out the power that makes them possible for a large, populous region of the country. The problem with securing the grid and the reason why it seems to be slow in changing, has a lot to due with the interaction of utilities, private parties, and government. The apparent slowness to improve the grid security is owned by all parties, but perhaps a significant piece is in the hands of the regulators. Given this is California, I'd think greenie radicals before jihadist terrorists (domestic vs foreign terrorists). The PBS report tonight had comments about the serious risk to the power grid from terrorism.
Having studied this issue, I see very serious risk from terror inflicted by someone who knows the power flow and selects large interconnection transmission sub stations that have transformers and circiut breakers that would take months to build from scratch and install. Two major attacks on the power grid last year that went largely unreported by the mainstream media are just now gaining more attention.
One took place in California and the other in Tennessee, and either one – if successful – could have resulted in blackouts for extended periods of time.
The timing and sophistication of the attacks has led many to believe that the Tennessee and California events were related, well-planned, and a dress rehearsal for things to come. Major media outlets such as The Wall Street Journal finally covered the California attack this month.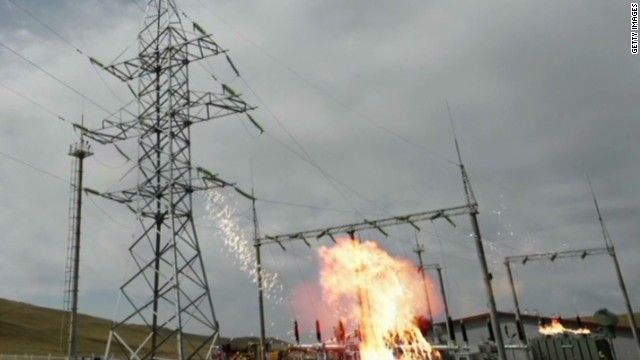 California Congressman Henry Waxman deemed the power station sniper incident an "unprecedented and sophisticated attack on an electric grid substation with military-style weapons." The entire plant had to be shut down to avert far-reaching power outages – it took two weeks to replace the 17 transformers snipers shot out during the attack.
The Tennessee nuclear plant attack and the California power station shootout seemingly were far more coordinated and orchestrated than the October 2013 incident at an Arkansas energy facility. Cyber hacking could prove just as detrimental to the power grid as the sniper attack in California and the havoc the Tennessee gunman likely intended to unleash. The FBI is investigating how an unknown group penetrated a San Jose, California power substation earlier this year, strategically cutting fiber cables and then firing over 100 rounds of ammunition into ten transformers. PG&E, the company that runs the compromised power substation, disagreed with the FBI's initial claims of vandalism, and said the attack was "not amateurs taking potshots" and then suggested the attack was more likely a "dress rehearsal" for future attacks. According to the New York Times, the FBI is also investigating a series of attacks in Arkansas where high-voltage power lines were deliberately severed in at least three separate attacks. Most people mistakenly assume our public utilities are safe; shockingly, they are incredibly vulnerable to attack. In one attack, just days before the 10th anniversary of 9-11, over seven million people went without power in one of the largest Blackouts in California history. I read the FBI account on a local news site here in San Jose and I found it interesting that the FBI was saying it was a military style attack. Stock up on some propane,you can buy those attachments that you can put on them for heat, and gasoline for any vehicles you may have like a 4 wheeler or cycle, even a tractor will let you get around if need be.
If I were one of these folks, I would see the grid as a soft target I could disrupt on an ongoing basis with very little expense and without strapping a bomb to myself. I'm not claiming to know the origins of this attack, but I am suggesting that your perception bias is preventing you from having 360 degree situational awareness. If it is your own government trying to scare you into handing over more power then they aren't making a very good job of it if nobody knows other than a select few conspiracy sites.
Gunfire from semiautomatic weapons did extensive damage to 17 transformers that sent grid operators scrambling to avoid a blackout. This terror approach would aim at a high populated area and cause a power outage that would last for months and create a true dissaster since electricity supports our whole infrastructure.
The two possible terrorism attacks prompted enhanced discussion about America's "soft targets" – power plants that have little if any security. As previously reported by Off The Grid News, Jason Woodring was arrested at his Jacksonville home by an FBI Joint Terrorism Task Force after neighbors called police when an explosion occurred in Woodring's backyard.
The cyber terrorists were able to send a "massive amount of data" to servers which could introduce "malicious attack" on online networks.
Utility officials have asked the public to stay alert, and are also investigating whether a September 29th fire at an electrical substation in Arkansas is somehow connected with the power line attacks. From al-Qaeda operatives in Denver, who were arrested with documents detailing plans to contaminate the country's water supply; to a series of hacker attacks that penetrated a number of our nations water supply plants, these attacks show just how vulnerable our infrastructure really is. Although the FBI denies the outages were related to terrorism, no official cause was ever given, and the outage came just hours after the Department of Homeland Security issued a warning about a potential terrorist attack leading up to the anniversary. Infrastructure is impossible to protect and very easy and cheap to attack so if the threat is genuine then I think you would be aware that the lights keep going out. The man confessed to engaging in three separate power line and substation attacks in the Little Rock area. I am looking in to ways to be more self reliant, in case of future super storms, and in case of a terrorist attack.