We designed and facilitated a tabletop exercise to test New Hampshire's newly developed Energy Assurance Plan using the strict Homeland Security Exercise and Evaluation Program (HSEEP) guidelines for emergency management exercise development. Nexight Group designed, facilitated, and documented more than 45 tabletop exercises that help critical infrastructure owners and operators respond to a simulated active shooter or vehicle-borne improvised explosive device (VBIED) event in coordination with local emergency responders. Each scenario simulates an emergency incident using more than a dozen time stops—points in which a Nexight facilitator introduces new information and facilitates large-group and concentrated table discussions. Before finalizing the plan, the Office of Energy and Planning (OEP) needed to test response procedures in coordination with existing state emergency response and emergency operations plans. During the exercise, Nexight used a combination of full-group discussion and facilitated breakout groups to walk players through two escalating scenarios.
Throughout the exercise, Nexight captures participant responses and lessons learned in real time. The event combined expert presentations with a challenging scenario that simulated a severe but realistic disruption for New Hampshire's energy resources. Countywide Exercise Prepares Agencies for Coordinated Emergency Response - Grand Teton National Park (U.S. These exercises have been designed specifically for organization that work to support the disaster caused needs of neighborhood residents during disaster.
By participating in one or several of these exercises you will be able to assess your organizations existing disaster response capabilities. The After Action Report for the October 30 2010 Formidable Footprint Tabletop Exercise involving a hurricane scenario can be found below. Lasting three hours, the exercise provided an opportunity for neighborhood residents to come together as Community Emergency Response Team members to assess their capabilities of planning for and responding to Hurricane Neighbor. Then, using the situational awareness of the neighborhood, exercise participants developed Incident Action Plans, identified potential partner organizations and outlined plans to either manage or assist with neighborhood based Points of Distribution.
We designed a full-day seminar and tabletop exercise that engaged nearly 40 players from state agencies, energy providers, and critical infrastructure organizations.
DHS asked Nexight to help develop two exercise scenarios—active shooter and VBIED—and use them to facilitate interactive training and exercises customized for chemical, commercial facilities, and multi-sector audiences across the country.
Each three-hour exercise engages facility managers and personnel in a facilitated discussion with local emergency responders on their actions and decisions as the scenario unfolds.
DHS received overwhelming response from the private sector—more than 90% of participants rated exercise content and conduct as excellent or very good—and the exercise team expanded the program from one scenario specialized for the chemical sector, to multiple scenarios targeting multi-sector audiences. An assembly of local, state, and federal government officials and staff members, along with non-governmental organizations, recently completed an emergency response simulation exercise based upon a mock wildland fire scenario in the greater Jackson Hole area.
On October 30 2010, 137 members of Community Emergency Response Teams, Neighborhood Associations and local Citizen Corps from 21 states participated simultaneously in the first Formidable Footprint Neighborhood Tabletop Exercise. Listed below are several of the participant observations that were submitted during the Hotwash portion of the exercise.
These exercises engage a wide variety of individuals and groups and provide a collaborative environment where participants are challenged with thought provoking injects to consider how they would respond in their community with their community resources. We teamed up with recognized security experts to design and deliver an eight-hour training session that combines expert instruction with our interactive, scenario-based tabletop exercise design. Our original scenarios included an accident blocking critical waterways, a severe winter storm, and a loss of communications and information technology services during energy restoration.
The exercise helped participants test their roles and responsibilities and identify communications and operations gaps that could affect response in a real event.
Nexight Group trained more than 5,000 individuals since 2010—and more than 95% indicated that they planned to update their company's emergency response plans and procedures based on the training exercises.
Headed up by Teton County Emergency Management Coordinator Rich Ochs, the exercise included 28 agencies and 54 participants.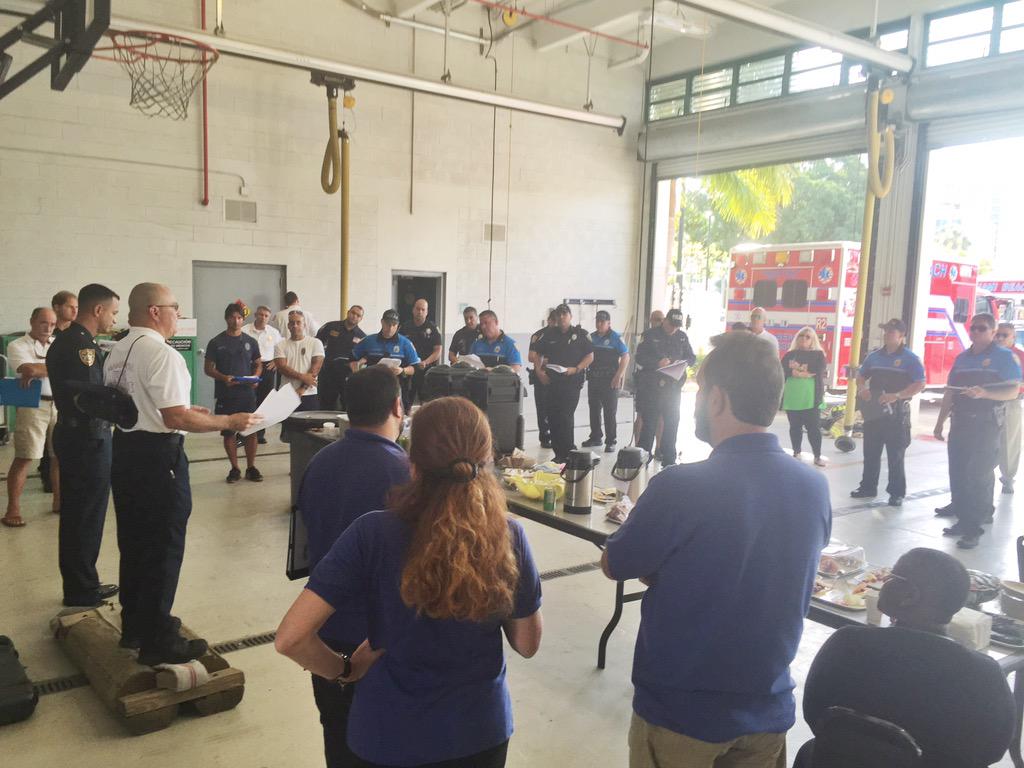 In Emergency Management and Disaster Response timing along with having the right information often determines the outcome. The exercise was very interactive which allowed participants to tailor the experience to their needs and training levels.
A team of national, regional and state organizations invites Community Emergency Response Teams (CERT) and Neighborhood Watch programs along with Neighborhood Associations to participate in one of the scheduled disaster tabletop exercises being facilitated via the internet. Neighborhood teams were able to partake in this and future exercises due to a unique collaboration of partner organizations offering participation in the Formidable Footprint exercises at no cost. The exercise provided us with a very practical idea of what functions we could handle in response to a hurricane. Scenario was excellent and provided real world situations.Interaction among our team members was so involved we lost track of time.
The maps utilized in the exercise were very helpful and essential for our team to understand the current situation. The exercise, which was based on three wildfires and their impacts on the communities of Jackson, Teton Village, and areas of Grand Teton National Park, was designed to develop joint decision-making relationships between the various agencies. Non-Governmental Organizations (NGOs) participated in the exercise, which helped all agencies understand the role of NGOs in restoring basic health and social services following a disaster. The scenario that teams participated in was that of a category two storm "Hurricane Neighbor" striking the simulated coastal community of "Northtown" a neighborhood of 807 homes with 2,431 residents. The Formidable Footprint exercise series is timely because FEMA Administration Craig Fugate has recently challenged all Americans to find ways to help our communities become better prepared for disasters.