A sophisticated sniper attack in April that riddled PG&E's Metcalf power substation in South San Jose with bullets may have been an act of domestic terrorism, two experts say, underlining concern that the nation's electricity grid is vulnerable to sabotage. While the FBI says there is no evidence that terrorists were involved, Jon Wellinghoff, former chairman of the Federal Energy Regulatory Commission, said the attack was "very well planned and well executed by very highly trained individuals," a conclusion shared by a former top PG&E official. Based on his review of the evidence and a tour of the Metcalf plant with some military experts, he said the assault was "the most significant incident of domestic terrorism involving the grid that has occurred" in North America.
As a result of the attack, PG&E shut down much of the substation for nearly a month while repairs were made. The attack at the electricity transmission substation -- located next to the Metcalf power plant -- happened shortly before 2 a.m. Although no one was injured and no one lost power, the circumstances of the attack suggest it was carefully planned and carried out with precision.
The attackers severed six AT&T fiber optic telecommunication lines in an underground vault, which was covered by a metal lid that was so heavy it would have taken at least two people to lift it, according to sources quoted by The Wall Street Journal. So far, no group has publicly claimed responsibility for the attack or made demands as a result of it.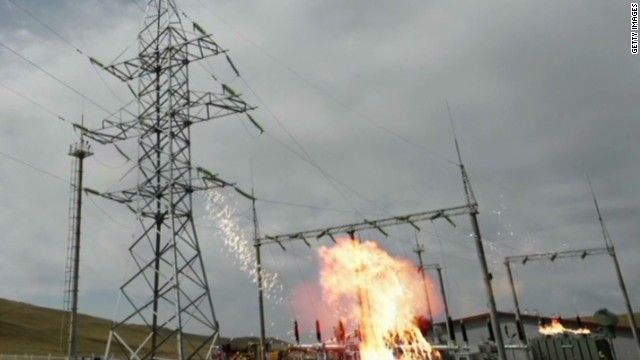 It also has led to numerous meetings among federal law enforcement, national security and energy officials to emphasize the need to protect the power grid from sabotage, according to Scott Aaronson, senior director of national security policy for the Edison Electric Institute, an industry group. He stressed that utilities already do a lot to safeguard their equipment, which includes thousands of electricity transmission substations like the one at Metcalf. It is not just a physical attack as in this case, but cyber attacks which happen too often now. It would seem that the substation transformers being inside a building instead of a fenced-in area outside, would be an inexpensive adjustment to make, given the $15.4 million dollar cost of this low level attack.
I was pretty sure that these electrical components need to be in an open area to avoid overheating which could happen if enclosed. He added that there is no evidence linking it to several other attacks on the power grid in Arkansas, where a man undergoing psychiatric evaluation was charged with the crimes last year. Mark Johnson, a retired PG&E vice president, told an industry gathering in November that the incident might have been a rehearsal for a bigger attack later, according to a report in The Wall Street Journal on Wednesday.
Besides more than 100 fingerprint-free shell casings littering the area, Wellinghoff said his military experts spotted small rock piles by the plant which the attackers might have placed there earlier to mark prime firing positions.
That seems inconsistent with the FBI's official definition of terrorism, which partly hinges on the perpetrators attempting to "influence the policy of government by intimidation or coercion." Even so, the attack has drawn considerable attention. 7 letter to the Federal Energy Regulatory Commission and the North American Electric Reliability Corp. I hate to say but the grid is vary open to attack and there is nothing any one can do about it.
Think about grocery stores and schools and hospitals and businesses and homes without electricity or communications or Internet and think about gas stations without fuel or electricity.