Newly reported details about a 52-minute sniper attack on a central California electrical substation last year are raising concerns from Capitol Hill and beyond, amid questions over whether it was the work of terrorists.
The April 16, 2013, attack had not been widely publicized until The Wall Street Journal reported new details in a story on Wednesday.
Electric officials were able to avert a blackout, but it took 27 days to repair the damage.
The FBI doesn't think the incident was a terror attack, an agency spokesman told the Journal. Wellinghoff went public with the story after briefing federal agencies, Congress and the White House, citing national security concerns and fear that electric-grid sites don't have adequate protection. In addition, retired PG&E executive Mark Johnson said at an industry gathering a few months ago that he feared the attack was a dress rehearsal for a larger event, according to the Journal. She said utility companies have been able to prevent such attacks in large part because they share information with related parties.
However, she also said the meeting, which covered a broad range of topics, concluded with a commitment from executives to keep the senators better informed and a desire for additional legislation to legally protect those who share information about issues like attacks and disaster preparation. Security for the grid has long been a concern for government and the utility industry, but most recently the focus has been on the risk of cyber attacks. Shooters armed with assault rifles and some knowledge of electrical utilities have prompted new worries on the vulnerability of California's vast power grid. But this week, a former top power regulator offered a far more ominous interpretation: The attack was terrorism, he said, and if circumstances had been just a little different, it could have been disastrous.
Jon Wellinghoff, who was chairman of the Federal Energy Regulatory Commission when the shooting took place, said that attack was clearly executed by well-trained individuals seeking to do significant damage to the area, and he fears it was a test run for an even larger assault. As law enforcement tries to piece together who fired at the electricity facility, lawmakers and analysts express bewilderment that little is being done to protect against a repeat performance.
The attack on the PG&E facility targeted the sophisticated transformers that are at the backbone of the nation's electricity grid.
On that April night, the attackers managed to disable 17 of them just by shooting through a chain-link fence. PG&E officials say they are taking steps to improve grid security and are consulting with government agencies on how best to do so. Lawmakers are pushing to impose federal standards for protecting the country's electric grid from attack in the wake of a new report about a sniper assault on a California electrical substation last year that has raised fears the power grid is vulnerable to terrorism.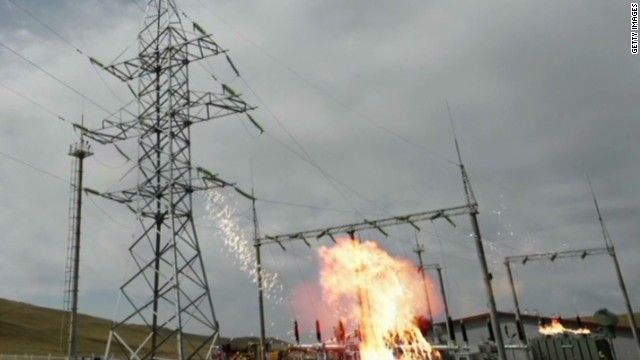 One proposal being discussed in Congress is would give the Federal Energy Regulatory Commission the power to write and impose interim rules on grid defenses.
An attack on California electrical transformers in April is believed by some to be a practice round for a terrorist attack on the U.S. The coordinated attack began outside of Silicon Valley where attackers cut telephone wires at 1 a.m. About half an hour later snipers shot at an electrical substation for about 19 minutes, destroying 17 transformers in the process. The Federal Bureau of Investigation doesn't think a terrorist organization caused the Metcalf attack, said a spokesman for the FBI in San Francisco. The FBI is investigating how an unknown group penetrated a San Jose, California power substation earlier this year, strategically cutting fiber cables and then firing over 100 rounds of ammunition into ten transformers. PG&E, the company that runs the compromised power substation, disagreed with the FBI's initial claims of vandalism, and said the attack was "not amateurs taking potshots" and then suggested the attack was more likely a "dress rehearsal" for future attacks. According to the New York Times, the FBI is also investigating a series of attacks in Arkansas where high-voltage power lines were deliberately severed in at least three separate attacks. Most people mistakenly assume our public utilities are safe; shockingly, they are incredibly vulnerable to attack.
In one attack, just days before the 10th anniversary of 9-11, over seven million people went without power in one of the largest Blackouts in California history. I read the FBI account on a local news site here in San Jose and I found it interesting that the FBI was saying it was a military style attack. Stock up on some propane,you can buy those attachments that you can put on them for heat, and gasoline for any vehicles you may have like a 4 wheeler or cycle, even a tractor will let you get around if need be. If I were one of these folks, I would see the grid as a soft target I could disrupt on an ongoing basis with very little expense and without strapping a bomb to myself. I'm not claiming to know the origins of this attack, but I am suggesting that your perception bias is preventing you from having 360 degree situational awareness.
But the Republican-led House Energy and Commerce Committee said Wednesday that lawmakers continue to follow the probe and that protecting the grid remains a top priority.
Gunfire from semiautomatic weapons did extensive damage to 17 transformers that sent grid operators scrambling to avoid a blackout. But concern grows that California may have come unnervingly close to learning that calamity might just as easily be inflicted by a few well-trained snipers.
Asked what has happened since then to protect the nation's electricity system, Morgan replied that very little has been done. Johnson said the attackers opened two 75-pound manhole covers and used a ladder to cut fiber-optic lines, a possible attempt to disconnect security cameras.
He said, though, that the fact that grid operators were able to keep the lights on after the shooting shows the company was prepared, and has procedures and technology in place to protect against sabotage.
One proposed measure, the Grid Reliability Infrastructure and Defense Act, would have given federal regulators authority to impose specific rules.
Edward Markey (D-Mass.), who was then a congressman, blamed its demise on aggressive lobbying by electricity companies. Utility officials have asked the public to stay alert, and are also investigating whether a September 29th fire at an electrical substation in Arkansas is somehow connected with the power line attacks. From al-Qaeda operatives in Denver, who were arrested with documents detailing plans to contaminate the country's water supply; to a series of hacker attacks that penetrated a number of our nations water supply plants, these attacks show just how vulnerable our infrastructure really is.
Although the FBI denies the outages were related to terrorism, no official cause was ever given, and the outage came just hours after the Department of Homeland Security issued a warning about a potential terrorist attack leading up to the anniversary.
Infrastructure is impossible to protect and very easy and cheap to attack so if the threat is genuine then I think you would be aware that the lights keep going out.
As months have passed without arrests, he said, he has grown increasingly concerned that an even larger attack could be in the works. The power stayed on, but just barely, because it happened during a time when demand for electricity was very low. He said he was going public about the incident out of concern that national security is at risk and critical electric-grid sites aren't adequately protected. I am looking in to ways to be more self reliant, in case of future super storms, and in case of a terrorist attack.