Q: Did the Department of Homeland Security create a "standing army of government youth" known as FEMA Corps.
On September 13, 2012, the Dept of Homeland Security graduated its first class of FEMA Corps youth, aka the Homeland Youth. On September 13, 2012, the Department of Homeland Security graduated its first class of FEMA Corps first-responders. Individuals around the US have begun reporting the site of strange, new, heavily-armed FEMA fighting vehicles. FEMA Deputy Administrator Rich Serino gave the keynote address at the 'Induction Ceremony' for the inaugural class of FEMA Corps members.
Unlike most local disaster response teams who are volunteers, training periodically and only showing up when there's a disaster, the FEMA Corps will be a paid, full time, standing army of government youth.
In closing his announcement of the first graduating class of FEMA Corps Youth, Sarino describes his and the agency's vision of the future, one where 'FEMA Corps sets the foundation for a new generation of emergency managers'.
As we detailed in the August 28 Whiteout Press article 'History of DHS Ammunition Purchases', federal emergency management agencies are looking more and more like a military army every day. The federal government's procurement website actually lists DHS' requests for bids to supply it with ammunition and military weaponry.
One look at a chart of DHS ammunition purchases over the past decade reveals a drastic spike in orders of bullets recently, totaling in the billions of rounds. The gist of the email is that the federal government is stockpiling bullets, instituting martial law and arming youths in President Barack Obama's army of "Brown Shirts" — none of which is true. The email says the Department of Homeland Security created a "paid, full time, standing army of government youth." And the email quotes — correctly — from a DHS press release announcing FEMA Corps' first graduating class.
It contains a photo of young persons dressed in blue uniforms and holding air-soft guns, replicas that fire plastic pellets and are identifiable by their federally required orange tips. And the photo comes not from DHS — as the email claims — but from a 2009 New York Times article.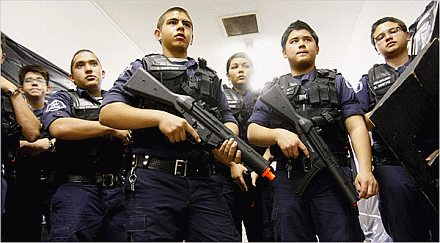 FEMA Corps, on the other hand, is a civilian operation for persons between the ages of 18 and 24. FEMA Corps, which will grow to 1,600 members, is solely devoted to preparing for and responding to disasters. The email, nonetheless, attempts to connect FEMA Corps to an overblown claim about the government's recent ammunition purchases.
The email also links FEMA Corps to the false claim that Obama issued executive orders that institute martial law and give unchecked powers to FEMA. Over the past two years, President Obama has signed a number of Executive Orders suspending all civil and Constitutional rights and turning over management of an America under Martial Law to FEMA. We have here deliberate subversion of youth at their most vulnerable, when they seek a mentor [who, IMO, should be Christ], but instead get a supra-worldly wannabe dictator, our very own Obamamama, creator of the first fascist nanny state! We are not here to hurt you; you took it that way wrongly, and so became roused to dispute in anger. The story is about a law enforcement education program that is affiliated with the Boy Scouts of America and has nothing to do with FEMA Corps.
All of which is not only evocative of the Hitler Jugend (Hitler Youth Movement) and the Soviet Union's Leninist Young Pioneers, it is also against a federal law, the Posse Comitatus Act of 1878. On September 13, 2012, the Obama administration's Department of Homeland Security (DHS) graduated its first class of FEMA Corps. Since FEMA Corps specifically recruits young people, we may just as well call them the FEMA Youth Corps. Established as a new unit within the existing AmeriCorps National Civilian Community Corps (NCCC), FEMA Corps engages young adults ages 18 to 24 to provide ten months of full-time service on disaster response and recovery projects. At the September 13 induction ceremony, members of the inaugural FEMA Corps class took the AmeriCorps pledge to "get things done for America" and heard from agency leaders about the important work that lies ahead.  FEMA Deputy Administrator Richard Serino and CNCS CEO Wendy Spencer were on hand to welcome the members and thank them for their commitment to service (see pic below). According to DHS, the first class of FEMA Youth Corps had taken one month of AmeriCorps NCCC training and FEMA position-specific training.
After completing 1,700 hour of service, FEMA Youth Corps members will receive a $5,550 Segal AmeriCorps Education Award to pay for tuition or pay student loans.  Members will gain significant training and experience in disaster services that can serve as a pathway to employment in the emergency management profession. Many, many thanks Eo for the VERY splendid compilation and extrapolation you magickly performed on my single news article! Gosh, Dave D, I just re-read my post and the 9 comments preceding yours, but I find not even ONE mention of Satan! In fact, the AmeriCorps handbook, which applies to FEMA Corps, prohibits members from possessing firearms or any other weapon.
But DHS was making a first-time bulk order for all of its law enforcement agencies to save money. On that day, 240 young adults ages 18 to 24 were sworn into service at an induction ceremony in Vicksburg, Mississippi. Also in that time, domestic federal agencies under DHS, including FEMA, have ordered billions of rounds of ammunition as well as the corresponding firearms.
Any historian will tell you it sounds more like the arming of the Hitler Youth than an army of first responders fighting forest fires and hurricanes. But if FEMA Youth Corps were to change their pledge to the Boy Scouts' oath, I would be better disposed toward them.
Regardless of their name, the Dept of Homeland Security has just graduated its first class of 231 Homeland Youth. Kids, aged 18-24 and recruited from the President's AmeriCorp volunteers, they represent the first wave of DHS's youth corps, designed specifically to create a full time, paid, standing army of FEMA Youth across the country.