When my children were young, they enjoyed having their own wallets to carry spare change and photographs. You can take your cards to the local copy store to laminate, a process that children always find fascinating to watch. Make additional cards (laminated or unlaminated) for parents and caregivers to keep in their possession.
Talk to your children about the appropriate times to share the card and to whom they should give them to in an emergency. The idea for an emergency contact card struck me as I was writing my post about making the most of your contacts.
One thing that I have been working on is creating a kids emergency contact card for my daughters to have on our trip and in their school backpacks. For instance, if we are in a museum and my daughter becomes separated she can locate a staff person and hand this card to that person.
I am happy to make this Emergency Contact Card available to all of you as a free printable!
It takes a few short minutes to print, complete and create the photos needed for your cards, and the peace of mind you will have about it will be priceless. I have designed simple card graphics that you can print out on cardstock or laminate on plain paper. Clear, self-laminating luggage tags also work well to seal the cards, simply trim away the excess edges once sealed. Then I thought about all the important information that I keep in my wallet, my ID, proof of auto insurance, medical insurance card, etc. Most of us keep our smart phones locked with a pass code, so it would be impossible for a stranger to know who to contact without unlocking the phone.
Place the cards in a wallet directly behind identification cards, either a driver's license or school ID. In addition, I have also included a list of contacts to be notified when an emergency arises.
Having vital information in an emergency can be the difference between a close call and a mistake made.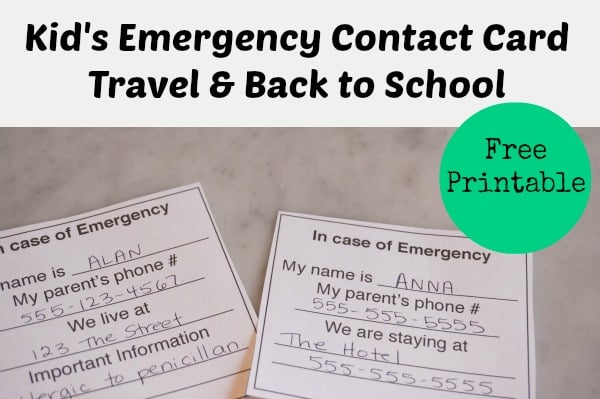 The more advance planning you do for disasters, the fewer decisions you have to make under the pressure of a real emergency. If your child becomes separated from you, they can approach a police officer, a security guard or a responsible adult and pass the card to that adult.
I will be printing these cards and stuffing them into my girls' pockets as I pack the suitcase. For kiddos, attach a luggage tag to the inside of the backpack, some even have a card slot built right in.