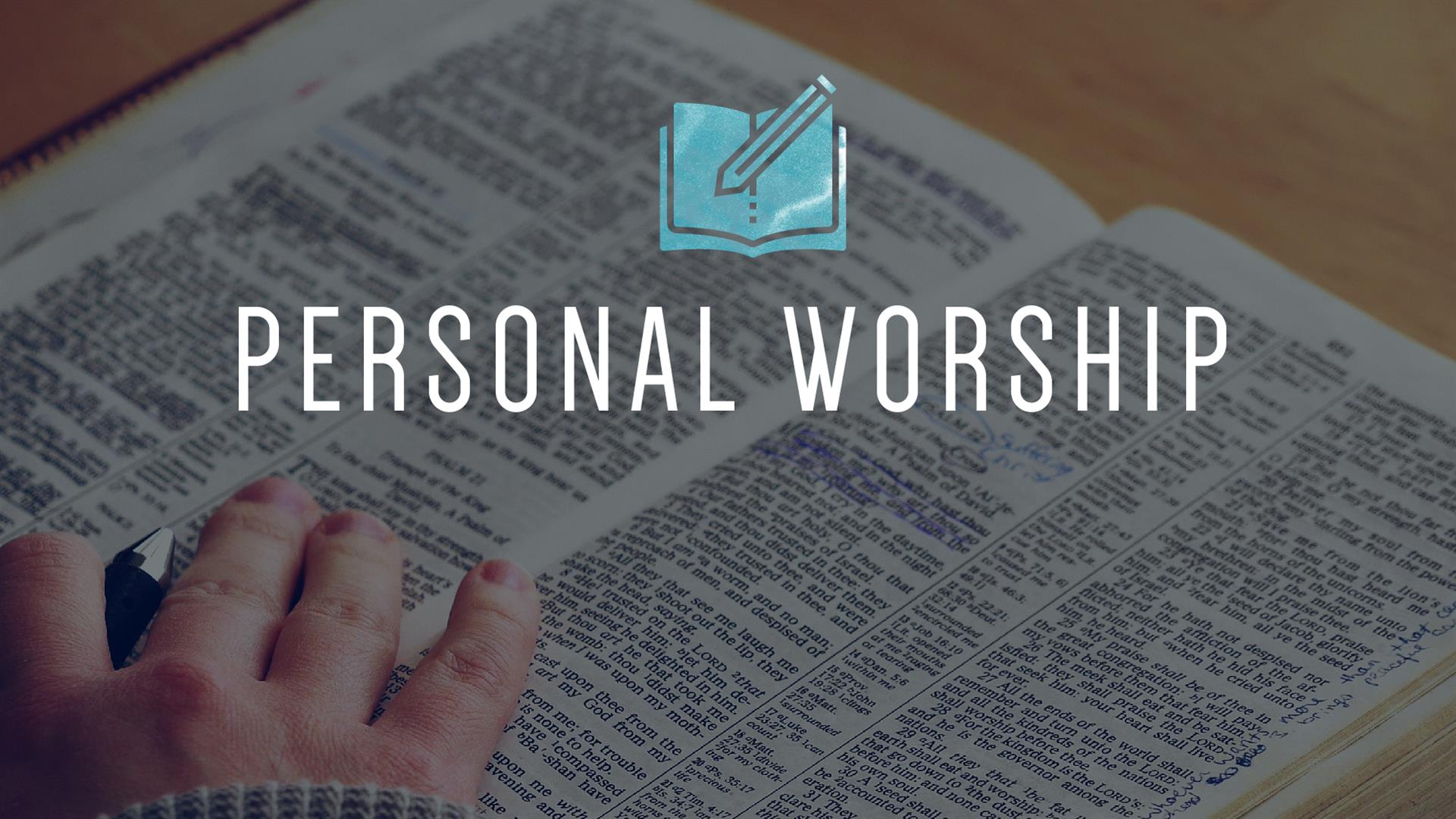 If you would like to consider fasting as a spiritual discipline during Holy Week, we encourage you to read the resource page on our website.
Prayers of Preparation
This is Holy Week, when we remember Jesus' last week on earth leading up to Easter Sunday morning and the celebration of his resurrection. To prepare ourselves for this week, and for Easter, we're sending you special daily personal worship messages.
Combined with your regular personal worship Bible reading and reflection questions, this daily time of prayer will focus our thoughts on what we are remembering this week, and make us ready to encounter God in the upcoming special services.
Prepare
Before you begin, take some time to calm your mind. Find a quiet place that is conducive to reflection. If your mind is crowded with things you need to do and are afraid you'll forget, write down the list of things you're concerned about and then set it aside. You can pick them back up later, but for now your goal is to empty your mind of the chaos of your everyday life.

Pray
Ask the Holy Spirit to focus your mind, and give you wisdom and clarity.
In the next sections, you'll find brief selections from the Psalms. Each Psalm is followed by a paragraph to either guide you through "praying" that Psalm (that is, reading the Psalm while using its words to form a prayer from you to God) or meditating on some aspect of it.
Read each Psalm, then either pray through the same Psalm or reflect on the meditation (depending on the guide paragraph). It's a wonderful discipline.
Remember God
Sing praises to God, sing praises; sing praises to our King, sing praises. For God is the King of all the earth; sing to him a psalm of praise. God reigns over the nations; God is seated on his holy throne. Psalm 47-5:8
As you come to the Lord in prayer this morning, remember that you are his child and your chief need is spending this time with him daily, where he meets with you and renews your heart and mind for the day ahead. Pray these verses above back to him, "God, you are the King of all the earth, you reign over the nations, and I will praise you from my heart this morning! Help me to keep you as the King of my heart this whole day." Spend time in praise and thanksgiving.
Be Honest with Him About Yourself
Hide your face from my sins and blot out all my iniquity. Create in me a pure heart, O God, and renew a steadfast spirit within me. Do not cast me from your presence or take your Holy Spirit from me. Restore to me the joy of your salvation and grant me a willing spirit, to sustain me. Psalm 51:9-12

As you read the above Psalm, ask God to reveal to you any of the ways your heart has become unclean. Be still as you let him do this. Understand that allowing known sin to stay in your life does create a barrier between you and God, and ask for his forgiveness for it or, if necessary, a willing spirit to desire to remove it.
Rest In His Grace
Early in the morning I cry to you, for in your word is my trust. Psalm 119:147

Now that you have given the Lord the place of honor in your heart and confessed your sin in humility, rest in the certainty that you are right where you should be, and know that you can trust him for this day.
Consider
Why is Jesus Different From Other Religious Leaders?
Receive His Wisdom
Monday & Friday: Luke 23:33-24:12
Tuesday: John 19:16-20:31
Wednesday: Matthew 27:33-28:15
Thursday: Mark 15:22-16:13
Each of these is the account of the crucifixion and resurrection morning. By reading them in each of the four Gospels, you can notice similarities and differences that may be significant.
Reflect
How is Christianity different from the other world religions?

If Jesus is risen, what difference or differences does that make for the world? What about for you personally?

If Jesus was not raised from the dead, what difference or differences would that make? 
The Concluding Prayer of the Church
Almighty God, you know that we have no power in ourselves to help ourselves. Keep me both outwardly in my body and inwardly in my soul, that I may be defended from all adversities which may happen to the body, and from all evil thoughts which may assault and hurt the soul; through Jesus Christ our Lord, who lives and reigns with you and the Holy Spirit, one God, for ever and ever. Amen