UK mums are confused and concerned over the advice they receive about cats and pregnancy, according to latest research conducted by Cats Protection.
Maggie Roberts, Cats Protection's Director of Veterinary Services, said: "Our research shows that women are worrying about diseases such as toxoplasmosis but they aren't being presented with accurate information.
The survey also revealed that over 35 per cent of pregnant women were being given the wrong advice about cats and pregnancy and over a quarter of women who received advice from a family member were told to get rid of their cat. In light of the findings, Cats Protection is keen to reassure all parents-to-be that, by following a few simple steps, it is safe to keep your cat while welcoming new additions to your family.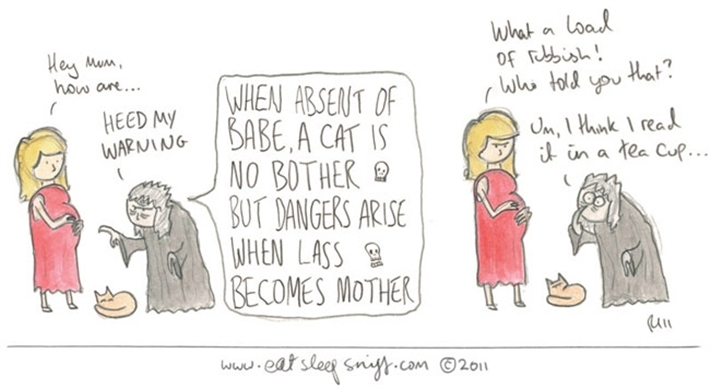 This Leaflet  and  video have been designed to allay their fears and try to banish the misconception that cats and pregnancy don't mix. Studies show that cat owners are statistically no more likely to get toxoplasmosis than non-cat owners. Family doctor and parenting author Dr Carol Cooper also believes the misconceptions the survey revealed are cause for concern: "I'm horrified how many women give up a loved family pet because they wrongly believe they shouldn't have contact with cats during pregnancy. We're hoping by raising awareness of this issue, we can reduce the number of unwanted cats handed over to the charity unnecessarily.
The chance of contracting the disease from your cat is very small indeed – in fact you are more likely to get it from handling raw meat. Of course all cat owners should practise good hygiene routines, especially hand washing after dealing with a litter tray and before handling food, but that's just common sense".