Author: admin, 11.08.2015
The 3 day potty training method should be thought of as your child's transition from peeing and pooping in diapers to peeing and pooping in the potty.
There should be no doubt in your mind that accidents will still happen, even after the initial 3-day potty training session. Whether your potty training a boy or potty training a girl, preparation is essential if you want to have a stress-free experience with a successful outcome.
Being relaxed, allows you to have a less rigid approach to the three day potty training method.
If you want to avoid accidents like pooping or peeing on the floor while teaching your child how to use the potty, it's important that you recognize how your toddler signals that he or she needs to pee or poo, like a change in facial expression, squirming, squatting or holding the genital area. What I'm going to tell you next needs to be done before any attempt at teaching your child how to use the potty. So… if you want to set your toddler up for success there some activities you can and should do. Familiarizing your child with the bathroom while at the same introducing him or her to the potty chair should be done early on so once the actual three day training process starts, the child will already know what the potty is for.
Once you feel confident that both you and your child are fully prepared all that's left to do, is schedule 3 days in a row when the teaching process will take place. Once you've got the days marked down on your calendar, think of a bunch of activities you and your toddler can do together.
Buying everything you need to get started with the training is probably a great opportunity to get your child involved and excited to be part of this new experience for him. Cereals, yogurts with added fiber, high-fiber wheat bread, high fiber vegetables like broccoli, sweet potatoes, spinach, high-fiber fruits such as apples, pears, and prunes, all of these should be included in your childs diet right before and during toilet training.
If you want more information and sound advice on how to successfully potty train your child, there are many books out there that will help you do just that. Using a quick toilet training method doesn't mean that your toddler will be fully potty trained in three days. What's important now is to follow through consistently and encourage your child to stick with the routines he or she has learned so far until one day using the potty will become accident free.
Also familiarizing your child with the potty before the training is started helps set the stage for an enjoyable and stress-free toilet training process. You should only start the 3 day potty training when you can devote the time and energy necessary to encourage your child on a daily basis. Some parents have reported that dumping the contents of a dirty diaper into the potty to show its purpose can work very well.
The key to making this work is consistency that's why you want to give yourself a chance at being able to maintain training routines during the whole 3 days and after that.
The trick here is to let him or her choose which potty chair they want, take them to the store, sit them on different potties and pick the one they like best.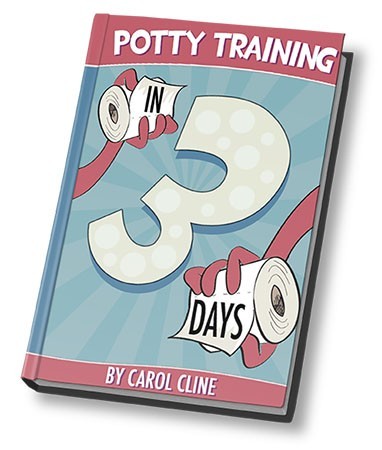 Keep instructing your toddler to let you know when he needs to use the potty, repetition is necessary as children have short attention spans, but only gentle reminders so that your child does not feel pressured in any way. There may be a few accidents at the beginning, but soon they learn to stay dry during naptime, and at nighttime will learn to either wake you up when they need to go, or surprise you by going to the potty themselves. Take him to the potty at least twice before tucking him into bed, but if nothing happens do not keep him on the potty. However upon reviewing most of them, I found that Carol Kline's 3 Day Potty Training eBook is the most accurate and most helpful. Ever since I potty trained my two boys, Daniel and Mark, I've been helping countless other parents do the same with their toddlers. Successful potty training requires you to consistently following through and maintaining the routines your child picked up during these 3 days. It's a PDF ebook which gives you everything you need to teach your child how to use the potty in three days.