TK Tables manufacture solid heavy duty outdoor wooden picnic tables in a large range of sizes and styles. The conventional A frame outdoor picnic tables come in a large range of materials and sizes.
Treated pine wooden picnic tables are extremely affordable but nothing is as solid as an ironbark wooden table.
The outdoor wooden table photographed on the right is 2.4m long and weighs approx 260kg whereas the equivalent treated pine table comes in at under 130kg.
Whether it's for a public or commercial site somehow an outdoor wooden table connects us to the outdoors and enables us to leave the pressures of general life behind us for a while. In addition to the conventional 'A' frame picnic tables we also have several 'T' frame and hybrids to choose from.
TK Tables takes pride in building their outdoor picnic tables to the highest quality, and this is often reflected in the feedback and comments that we receive on delivery.
Check out the larger range of outdoor wooden tables on our products page but if its not there or you want some special outdoor table that is slightly different, please give us a call. We manufacture solid timber furniture to order and do not retail from showrooms as each piece is custom made for the client. Some of our garden furniture is made from recycled 'A' grade railway sleepers that are carefully transformed into tables, seats and benches.
TK Tables furniture is ideal for commercial clients and we often customise existing designs to meet their needs. For the top end of the market we offer The No Top Screws Designs (NTS), high quality outdoor dining tables and outdoor dining furniture. Give that dining area a lift and have the furniture stained to match the decor or even have the dining tables built from dressed timber to give is a real furniture look. Our range of outdoor dining tables includes dressed, and sawn finishes, rustic and elegant, modern or conventional. Obviously the choice of timbers, timber sizes and overall table sizes is totally up to you and we are happy to discuss and manufacture to your requirements.
Check out the other seats and tables that make us Melbourne's outdoor furniture specialists. For more details, please call and we can elaborate on the differences and provide a written quote in a timber of your choice. You will find that our outdoor dining tables will last a lifetime and your workplace and employees will appreciate the opportunity to take their break and relax on these comfy units. They clearly stand out over the conventional designs and make an elegant outdoor dining table.
Depending on timber selection and size, the NTS range of outdoor dining furniture starts at $1,980 for the conventional style and $2,420 for the separated benches design.
Ironbark and greygum are one of the most durable and solid timbers available and this setting weighs in at over 600kg. TK tables furniture is suited to households especially the garden range but more so to clubs, sporting venues, cafes, caravan parks and other commercial areas where heavy duty solid furniture is a prerequisite. The quality grade of the timber is higher in the NTS designs as timber with any ugly knots is not used in the construction. Exposed wooden patio chair plans free on the project you will find free plans to build anything found outdoors around the house such as deck chairs, benches, planters and picnic tables. With Melbourne's best prices and choices on these quality tables it's no wonder that they are so popular. For most of us dining outdoors is a pleasurable experience and gathering around an outdoor picnic table brings fond memories.
Our attention to detail and the way we select our timber often exceeds our client's expectations. So whether you need a simple treated pine picnic table for the back of the sports oval or a fully dressed and oiled smooth finish for your sheltered cafe that is easy to wipe down, we can cater for both extremes.
Since most of our furniture is used outdoors, predominantly outdoor tables, we only use resilient timbers like Cypress pine, treated pine, ironbark and red gum.
With a full range of styles in a variety of timbers and multiple sizes, TK outdoor tables is able to offer the best and most affordable range of solid timber picnic tables in Australia. For the best outdoor timber dining tables Melbourne has to offer, we believe we have the best range and all at competitive prices. Hybrid A Frame Picnic Timber Tables This hybrid A frame design is more of a back yard furniture item than it's cousin Picnic table. I also have a large selection of natural edged slabs available to choose from in Australian hardwoods, Queensland Red Cedar and other fine cabinetry timbers. The NTS designs are a high quality extension and alternative to the conventional A frame picnic tables. They are all manufactured from quality heavy duty timber right down to quality bolts that hold them together.
There is a lot more sub frame timber in the NTS designs and it looks more substantial and furniture like. With the largest range of conventional A frame outdoor dining tables on offer and a host of affordable Hybrid and T frame designs there is bound to be a table right for you.
You can acquire Outdoor Timber Chair Designs guide and look the latest Contemporary Wooden Patio Chair Design Ideas in here.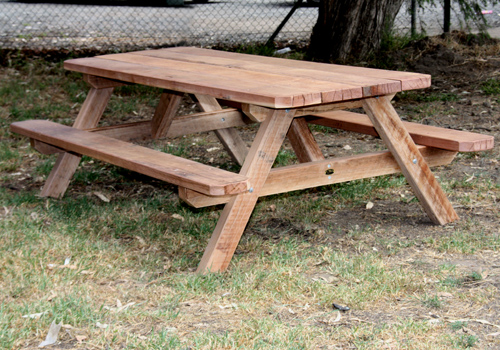 Keep you eye on our monthly specials page for some of the best wooden tables Melbourne offers and remember that we also provide a price match guarantee. Outdoor picnic tables that have the TK badge are a sign of quality and pride, both for us and our clients. All are solidly built and will give years of service and all outdoor wooden picnic tables with a TK tables badge come with a price match guarantee. Furthermore, outdoor picnic tables are not restricted to 'A' frame designs and we offer a huge range of alternatives with wider seats, and 'T' frames where you don't need to climb over the seats. The heavy duty nature of our picnic tables means that we often need to assemble on site as some of these tables can range up to 250kg. Check out the larger range of timber outdoor dining tables on our products page but if its not there or you want an outdoor table that is slightly different, please give us a call. Please note that each timber table is custom made for size and finish to the clients needs, so you won't bump into a similar item at the local store. There are over a dozen outdoor timber dining tables in this range and they are prices from $688.
Whilst all our tables are solid and sturdy, there is really no comparing the quality finish and style of this design.
The overall width of a table has significance in whether the table becomes a romantic intimate table as with our narrow tables or a social interchange table as with our 1m wide tables. With wooden picnic tables Melbourne based specials are sometimes provided to make them even more affordable - especially on volume orders.
Each bench, seat or table is handmade timber furniture that will inspire and last for life.
Restoration hardware outdoor furniture When you think of outdoor furniture, you probably picture a patio table, chairs, and an umbrella.
These are all built from 45mm thick timber to ensure they withstand high volume traffic areas. We are the only manufacturers of custom made furniture in Melbourne that specialises in solid rustic garden furniture made from railway sleepers, red gum sleepers and a range of 100mm thick timbers.