Easy and inexpensive to make, building a bird house can be a great project for the whole family. So if you're thinking birdhouses are kid's stuff, think again—bust out the saw, pick up some lumber (or make use of scraps you currently have) and dedicate an afternoon to whip up one. Here's a relatively simple project to make with the children, and it's also good for nature too! Some people build birdhouses with the intention of them being decorative pieces for the garden, however the guidelines presented here describe the construction of a quite basic birdhouse. Whether it's from the trees that were uprooted to make way for your 5 bedroom mansion on your property, or the hectares of forests that were ravaged to supply the timber in your house, birds have suffered for way too long.
I intentionally have left off any dimensions, as this is merely a guide and it is up to you how big you'd like to build it.
Drill a hole just under the entrance hole to fit the dowel into- make sure the drill bit you are using is no bigger in diameter to the piece of dowel, so that the dowel will fit in there nice and snug.
Choose a nice secluded place, and be mindful of the weather- make sure it's relatively sheltered, and keep the entrance pointly away from any prevailing winds. If you are interested in taking it up a notch, you can find a how-to for the modern bird house design featured in the top photo at Curbly and another at Build by Kids. Now's the time to give back to the little fellows, and build them their very own brand new birdhouse. Please use common sense- if you intend to have a family of eagles nest in your backyard, the birdhouse will obviously have to be a lot larger than it would be if it is to house sparrows. Make one little bird family in your neighbourhood the envy of all their friends by constructing the birdhouse of their dreams.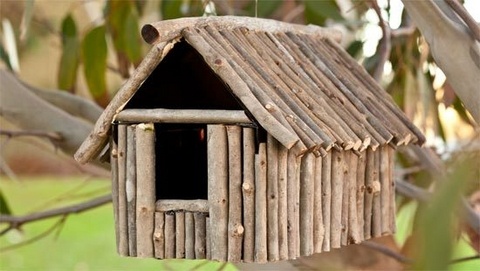 This birdhouse design is also not intended as suitable for emus or ostriches- in these cases we recommend giving them a set of keys to your house and your spare bedroom.
If you do wish to paint your birdhouse, paint the outside ONLY and use NON-TOXIC water based paint.