Last week I had the opportunity to help a friend build the foundation for a new shed that will be delivered in a couple of weeks.
The shed measures 10 x 18′, and we started planning the layout by marking the corners of the shed with stakes.
The shed will be constructed on a skid of 4 x 4's running left-to-right along the length. From our string guides, we determined the locations for our post holes and marked them with spray paint. Knowing the approximate height for each post (from our string guides), we rough-cut our 6 x 6″ posts and put them cut-side-up into each hole. As we leveled the posts, we used a small amount of pea gravel and dirt to temporary hold the posts in place. In this picture you can see that I placed my pencil between the post and the string (and another pencil on the far post). When we were satisfied that all the posts were in-line with each other, equidistant and completely level, we began filling in around each post, tamping the dirt as we worked. We want to keep the shed as low to the ground as possible while still keeping everything level.
Each support beam is a double 2 x 10″, and we notched each post where the support beam will sit.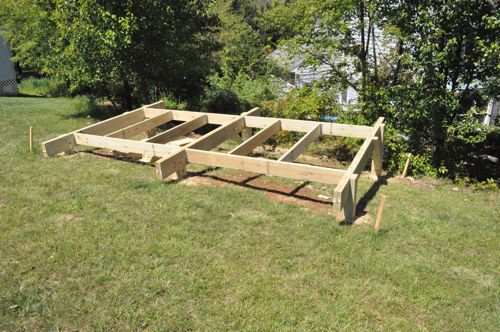 Using a framing nailer, we put rows of 5 nails every 24″ or so on both sides of the support beam. We also installed lateral braces on the backside posts using a combination of carriage bolts and lag screws. It might be worth it to move the shed down the slope a little bit to buy some room to approach from the back. 2) In this area and for this size of a shed, we didn't need to get anything inspected. I believe manufacturers (like Simpson) make ties for connecting above-ground footings to posts or directly to PT framing.
Some of my construction techniques are pretty rough, and generally involve a chain saw, if I can manage it, though I have been known to use high-precision tools, such as a hand drill and skill saw when doing finish work or building furniture. His back yard has a bit of a slope, and it would take too much concrete to pour a slab (read how to pour a concrete shed foundation here). The string guides were useful for determining the slope of our site, finding the high-point and marking the locations for our post holes. The posts are oriented this way because the cut sides will have slightly less pressure-treated chemical in the center.
Starting at our highest point and using an 8′ level, we marked the bottom of our support beam just a few inches off the ground and then scribed this line across all of the other posts.
Using a quick-clamp and speed square as a straight-edge, we cut each post to the right height. While my friend was shoveling, I was constantly making changes to keep everything level, and good thing because after backfilling, we couldn't budge the posts at all.
My friend got the shed through Maryland's Best Sheds, and the link is at the beginning of the article. You can make your own hand tamper by nailing a 12-inch piece of 2 x 6 to the end of 4 x 4 post.Position deck blocks to create a layout measuring roughly 6 x 8 feet.
For that reason, we decided that building a post and beam foundation would be the best way to go.
To make this cut, we used a circular saw on each side of the posts and a reciprocating saw to cut through the center. The foundation is very solid, completely level, and I'm excited to see the shed delivered. I personally would be OK with this setup for a shed, but obviously wouldn't use it for my house.