02.11.2013
But the truth of the matter is that the travel experience for a frequent flier can be considerably different than that of somebody who doesn't travel much. It would have to be, or else those of us who fly 180,000 miles a year would be blowing our fucking brains out. Fortunately, most airlines understand that frequent travelers have a different set of needs and an entirely different mind-set from the huddled masses, and work really hard to make their travels as pleasant as possible.
So now I am going to give a list of the top-five reasons my constant travel isn't quite as horrible as it might sound. The last couple of years have been relatively "light" travel years for me, which means I only accumulated around 150,000 miles annually. Well, unless the airplane should explode into a massive ball of flames and fall in the ocean as I'm crossing the Atlantic.
Since I woke up at 3:30am Thursday, January 27th in the US Pacific time zone, this means I have been awake for 37 hours straight. After-dinner conversation was all Hard Rock Cafes and world travel (two of my favorite subjects!). And now it's 12:56am here in Cologne, which means I've been awake for 37-and-a-half hours straight. I have no idea what my deal is, but I sure don't want to be around when this lack of sleep catches up to me! Work ended a senses-shattering three hours early, leaving me a little free time to goof around Cologne today. But before I get to that, I'd like to observe a moment of silence for my newly-dead Kenneth Cole dress shoes.
No matter how many times I see the massive Cologne Cathedral, it still takes my breath away. While not the same as the Dutch patatjes met, my favorite, they're still inanely delicious! Now, if you'll excuse me, I've had my fill of doughnuts, fries, mayonnaise, and beer for the evening, so I'm going to go to bed and hopefully get some sleep this time. The one with the Giant Flaming Wheel of Meat, transgender Viking warriors, and my new hotness. One of the down-sides to working in a time zone eight hours from home is that you essentially put in two full work days. While at the candy show today, I dropped by to see if the chocolate chicken had been replaced but, alas, she hadn't. A hot and delicious Stroopwafel fresh from the grill and filled with warm caramel goodness.
It looked like some kind of sweet metal band cartoon for kids, which is exactly what the world has been missing. Turns out it's an animated show based on a wildly successful film franchise and book series here called Die Wilden Kerle (which translates into "The Wild Soccer Bunch").
It's a fairly small property, but has all the classic Hard Rock fixin's so I really like it here. And yet, no amount of discussion when I checked in could dissuade them from charging me for internet.
This is my first visit to the Costa del Sol in the south of Spain, and it kills me that I am only here for two days. Marbella is a major vacation city of the Costa del Sol, and home to many famous and extremely wealthy people. Another flawless day on the Costa del Sol with blue skies and a slight breeze to keep it from getting hot.
I had some work to do in the morning, but rushed through it so I could make it out to Malaga proper for lunch (TAPAS!!). After lunch I decided to climb up to Gibralfaro Castle then work my way down to the Central Historic District. The flight from Malaga to Paris was uneventful except, of course, having to deal with Charles de Gaulle airport once I arrived. If forced to choose between a kick to the balls and having to transfer planes at Charles de Gaulle Airport, I'd have to give it some serious thought. Weather at Schiphol Airport in Amsterdam was mostly gusting winds, which had been canceling flights all morning. Since I had missed meeting up with Dutchy when she was last in Florida, it was nice to get caught up for an hour-and-a-half.
Alas, our chat was over far too quickly, and it was time for me to catch my flight back to Cologne. Please note that I was NOT the person who opened the jar of mayo on the right, ate a few spoonfuls, then put the jar back on the shelf.
Olive Penderghast is a forgettable nobody high school student who decides to embrace her newfound infamy as "school harlot" once a false rumor about her losing her virginity spreads throughout the school.
There are plenty more bullets left in me, but my fingers stopped working about ten minutes ago. As I am not an overly-sentimental kind of guy, I am trying my best not to get too sad over losing my travel companion from the past seven years.
I've got a couple of weeks to decide, so my fingers remain crossed that I can find Batman luggage before I have to purchase. Today is Presidents Day, a public holiday meant to coincide with the birthday of the first president of The United States of America: George Washington. I had no intention of doing my duty and fulfilling my retail obligations today, but on my way over the mountain passes this afternoon I was told that Helly Hansen was going out of business in Seattle. Me in Edinburgh 1999, wearing my favorite Helly Hansen jacket.I bought it in 1997 and am still wearing it today, 14 years later. But I was slammed with work all day long and, when it was time to leave, I found out I couldn't.
Since it would still be less time to drive back to Seattle and go over the mountain passes, the first thing I did when I got up this morning was check the pass reports.
And thought the long, long drive sucked ass, there were some cool things to see along the way. But due to a jealous rivalry between mountain gods, the bridge was destroyed (you can read all about it here). From there, I continued onward, eventually crossing the Columbia River into the small region of Maryhill, Washington. Because I'm traveling on a restricted ticket, I ended up with an extended layover in London. Thanks to a patient taxi driver and London's excellent public transportation system, yesterday I managed to get a big chunk of the city's "Featured Spots" stamps collected from Gowalla. View DetailsHeys hardside luggage is now available in a new size for tweens, featuring popular prints of our most beloved characters from Frozen, Marvel, Pixar, Mattel, Minions, Star Wars and many more.
I just came across some gorgeous and very colorful Mickey and Minnie suitcases and luggage sets for sale, while doing some research on kids suitcases and I decided to create this page today for all the Mickey Mouse fans out there!
They are great for children, of course, but some of them are big enough for teenage girls or even grown women too!
Unfortunately most of the Mickey suitcases and luggage sets I found online have only ONE left, so if you really like what you see, I suggest you buy fast! She is wearing a beautiful blue ribbon on her had and she also has a huge smile on her face! If you are looking for the coolest Mickey Mouse suitcases and luggage sets being sold not only for kids, but also for adults, I think you are about to scream right now!! I LOVE this gorgeous and very bright red color and the even more gorgeous HUGE Mickey Mouse print! Unfortunately at the time of writing this page, there is only ONE available, so like I said before, if you want it, get it now! This is one of the best and the cutest pink Minnie Mouse rolling suitcase for little girls! It is absolutely adorable and perfect for a fun Disney World weekend trip with mom and dad!
This is the perfect adorable polka-dotted red Minnie Mouse carry-on suitcase for little girls ages 3 to about 6 or 7 years old! My daughter had one like this when she was around 6 years old and she loved packing and unpacking her suitcase everyday!
She would put different stuffed animals and toys inside and start rolling it around the house, feeling all important! This one is in black and white and it's full of cute Mickey icons and dots all over it! The people you see in First Class who are drinking champagne and eating brie while lounging in seats so spacious that they could accommodate a family of four, probably didn't pay the outrageous pricetag to be there. When I travel it's usually for business and I'm carrying important shit that would render the entire purpose of my trip moot if it were lost.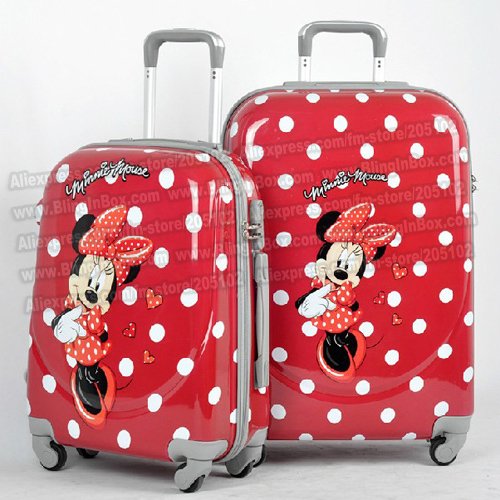 Since I try hard not to abuse the overhead storage, I check my luggage at the departure desk whenever I can. In addition to being one of the first people on one the plane, I can also be the one of the first people through security. That's still a lot, but pales when compared to those heady days of 2002-2006 where I flew over 200,000 miles annually and held top-level elite status at three airlines. That kind of thing can totally put a damper on your trip no matter how many frequent flier miles you have. I wasn't upgraded, but the plane was so empty that I had almost an entire row to myself, which was super-sweet. The time went flying by and suddenly it was 11:00 and time to take the train back to Cologne. Having been to the city many times, I'm very much at home here, and so it's an entirely different experience than visiting a place you've never been before.
Last night I managed to nap a mere two hours after being up for 38 straight hours, so I'm thinking I kind of have to sleep or I'm going to turn go brain-dead. Trying to take my mind off my frozen ass, aching feet, and the fact that I was now going to be ten minutes late to work instead of twenty minutes early, I took pictures of the frost that had accumulated on the tram stop glass. On my way back from work at the candy show yesterday, I spotted a very cool giant chocolate chicken that some company had put on display. SHE'S MELTED!" And then, realizing there were other people in the room, I looked at my feet and whispered "I will avenge you, my fallen chocolate comrade." Apparently, shining a nice hot bright light on a hollow chocolate chicken is paramount to disaster. The display was so horrendous that I lost my apetite and could barely choke down my sandwich. They were incapable of chewing with their mouths closed, and smacked louder than anybody has ever smacked before. Instead of making the long trek to my favorite fried-potatoes-and-mayo place (again) for dinner, I stopped at a nearby kebob shop for greasy potato goodness.
First there's eight hours on-site, then there's another eight hours as your original time zone gets to work and you're inundated with another round.
The problem is that I am so exhausted by the end of it that there's really no time to see much of Cologne except the inside of my hotel room.
From what I could understand, it's basically a German version of the American Bad News Bears movie but with soccer instead of baseball. I've lost count of the number of times I've walked through Neumarkt, but this is the first time I can ever recall seeing this Madonna & Child statue glued to one of the buildings on the Eastern loop.
I've got a long, strange journey ahead of me tomorrow, and the last thing I want to have to do when I wake up is pack before rushing off to the airport.
My suitcase wheels keep getting gummed up with slush, so I end up dragging my suitcase for ten minutes to the tram stop. I can only imagine that it's still making the trip from Terminal 2-G to Terminal 2-D at Charles de Gaulle.
Except the bus driver ignores my stop request and so I have to back-track with a 25 minute walk along a busy highway.
Which would ordinarily be a problem, except there's a major construction project next door with trucks, bulldozers, and lots of other heavy equipment, so I can barely hear the highway noise.
Since I've started this blog I've been here in 2005, 2007, 2009, five months ago in 2010, and now today.
The climb itself was kind of nuts, and I was wishing I had just taken a taxi or tour bus to the top. It all started when I woke up early so I could catch the hotel courtesy shuttle to the airport for my 7:00am flight. Since I was avoiding the dreaded Terminal 2G this time, I thought it would be smooth sailing.
One of these days I'm bringing an extra suitcase with me so that I can pack it full of creamy delicious Dutch mayonnaise.
But in all seriousness, who the fuck would open a jar of mayo in a grocery store, eat some of it, then put it back?
This morning as I was waiting to board my flight home, I made my way to some website where a video was available.
My faithful Samsonite roller bag has been around the world with me a dozen times, has been lost and recovered way too often, and always seemed to hold more crap than what physics would seem to allow. A pity it doesn't come in a more exciting design, but I guess that's the trade-off you make for getting a suitcase that's going to last a while. Still, I found a nice windbreaker, a couple hats, and some awesome gloves, so it was worth the trip. A winter storm hit in the mountains tonight and is expected to dump a shit-load of snow and ice on the passes. The passes were either closed or a hellacious mess, and the weather was just getting worse. Not because I own property there or anything, but because in the three times I've been to The Big Island I drove up the volcano and didn't see shit. When you proceed to the checkout page, the Seller Discount will be automatically calculated. More likely they are just very good customers with tons of miles, and the airline upgrades them for free when a seat is available.
For me there's rarely an option to check my carry-on bag, as I simply must have it with me when I arrive at my destination. Mostly because A) I don't have to pay for it since all luggage fees are waived for Elite fliers and B) My luggage is flagged as "priority" so it has a better chance of not getting lost AND being one of the first bags out of the chute at baggage claim. But, since this is an international flight, the wait is not quite so bad because I have access to the lovely "Delta Sky Club" lounge. The evening was loads of fun, despite the fact that I really should have been dead from lack of sleep. As I was shining my shoes, I noticed that one of them had somehow split in the back (I'm guessing my suitcase must have been crushed in transit?
I'm still not sleeping properly, which has me wondering why I haven't collapsed from exhaustion.
I wanted to take a photo, but my iPhone was somewhere in my backpack and I was too lazy to retrieve it.
AT&T partners with a number of different carriers in most places and offers (relatively) affordable data-roaming packages that work extremely well. It would be sacrilege to not pay a visit to the Hard Rock Cafe here, but I just don't have it in me.
I have never had to transfer planes there, so the total nightmare that ensued was entirely unexpected. It's probable I'll be visiting again next year because there's still so many places left I want to see. I had hoped to get on some kind of tour so I could go in-country and see a bit of beautiful Ronda but, alas, it wasn't meant to be. Except the hotel LIED about having a courtesy shuttle, so I instead paid a taxi €15 ($20) for a three-minute ride to the airport. I've flown in some pretty crazy shit and don't scare easily, but the wind was so bad that I thought for sure we were going to crash into the runway and explode.
I would have tried to smuggle a jar back this trip, but US Customs are real tight-asses when it comes to bringing superior food products into the country.
After clicking on the video, I got an error message saying "I'm sorry this video is not available in your country." This left me dumbfounded and more than a little pissed off. It wasn't that this was a film I was dying to see, but it was one of the last things available that I hadn't already seen at least twice. Not only is Emma Stone flawless as the witty and lethally unflappable lead, but they somehow managed to assemble a genius cast including Stanley Tucci, Thomas Haden Church, Patricia Clarkson, Malcolm McDowell, and a surprisingly appropriately cast Lisa Kudrow. I mean, holy crap, does Katherine Heigl actively search out the shittiest, most pedestrian, predictable, ridiculously stupid scripts in the gutters of Hollywood to find her movie projects?
But since that would be an inconvenient date from a retail business perspective, they move it to Monday every year. I also stopped for a meat-free burger at Johnny Rockets (woooo!) while I was there, so I guess it was a win-win Presidents Day for me after all (even though I had to work this morning). I wish everybody a speedy recovery from such tragedy, and hope to visit your beautiful country one day. After four people at work started Googling maps and pass reports, the general consensus was that my best option was to drive to Portland and make a run up the Columbia Basin tomorrow. The other was "chains required" (and my car can't wear chains, even though I am legally required to carry them).
With my overnight stop in Portland, it actually took me 16 hours and 35 minutes to get home.
I love London, and visit every chance I get (which would be a lot more often if the US Dollar wasn't rubbish against the British Pound).
So as you are schlepping to the back of the plane to sit on a chair the size of a Triscuit cracker with no legroom to speak of, try to resist the urge to punch the First Class passengers in the face as you pass. Fortunately I don't have to worry about running out of overhead space because I'm one of the first people on the plane. I try very hard to resist the urge to scream "SO LONG, SUCKERS!" when this happens but, as somebody who has had their luggage lost or delayed multiple times while trying to live out of a suitcase, it's tough. I don't always use it since I try to get to the airport with plenty of time to spare, but on those back-to-back-to-back schedules where I'm trying to fit a half-dozen appointments into a single week, it has come in very handy. I get a desk, a phone, plug-ins, internet, a comfy chair, and (most important of all) free mini-muffins and Coke!
Praise be to the power of the internet for continuing to find me wonderful friends around the globe!
This caused food to fall out of their mouths as they ate, which they would then shovel back into their mouths. His dessert was an apple, which he would slurp and smack for a dozen chews, then spit the mangled apple peel out! I thought I might go drop my stuff at the hotel then go back downtown for a proper dinner, but I was tired and the trams run infrequently on Sundays. And so I do what I've been doing for years now, knock off work early on Mondays so I can decompress for an hour or two before starting in again. Sure I could see my breath and needed a jacket, but wearing gloves was too much, and my hands were perfectly fine without them. After landing, LATE, the plane ended up racing around the airport for a good twenty minutes before we got to the gate.
As if all that weren't bad enough, the hotel is apparently trying to "camouflage" the noise by blasting elevator music in the hallways at full volume. Maybe when I eventually get around to visiting Seville and Granada I can manage to see the city then. I would have walked, but it was pitch-black and I'd have to travel over two ditches and through a construction site to get there. Getting from 2D to 2F still required exiting and re-entering security, which is stupid as fuck.
I don't think that people should get to put videos on the internet unless the entire internet is allowed to look at them.
How many sublimely idiotic spit-take reactions to the foul smell of baby poop do we really need? This rates somewhere between getting a root canal and having chronic diarrhea on my Fun-O-Meter, so I'm really not looking forward to it. This way stores can have Presidents Day Weekend Sales to encourage people to spend whatever money they haven't already spent for Christmas, New Years, and Valentine's Day. It's just that it's tough to be here when I don't have any personal time to hang out with friends that live in the area. Odds are they've missed a lot of time with their family and friends, spent more time in airports than at home, and have endured unbelievable travel horror stories to get there. In the event I don't get an upgrade, I still have no trouble finding a spot for my important shit. I still have just as big a chance for a TSA "enhanced screening" hand-job as you do though, so don't feel too sorry for me because you think I'm missing out. This may seem like kind of a trivial perk, but when you spend the horrible amount of time in airports that I do, it's sometimes the difference between life and death.
This movie could have been sheer perfection if the lead role weren't so hideously miscast). Marc & Mechthild called them "winter salad," as there doesn't seem to be an equivalent name for it in English (they looked!). But then I stopped to grab a sandwich for lunch and the world came to a halt when a man and a woman sat down at the table opposite me.
As I blogged previously from Berlin, data and voice service on my iPhone with AT&T's roaming partner "E-Plus" sucks copious amounts of donkey schlong. In the meanwhile, I find a great deal of money can be saved on meal expenses by accepting kind offers of food samples from the vendors at the candy show. My arrival into Terminal 2-G necessitates exiting security and taking a long bus-ride though the French countryside so that I can get to Terminal 2-D and go back through security. Thank heavens I have earplugs, though I sincerely doubt they'll do much good against the full-on audio assault in this room. When I had attempted it previously, I had barely made it there alive in broad daylight, so I figured my life was worth the $20. DutchBitch promised to toss some patatjes met out onto the flaming remains of my plane if the worst were to happen, so at least I would have died happy. So rather than forcing together something mediocre, calling it "TequilaCon," and leaving people disappointed, we've decided to take a pass this year.
I'm honestly not getting all obsessive over this, but these are the things that keep me awake at night, people. It unapologetically borrows from a lot of those great 80's flicks like Sixteen Candies, Pretty in Pink, Say Anything, and the like. There's just something awful about spending big money on something the airlines actively try to destroy that makes me want to scream.
And if you don't have any money left, I guess you're expected to use your credit card and go into debt (or, more likely, more into debt). Native American legend says that the bridge was put there by Manito, The Great Spirit, because he was sympathetic to the hard time people had crossing the river. Elite flyers also have the option of carrying on an extra bag which comes in handy from time to time.
The greens appear to be some kind of thick four-leaf clover type-thing, tasting buttery and sweet. When I got a call from Marc yesterday at the train station, the call quality was so bad that I couldn't make out what he was saying.
I ended up eating candy samples for dinner (since I'm not a buyer, I generally don't take any samples at the candy show, but some companies give them to you anyway). To avoid going into a sugar coma, I pass up the vast majority of opportunities, but how can you say no to a freshly-made Dutch poofenwafel?
The last thing anybody wants is to go to the time and expense of attending TequilaCon only to have it not live up to the high expectations set by previous years.
I've toyed with the idea of buying cheap-ass bags, but the idea of having them fall apart so I end up chasing my underwear and toothpaste around a luggage carousel scares me more than the high price tag of the good shit. In a day and age where people bring their entire luggage set onboard and filling three overhead bins to avoid paying baggage fees, this is probably my most favorite (and necessary) perk. There's absolutely no bitter notes in the flavor at all, which made the whole thing taste like frickin' candy when tossed up with a lovely vinaigrette.
Despite myself, I used my iPhone "Voice Recorder" to capture the sheer horror of the sounds (I'd have recorded video, but I never want to re-live that terror).
Data is an absolute joke, because I've used up 75% of my megabytes and have nothing to show for it.
Needless to say, it will be interesting to see how much sleep I get while fighting this sugar-high and nightmares of food-smacking whores. Besides, the person you punch in the face might be me and I don't want to spill my chanpagne. So long as there is tequila somewhere out there in the world, the possibility for a new TequilaCon will always be there.
I usually have to end up rebooting my phone two or three times just to make a Gowalla check-in, because a reboot is the only way I've found to get data back. And all the while you are struggling to get any kind of data connection, your expensive allotment of megs is running like water.
I know that AT&T's is not responsible here (I have zero problems in every other country I've visited), but I still blame them. They shouldn't advertise that you can roam in Germany when, for all intents and purposes, you can't. Worried that my ass might freeze to the seat, I decided standing was better no matter how painful.
My troubles weren't over once I boarded the tram, however, because when we got to the next stop there was a delay.