During her studies at Accademia delle Arti e Nuove Tecnologie, Chiara Picano (Formia, Italy) designed the striking flared roman caps typeface Stygius Light (2014: free).
During her studies in Saida, Lebanon, Christelle Hayek created the lapidary typeface Chrisel (2014), an angular rhythmic Arabic typeface (2014), and Map Design Pictograms (2014). Dragan created the grungy typeface Missing Stone (2013) and the lava lamp typeface Owl (2013).
Codesigner with Robert Strauch (Lazydogs Type Foundry, München, Germany) of Streets of London (2013), a lapidary typeface family that extends an alphabet created by David Kindersley for London's street signs. He created the free lapidary sans typeface Galaica Neue (2012), about which he writes: This typographical project proposes to merge Galician classic character and modern typographic structure, while maintaining readability and balance the result is a new typeface expressively cautious but with enough charisma to define a personality and it identifies that the idiosyncrasies of Galicia. Partial font list: AES (1995, David James), August (1996, a fifties font by Gareth Hague), Caustic (2012, calligraphic script family), Elephant (1994-1995, Gareth Hague), Enabler (1995, David James), Factory, Granite (1995, Gareth Hague), Harbour (1998, Gareth Hague), Intimo (2000), Jackdaw (1997, Gareth Hague), Jude, Key, Klute (1997, Gareth Hague), Mantis (1996, Gareth Hague), Metropolitan (1996, Gareth Hague), Metsys, Sister (1995, Gareth Hague), Text (1995, Gareth Hague).
Fonts at Calligraphics: Caterina (1998), Aperto (1995, a stressed sans family), Harmonica (2005, script), DemiTasse (2001), Gargoyle (2001, a rounded informal script) and Espresso (2001).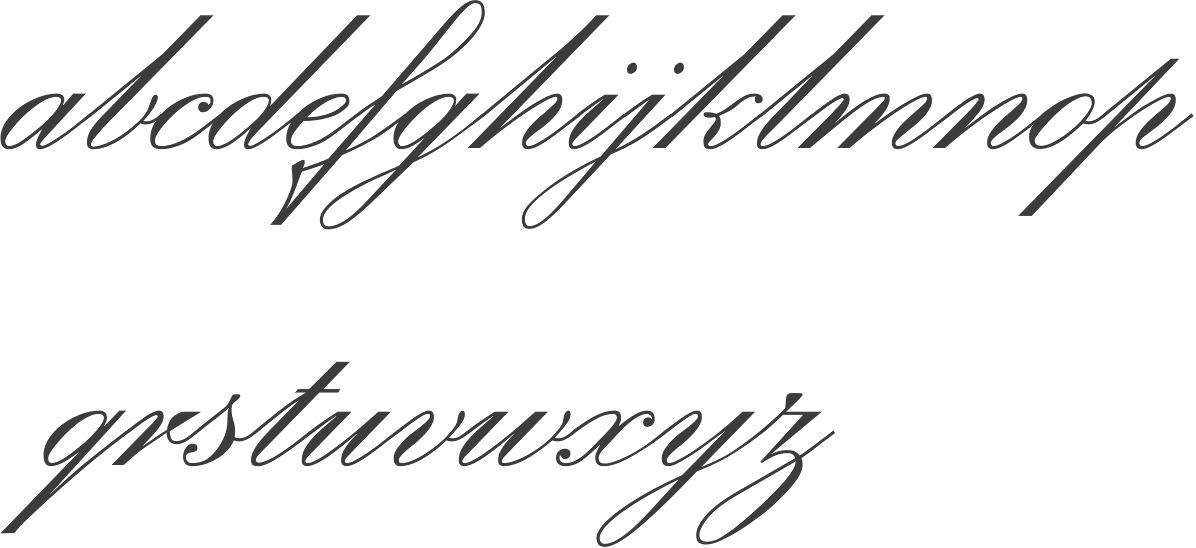 Monotype's Italian Oldstyle and Jim Parkinson's Parkinson are good, but diverged a bit too much from the original form.
Typefaces from 2015: AnoStencil, Capo (a pinched sans family), Sabre (an incised wedge serif). There he redesigned Johnston Underground Sans for text setting as well as display use, now known as New Johnston, and carried out a feasibility study for space saving and legibility for the BT telephone directory, proving that Matthew Carter's Bell Centennial was the best suited typeface for the purpose. These include ITC Octone (1998, a great flared lapidary typeface family), ITC Octone Expert (1998), ITC Berranger Hand and ITC Oldbook.
Typefaces from 2014: Coupler (Coupler is a sturdy text face with low contrast, airy counters, and a strong baseline for smaller sizes and extended reading), Fair Sans Text. Typefaces from 2015: Steady Sans (a sans with curvy dynamics), Emeritus (a lapidary typeface influenced by carved letters found on buildings and monuments in Washington, DC).
Creations in 2013 as thalamic: fs So Not Right, fs Grid Urdu (pixel face), fs Not So Right, fs Six Sticks, fs Half (octagonal family), fs Bored, fs Make it Happen, fs Salvage, fs To Be Discarded, fs Connect (stencil), fs Whomp, fs Praxis, fs Fez (3d face), fs Input, fsTramp, fs Five Alive, fs Hote-Zyd (labyrinthine), fs Patterns (Layers, Quarters), fs Five Alive (origami font), fs Go To Sleep (retro speed font), fs Vaerktoj (inspired by the brand identity of Hoejmark Cycles), fs Permutation B, fs Jester, fs Permutation XII (op-art), fs Insatiable, fs Electronic, fs Carbon (a nice chequered face), fs When We Were Young (multiline typeface), fs Shogun Tiny (a lined kitchen tile typeface), fs Optical, fs When We Were Young (multilined), fs Slate, fs Shogun (gridded), fs Iie (+Filled), fs Blocky (dot matrix), fs Thalamic.

With Lida Lopes Cardozo, he designed Kindersley Street Italic, a typeface created to accompany Kindersley Street (2005), which in turn is a revival of David Kindersley's MoT Serif (1952). As a commercial artist, he founded two multinational corporations to market typeface designs and is credited for designing 4 percent of all typefaces now used. Rebecca Davidson of the Princeton University Library wrote in 2004: Beatrice Warde was a believer in the power of the printed word to defend freedom, and she designed and printed her famous manifesto, This Is A Printing Office, in 1932, using Eric Gill's Perpetua typeface.