Although the two models, as I say, were apparently developed in parallel, it's hard not to see the E63 as the 'budget' version of the E71, since I can't see anyone buying the E63 just because of the 3.5mm port and grippy case finish. A slider button on the battery cover allows it to be popped off, revealing the huge BP-4L battery, the same one as used in the E61, E61i, E71, 6650 and E90, which will please everybody - the 1500mAh is the best battery Nokia produce and it will power the E63 for an eternity. Nokia's own, fairly new, 'Email service' relies on Nokia's servers parsing your existing mailboxes and pushing out updates to you, with zero configuration needed by the end user. The setup process takes ages, multiple minutes, which is a little frustrating, but eventually it's done and the main Nokia Email interface appears, shown above. And, as mentioned above, importantly, Nokia Email assigns itself to the email key on the E63's keyboard, for instant access. There's also Nokia's excellent (and free) Mail for Exchange waiting in the (Download!) wings, the obvious choice if your company has an Exchange server handling all your email and PIM data. If E63 users persist in drilling through to the main S60 menu, largely identical to the E71's, they will see that Nokia has done a serious job of organising the 50 or so apps and mini-apps into folders. The E63 does have Flash Lite 3, of course, as on the E71, E90 and just about every other S60 phone from the last 12 months. As with the E71, full word completion (not just T9-style predictive text) has been integrated into the interface on the E63, available as a toggle in any text editing field.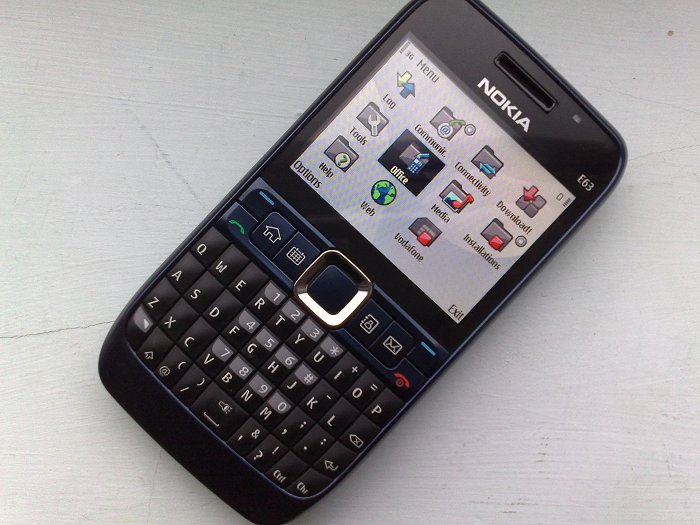 Cut, Copy and Paste can be done either through traditional 'Ctrl' X, C, V means or through using the S60 built-in clipboard assignments on the function keys, as with non-qwerty phones. Connectivity is good, as usual with Nokia and S60, with Wi-Fi (including a handy connections Wizard) and Bluetooth (including stereo connections - A2DP). Should a microUSB cable be bought after all, there's easy tethering of the E63 to laptops, with a 'Connect PC to web' option shown when you plug the cable in - selecting this installs a new Nokia Internet application on the PC, which then handles the tethering process.
Thus ends part 1 - in the second and final review part, I'll cover multimedia aspects of the E63, along with a detailed look at the Files on Ovi bundling, and then wrap up with a summary of the phone. All About Symbian provides an independent source of news, reviews, apps and more to the Symbian and Nokia ecosystem. Both phones were developed to similar timescales but with different price objectives in mind. This is something which is now really cheap to implement in any phone in 2009, and something which is almost taken for granted.
The Nokia Email summary extends over three lines in the standby screen (message count and top two messages), again marking this as a core focus of the E63. The classification is sensible but a bit longwinded - again though, typical E63 users may not need to come here very often.
Kicking off the sign-up on the E63 gives you a free account for a year (normal pricing is for 10GB and is £40 a year), and I'll be looking at Files on Ovi in part 2 of this E63 review in a couple of days time. That's right, this is the first Nokia smartphone since the 7650 (five years ago) to ship without a data cable. One clue is that Nokia Maps itself has been relegated to a lowly position within 'Tools', emphasising that this device simply isn't designed for mapping and navigation.
I thought the tiny space bar would be a problem, but it turns out that I normally aim for the centre of the E71 space bar, unconsciously, and that I hit the E63's every time, so no worries on that score.
On the other hand, it's eventually (according to Nokia) going to be a chargeable service, whereas S60's built-in tool is free.