A modern interpretation of the Grange Movement in the United States has culminated into Jensen Architects' SHED. The SHED is designed as a Butler building, which is a pre-engineered metal building that is very familiar in the agricultural landscape.
Jensen Architects went beyond the use of a green building envelope – they also integrated sustainable systems to help make the SHED an efficient and educational resource for sustainable building. This is better architecture than the extravagant and self-indulgent projects palmed off on gullible officials in the Middle East and Far East by international starchitects in recent decades. Welcome to Inhabitat, your online guide to the best green design ideas, innovations and inspiration to build a cleaner, brighter, and better future. Zazu Kitchen and Farm owner Duskie Estes, right, with chef Doug Richey at the new restaurant location at The Barlow in Sebastopol. Barlow developer Barney Aldridge created the food-and-wine center to provide a deeper connection between consumers and some of their favorite products, from beer and wine to ice cream and bacon.
The half-dozen original buildings of the former apple cannery underwent major renovations and structural upgrades; the rest of the complex was constructed from the ground up in a hip, industrial style with high ceilings and lots of metal and glass.
Cindy Daniel, who owns the Shed with her husband, Doug Lipton, said the pair grew the concept over some 15 years. The SHED is a 10,800 square foot building in Healdsburg, California that is working to transform the culture of this sustainable farming and wine-making community. This large metal building houses two stories of flexible space for artisan cafes, stores, and meeting spaces. The current mix of 30-some businesses also includes a clothing boutique and bookstore, two art galleries and a yoga-Pilates-dance studio. Usually this happens because I walk into a store and find myself unable to do anything but take pictures of everything around me. The SHED is a cafe, retail, and event space that supports the artisan community by providing local products to customers and encouraging sustainable living.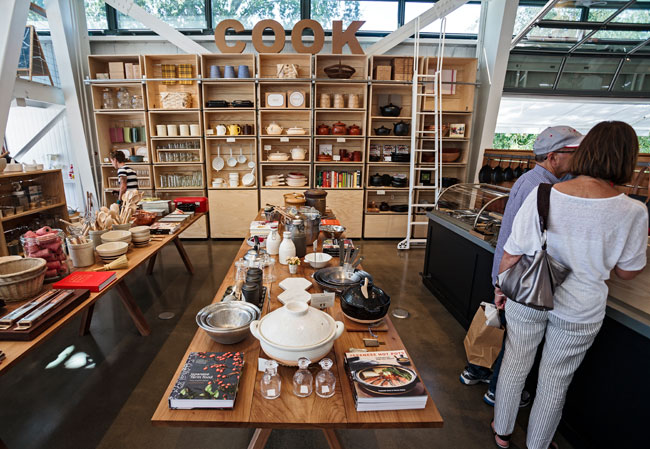 The building's structure and insulated metal panels were constructed off-site in order to be cost-effective and reduce construction waste. To create a lively venue inspired by good farming, good cooking and good eating, to celebrate the land and the people who grow things. Jensen Architects and contractor Oliver & Company also used regional reclaimed Monterey cypress wood throughout the building. The SHED overlooks a tributary to the Russian River, so the team designed a rain garden and catch basin to manage the flow and filter pollutants from rainwater runoff.
It's neatly organized and all of the items immediately become eye candy – whether you need the item or not!