8 color matched screws come per window, if you want more just leave a note in the comments section at check out. Free Cupola Plans For Your Neat Shed Aug 14, 15 05:39 AMUse these cupola plans to build a neat cupola and spruce up your beautiful shed.
Fun Shed Plans Jul 26, 15 08:08 AMShed plans that are easy to use, very affordable, and fun to build with. Barn Shed Plans, Small Barn Plans, Gambrel Shed Plans Jul 05, 15 09:38 AMThese barn shed plans come with full email support.
Here's how to do the framing for your shed windows and also where you can get them.Before I build my shed walls that are going to include having window framing in them, I will go to my favorite hardware store like Lowes or Home Depot and pick out the type of window(s) I want to use.
Our downloadable barn shed plans come with detailed building guides, materials lists, and they are cheap too!
New construction windows have a nailing flange on the outside of them, and if you prefer you use one of these for your shed, that is perfectly acceptable. A remodeling window does not have the nailing flange, and can be used if you want to add a window after your shed is already built, or if the type of siding you are using, say lap siding, would not accomodate a nailing flange.Ok, you've written down the rough frame in dimensions.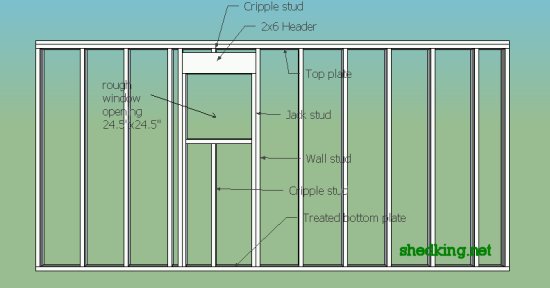 Now we know that the top of the framing member at the bottom of your window, or the sill, will be 45.5" up from the floor.