To this day I have built, as an example, chicken coops using the exterior smartside siding panels and have not painted them. Free Cupola Plans For Your Neat Shed Aug 14, 15 05:39 AMUse these cupola plans to build a neat cupola and spruce up your beautiful shed. Fun Shed Plans Jul 26, 15 08:08 AMShed plans that are easy to use, very affordable, and fun to build with. Barn Shed Plans, Small Barn Plans, Gambrel Shed Plans Jul 05, 15 09:38 AMThese barn shed plans come with full email support. Our downloadable barn shed plans come with detailed building guides, materials lists, and they are cheap too!
Start on the inside and cut the siding out along the framed door opening all the way around down to the floor. Nail on your siding panel (the full 4' width) so that the entire door opening is covered up but your panels vertical edges fall right in the middle of the wall studs. You could go wider, but any wider than 3' would necessitate the building of double shed doors as the weight would be too heavy.Our example will be to frame in a single swing shed door on a 10' long wall. The very bottom of the door will have to be cut out from the outside using your sawzall saw or a circular saw set to the depth of your siding thickness.
Just make sure not to nail the bottom under the door opening as we will be cutting our panel out to use for our door.The easiest way to cut this panel out is to use a reciprocating saw or sawzall saw.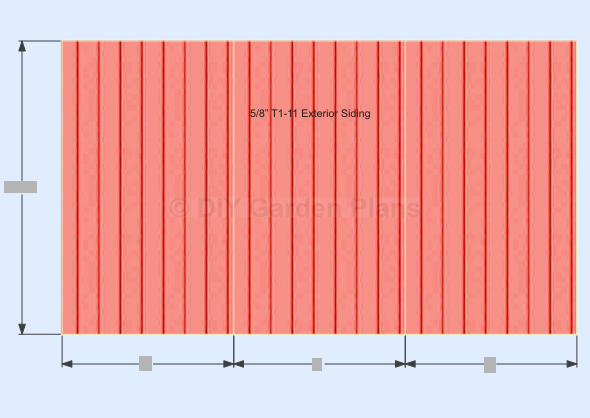 These can be attached with 8d spiral galvanized box nails nailing from the siding side into the 2x material. This method will work for placement of the door anywhere you want but for example sake, we will be building this shed door 3' from the right side and it will be a 3' wide door.Here's what the framing will look (below) like for this shed wall, with our wall height being just shy of 7'.