It is essential that all garden buildings are assembled on a firm and level base constructed from an appropriate and durable material.
Firstly, please remember not to place the base too close to any walls or fences as there may be a slight overhang on the roof of the garden building. Furthermore, when deciding the optimum location for your base and garden building please consider access – for example access around each side of the garden building in order to apply wood treatments or preservative. The guide below will help you to prepare and complete a base for your garden building using the suitable material of your choice.
Within the excavated area, lay approximately 3" (75mm) of firmly compacted hardcore, scalping or brick rubble to act as a sound foundation and level with compacted sand if appropriate.
By measuring, cutting and fitting timber rails or steel shuttering to the shape of the base, board up the base as portrayed in the diagram. Brush off any excess sand and cement mix - the base is now ready for you to begin assembly of your garden building. Secondly, placing the base next to trees or large bushes could also cause problems from overhanging branches especially if these are likely to grow and come into contact with the building in the future.
Use a tape measure, spirit level, and tri-square to ensure the base with shuttering is 100% level and square. The surface of the paving slabs should be slightly higher than the surrounding ground to encourage rain water drainage.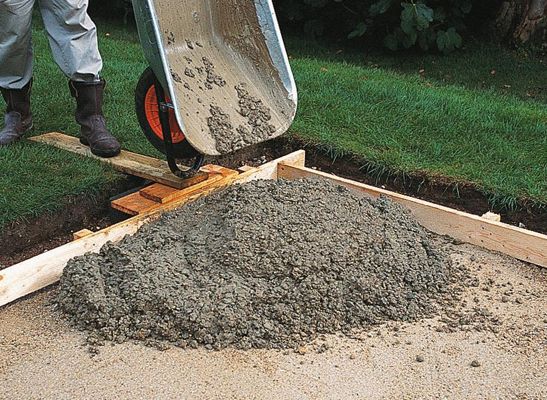 Assembling a garden building on an incorrect base is also likely to invalidate any guarantee that your product may carry. Use a spirit level to make sure all the slabs are square, level and firmly butted together.