I had a fair amount of squeeze-out after doing the glue-ups, so I took a scraper and knocked off the chunks on one side of each blank in order to give me a clean face to run along the fence of the table saw. Next, I spent some time sanding the blanks to remove any saw marks that appeared after cutting them square. I made the cut on all four sides, for each end of the blanks where I had glued on a pattern. Some of the pieces had places where I would have to make an inside cut on the scroll saw, so I used the drill press and drilled all of the holes that would allow me to slide the blade through.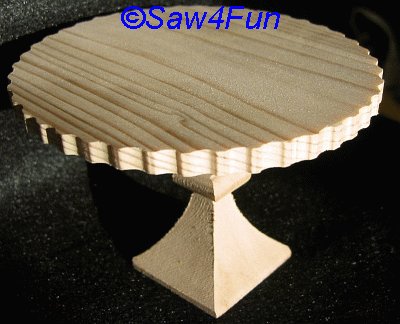 After peeling away the tape and excess pattern, we have a (nearly) completed 3D chess piece. I took care to make sure the end of the pattern was flush with the end of the blank, and that the pattern was oriented with the top of the piece towards the center of the blank.
I used a stop block clamped to the fence to align the cut, then slid them through using the sliding miter table.
One thing to be careful about is to not tape over the pattern on the side you haven't cut yet.
With my bishop patterns, only one side had an inside cut on the head; the second side has a small notch that allowed me to saw it out without drilling a hole.