Last week I had the opportunity to help a friend build the foundation for a new shed that will be delivered in a couple of weeks. The shed measures 10 x 18′, and we started planning the layout by marking the corners of the shed with stakes. The shed will be constructed on a skid of 4 x 4's running left-to-right along the length.
In this picture you can see that I placed my pencil between the post and the string (and another pencil on the far post). We want to keep the shed as low to the ground as possible while still keeping everything level. It might be worth it to move the shed down the slope a little bit to buy some room to approach from the back.
I know this is the way quick foundations are done, but you didn't mention that, eventually, the pressure treated wood will rot because it is in contact with the dirt. 2) In this area and for this size of a shed, we didn't need to get anything inspected. We have a lot of great information about sheds covering everything from building a foundation to characteristics of a high-quality shed. One aspect we haven't covered is building a shed ramp so I was glad to help a friend build a ramp for his shed a couple of weeks ago. The framing of the shed has a little lip underneath the door, and to begin, we ripped a 2 x 4″ so that our ledger board would mount flush with the face of the shed. Making sure it was completely level, we anchored the 2 x 6″ ledger board underneath the shed doors with lag screws (and washers).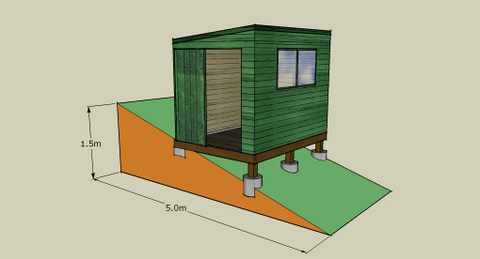 We used a 2 x 4″ to estimate a comfortable slope for our ramp, and we staked out an area just big enough to fit the concrete blocks. My friend painted the entire ramp to match his shed, and this has the added benefit of another protective layer. All of these shed posts over the last few months makes me really want to get going on building my own. It's one thing to build a fence with that method, it's something else to build a permanent structure for a couple of tons of expensive equipment.
I would look into putting poured footings on three sides and use 8" block to build a wall up the sides. Perfectly clear, use 8" block on the sloped sides and leave the 16' side open to install plywood doors. His back yard has a bit of a slope, and it would take too much concrete to pour a slab (read how to pour a concrete shed foundation here).
The string guides were useful for determining the slope of our site, finding the high-point and marking the locations for our post holes. You can see each joist is secured with hanger ties and sits flush with the top of our support beams.
Also, they can point out decks built the same way that are 25+ years old and still in great shape (much like my own deck). With a great deal of moisture, even this type of wood will rot over time; however, with good drainage I think you can expect at least 25-30 years. My friend got the shed through Maryland's Best Sheds, and the link is at the beginning of the article.
I love reading about all the different sheds and this one about adding a ramp is fantastic. Sitting on piers on a slope, I'm thinking 5' deep to be sure I'm not doing it again in a few years.
This leaves the large end open to put a set of wide doors and gives you a secure space to lock equipment etc. Now you have additional storage underneath the shed, to put lumber, tools, bikes, what ever there. For that reason, we decided that building a post and beam foundation would be the best way to go. If you look closely, you'll see the front, far-left corner was our high point, and the back, right corner was the low point. The foundation is very solid, completely level, and I'm excited to see the shed delivered. I would think that in the case of the slope here, you're probably going to get pretty good drainage around the footers. I personally would be OK with this setup for a shed, but obviously wouldn't use it for my house. You could even dig out some of the sloped ground under the shed to expand the storage underneath.