Popular MechanicsWhile you're in the planning stage, decide whether you'll plant the posts in the ground, or use post brackets to secure them on concrete blocks, as we did. Thomas KlenckThis part is tricky because the arches must be upside down to attach the arch crossties. Materials are readily available -- 4 x 4s for the posts, 2 x 6s for the arches and braces, and 1 x 6 stock ripped to width for the remaining pieces.
But if you plan to tie your Rottweiler to a post when the neighbor's cat is out, burying the posts is a better option. To lay out the curved pieces, first make a template of the arch; a stick with a pencil hole bored in one end and a nail driven at the other works as a compass [1].
Cut the mitered segments to length [2], then temporarily screw the template to each arch set [3] and trace the curve.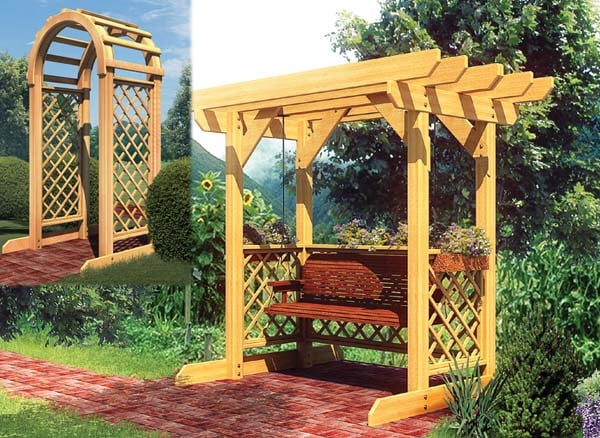 Then, we blocked up the arches so their ends were flush with the top surfaces of the 1 x 6s and clamped them in place [6].