This download includes materials lists and cost estimate worksheets for all 5 of my shed plans and all 4 of my garage sizes. Follow this link to download the materials list and cost estimate worksheet so you can do your own calculations.
This chart shows the estimated cost to build a gable roof shed with my $7.95 plans and compares it to the price of a tuffshed and estimates how much money you can save by building our own.
I'm using tuffshed as an example because they are a nation wide company and probably the most popular shed brand around. This table shows the cost to build each shed in terms of it's size and cost efficiency.
You will notice that the larger sheds are much cheaper to build in terms of the cost per square foot. And in cases of going from 6 to 8 ft, 10 to 12 ft, 14 to 16 ft, and 18 to 20 ft in length it costs very little to build the next longer size. I haven't worked the numbers out for the Lean-To Style Sheds because there are so many length, width, height and overhang combinations.
The smaller shed prices are more accurate than the larger ones because the waste is more predictable. The more careful you are to use your scraps and plan your cuts, the lower your final cost will be.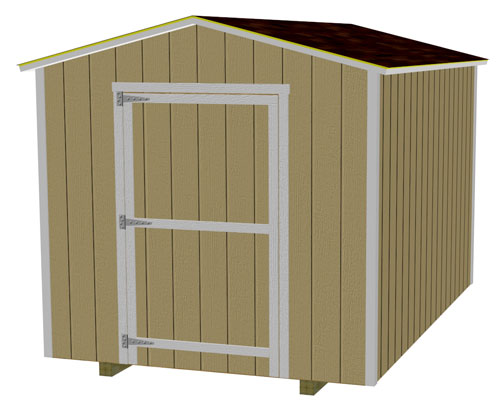 So print out this materials list and cost estimate worksheet and take it down to your local building supply store and price it for yourself. This is one of the easiest sheds to build because it uses a simple truss design and small but easy to build overhang options. However if you can manage the barn style shed looks great and provides lots of additional storage if you build the optional loft. You can make this shed shorter if necessary by removing the same amount from all vertical cut dimensions. I will explain the similarities and difference between my 4 shed plans to help you in deciding which one is best for your new shed project. The lean to style sheds have too shallow of a roof pitch for shingles so they use either rolled mineral roofing or metal. With the regular gable and the lean to style plans the longest shed you can build is 20 ft. The regular gable roof shed plans are the easiest and most economical to build because the walls are symmetrical and there are no complicated trusses to build or fancy overhang options. The lean to sheds aren't symmetrical but the rafters are strait without any cut outs and you can build it with either the simple 2-6 inch overhang or the more complicated full 12+ inch overhang. The Deluxe shed is the most difficult to build because it doesn't offer the simple overhang option, only the full 12 inch overhang.
All sheds include instructions to frame for prehung doors and windows, or to build your own single or double door in any width or height and in any location, or build multiple doors.
All plans come with a materials list so you can calculate the cost to build it before you make that final commitment and start buying materials. And you are paying for the lumber whether you use it in the shed or cut it off and throw it away.
Building your own shed can save you 40-60% of the cost of buying a kit or a ready made shed.
But their construction is the closest to the Regular Gable sheds so the costs will be similar for the same height shed without overhang. I recommend trusses and rafters to be placed at 24 inch on center for sheds up to 12 ft wide, and 16 inch centers for sheds over 12 ft wide. And like the tall barn style shed, working on the deluxe roof is more difficult because of the steeper pitch and greater overall working height. If you want a shed thats over 20 ft long then you can use either the tall barn style plans or the deluxe plans.