I could make an entire meal of this, but it would also be perfect as a zucchini side dish, and Pam told me she ate some of her leftovers for breakfast one day. If you have zucchini from your garden or the farmers market, you must try this! This was my latest picking of zucchini and straightneck squash, and I used the four in the front in this recipe. If you had really small zucchini you could just slice them, but I cut mine in half lengthwise and then into half-moon slices. Pam had the idea of adding a few tablespoons of sliced green onions, which I thought was perfect in this recipe. Put the mixture into an 8" x 8" casserole dish that you've sprayed with olive oil or non-stick spray.
I chose the South Beach Diet to manage my weight partly so I wouldn't have to count calories, carbs, points, or fat grams, but if you want nutritional information for a recipe, I recommend entering the recipe into Calorie Count, which will calculate it for you. Add zucchini and squash to the same pan and continue cooking, stirring occasionally until softened, about 12 minutes. Add contents of bowl to a glass casserole dish (8x8) At this point taste test for salt and pepper - add some only if needed. I love it that they spoke to you (and were so friendly too!) The photos are beautiful, especially those drops of water on the zucchini. Pam changed the recipe a little and then I changed it a tiny bit more, and we were both impressed with how this very basic idea of tossing zucchini with a few fresh and dried herbs and cheese and then baking it can produce a dish that's so delicious.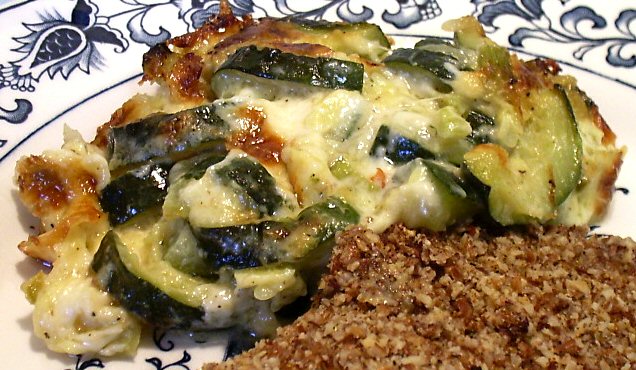 When she told me that it was made with cheese and mayonnaise, I instantly thought that the sauce from Dottie's Green Bean Casserole would be just the thing for this recipe. I slightly increased the amount of zucchini and used a smaller baking dish than called for because it would have come out too thin baked in an 8x8" pan.